THE SCIENCE OF RINVOQ™ (UPADACITINIB)—A NEW JAK INHIBITOR
Save
Key Clinical Trial Data and Highlights From the Prescribing Information for RINVOQ
Sponsored by AbbVie
Over the last decade, Janus kinases (JAKs) have emerged as compelling therapeutic targets in rheumatoid arthritis (RA) and have been extensively studied.1 On August 16, 2019, the JAK inhibitor RINVOQ (upadacitinib) was approved by the US Food and Drug Administration (FDA) for the treatment of adults with moderately to severely active RA who have had an inadequate response or intolerance to methotrexate (MTX).2 Through binding and inactivation of JAK, RINVOQ prevents the phosphorylation and activation of the signal transducer and activator of transcription proteins (STATs) and thereby modulates the JAK/STAT signaling pathway.3
RINVOQ was studied in a large Phase 3 program, which included five registrational trials with approximately 4400 patients with RA. Key data from these trials, as well as information from the full Prescribing Information, are shown below.
Click on the infographic below to view it in a separate tab.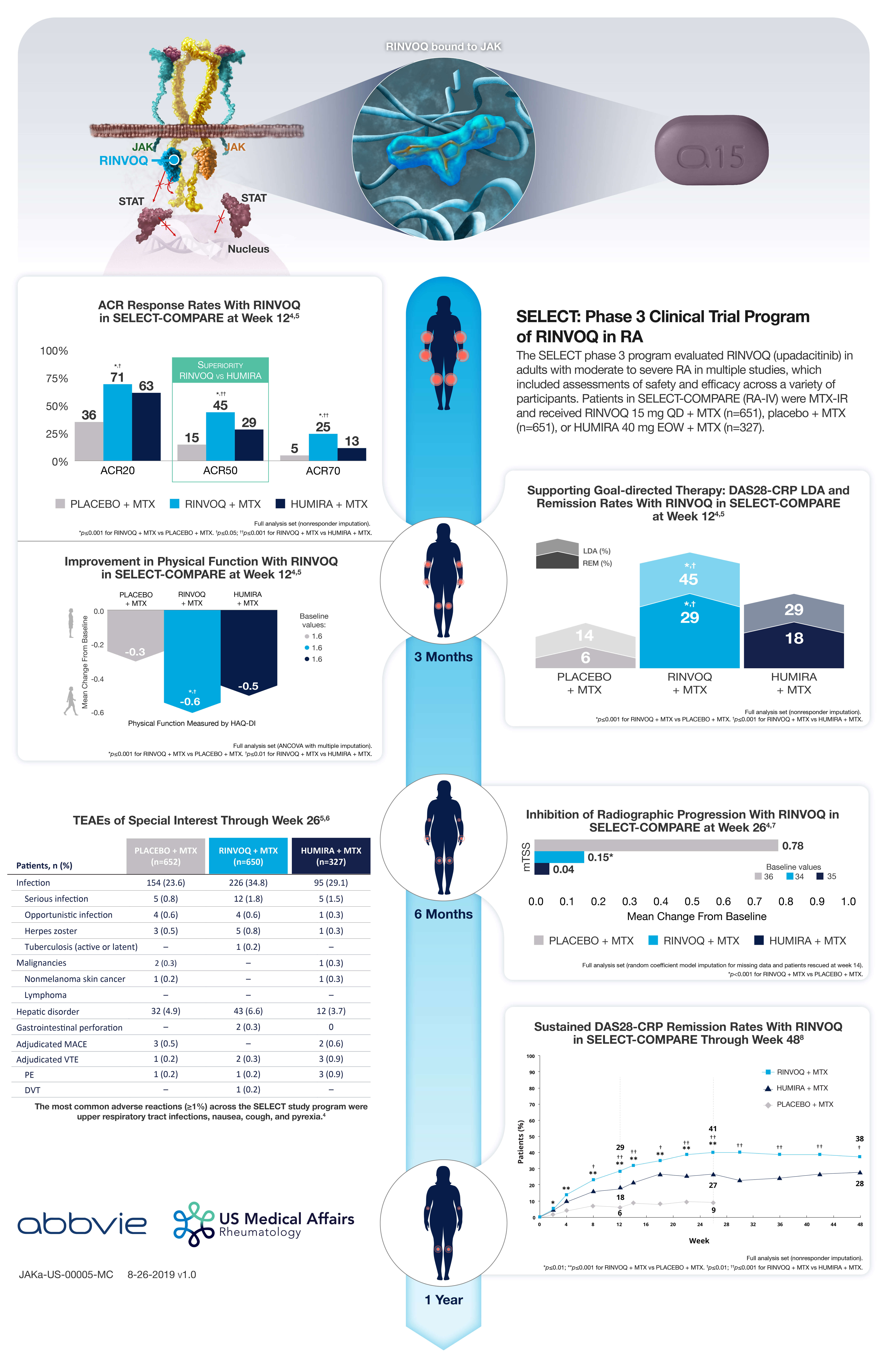 Remission defined as DAS28-CRP
ACR=American College of Rheumatology; ANCOVA=analysis of covariance; DAS28-CRP=disease activity score–C-reactive protein; DVT=deep vein thrombosis; EOW=every other week; HAQ-DI=Health Assessment Questionnaire–Disability Index; IR=inadequate responders; LDA=low disease activity; MACE=major adverse cardiovascular event; mTSS=modified total Sharp score; MTX=methotrexate; PE=pulmonary embolism; QD=once daily; RA=rheumatoid arthritis; REM=remission; TEAEs=treatment-emergent adverse events; VTE=venous thromboembolism.
Long-term Safety Data From SELECT Clinical Trial Program of RINVOQ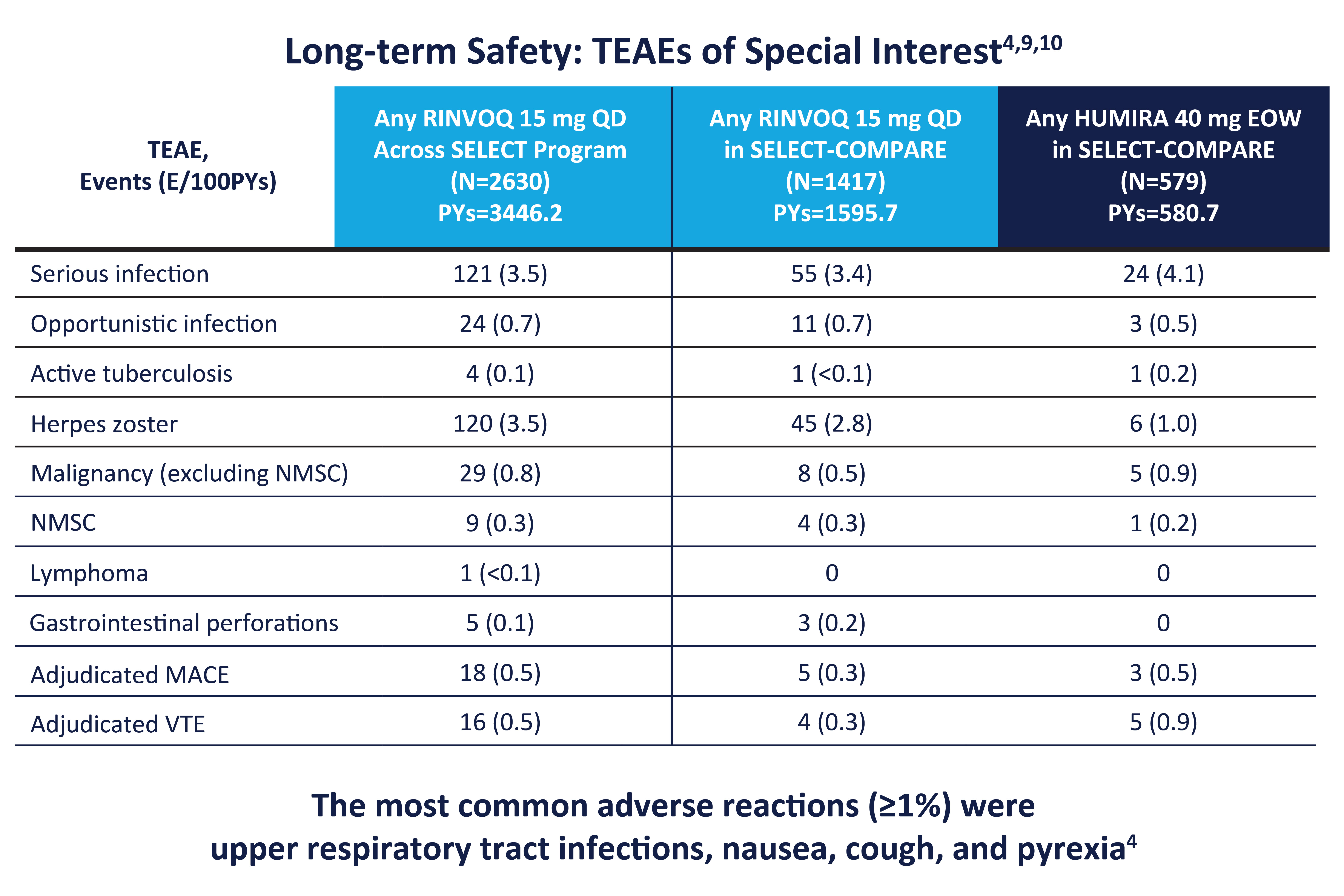 A TEAE is defined as an AE with onset on or after first dose of study drug and up to 30 days after last dose of RINVOQ or 70 days for HUMIRA.
AE=adverse event; EOW=every other week; MACE=major adverse cardiovascular event; NMSC=nonmelanoma skin cancer; PY=patient-years; QD=once daily; TEAE=treatment-emergent AE; VTE=venous thromboembolism.
Indication, Use, Dosage, and Administration of RINVOQ (Upadacitinib)4
RINVOQ 15 mg once daily is approved for the treatment of adults with moderate to severe RA after inadequate response or intolerance to MTX; it may be used as monotherapy or in combination with other nonbiologic disease-modifying anti-rheumatic drugs (DMARDs), such as MTX. 
RINVOQ is not recommended for use in combination with other JAK inhibitors, biologic DMARDs, or potent immunosuppressants. 
Important Risk Information4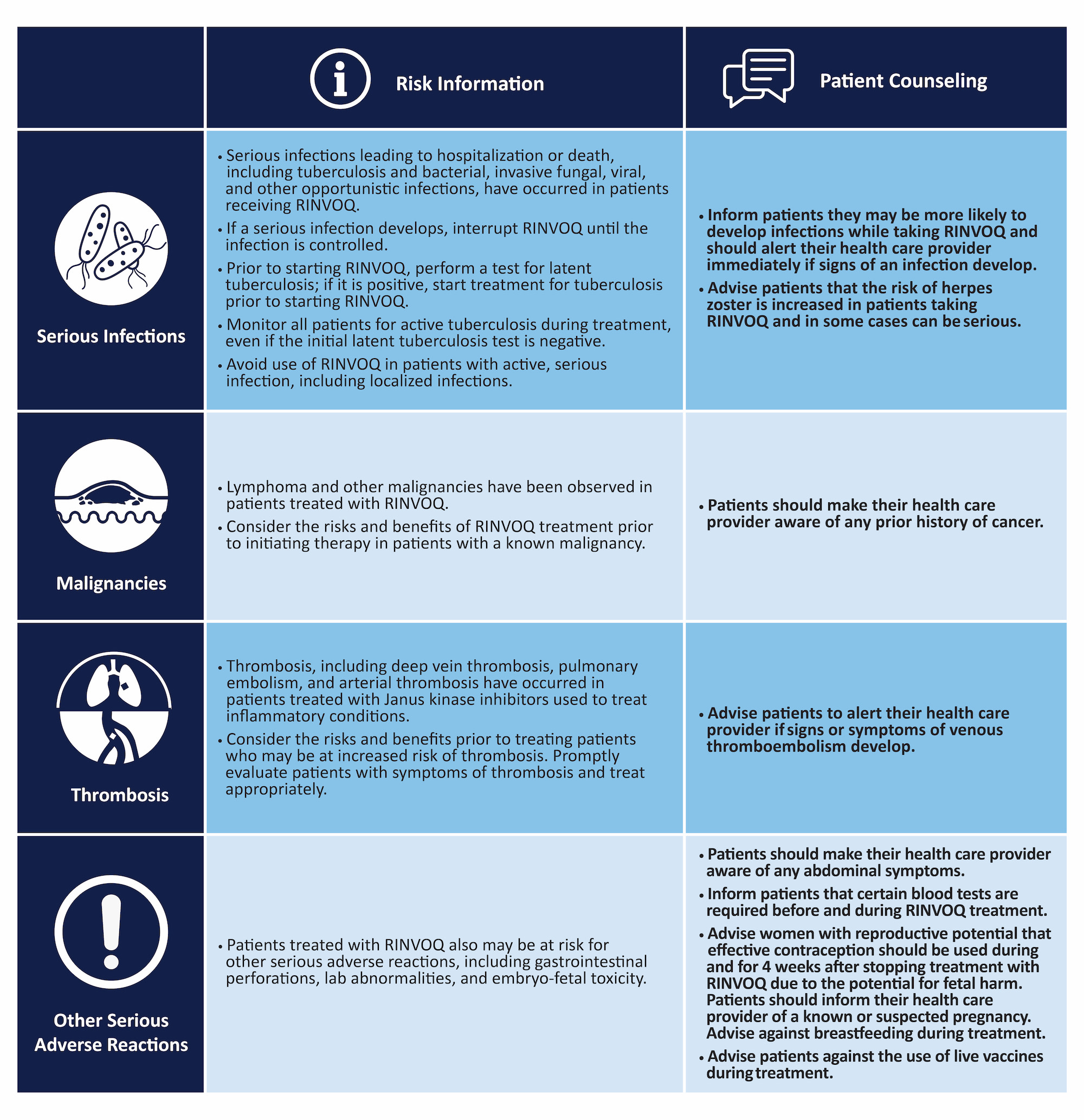 Key Clinical Considerations4

References
Bellinvia S, Edwards CJ. EMJ Rheumatol. 2018;5(1):59-65.
NDA 211675. Drugs@FDA: FDA Approved Drug Products. https://www.accessdata.fda.gov/scripts/cder/daf/index.cfm?event=overview.process&ApplNo=211675. Accessed August 20, 2019.
Parmentier JM, et al. BMC Rheumatol. 2018;2:23. 
RINVOQTM [package insert]

.

North Chicago, IL: Abbvie Inc.; 2019. 
Fleischmann R, et al. Arthritis Rheumatol [Epub ahead of print].
AbbVie Inc. Data on File ABVRRTI68438.
AbbVie Inc. Data on File ABVRRTI68980.
Fleischmann R, et al. Ann Rheum Dis. 2019;0:1-9.
AbbVie Inc. Data on File ABVRRTI68550.
AbbVie Inc. Data on File ABVRRTI68583.
O'Shea JJ, et al. Annu Rev Med. 2015;66:311-328.
Content developed by AbbVie Inc. This content is intended for US/PR Health Care Professionals. The US Medical Affairs department of AbbVie Inc. is the copyright owner of this presentation and has paid RheumNow to host this content. AbbVie is solely responsible for all written and oral content within this presentation © [2019] AbbVie Inc. All rights reserved.