You are here
Baricitinib Effective in SLE Trial
By Jack Cush, MD | 20 July 2018
Dan Wallace and colleagues report in Lancet the results of a phase II study of the selective baricitinib, an oral selective Janus kinase (JAK1 and JAK2) inhibitor, in patients with systemic lupus erythematosus (SLE), demonstrating the efficacy and safety of JAK1/2 inhibition with baricitinib as a new potential oral therapy for SLE.
This randomised, placebo-controlled, 24-week trial enrolled 314 active (with skin or joint involvement), ANA+ or dsDNA+ SLE patients from in 11 countries to receive daily baricitinib 2 mg, or baricitinib 4 mg, or placebo. The primary endpoint was the proportion of patients achieving resolution of arthritis or rash at week 24, as defined by Systemic Lupus Erythematosus Disease Activity Index-2000 (SLEDAI-2K).
At week 24, an SLEDAI-2K arthritis or rash response was seen in 67% of baricitinib 4 mg, 58% of baricitinib 2 mg and 53% of placebo patients (4mg vs PBO; p=0·0414). The SRI-4 response was also significant for the Bari 4 mg cohort only.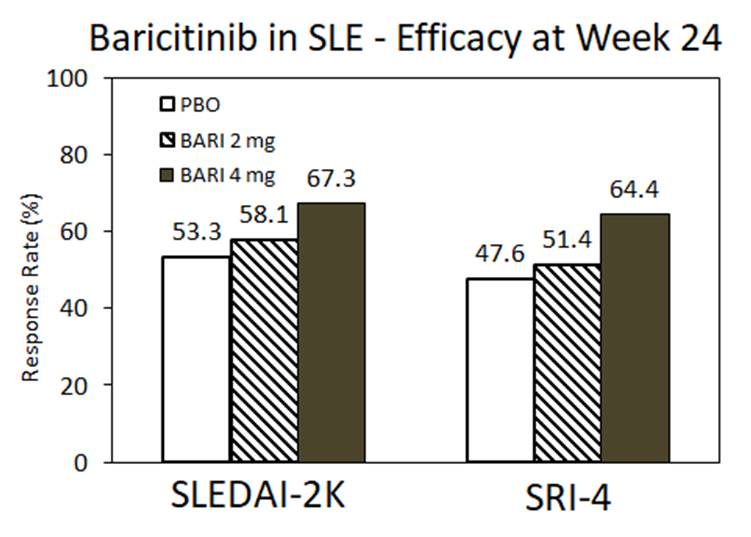 Adverse events were similar between groups and similar to that seen with baricitinib in the rheumatoid arthritis trials. Serious adverse events were reported in ten (10%) patients receiving baricitinib 4 mg, 11 (10%) receiving baricitinib 2 mg, and five (5%) receiving placebo; no deaths were reported. Serious infections were reported in six (6%) patients with baricitinib 4 mg, two (2%) with baricitinib 2 mg, and one (1%) with placebo.
This trial demonstrates the potential use of higher dose baricitinib therapy in uncontrolled SLE patients. Further studies must be done before JAK inhibition could be used to treat problematic lupus not controlled on standard or approved therapies.