What Goes Wrong with the Immune System in PMR?
Save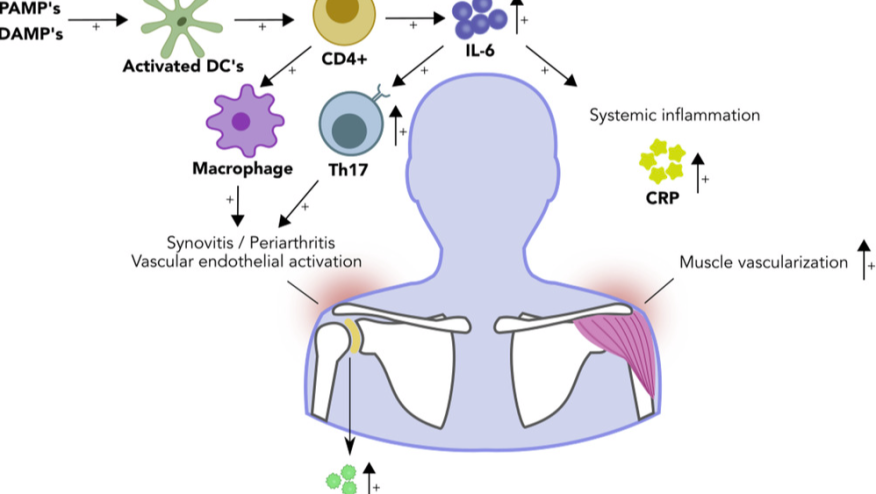 Polymyalgia rheumatica (PMR) is a common inflammatory rheumatic disease. Imaging studies have revealed that PMR should not be viewed as a mysterious source of pain and stiffness. Instead, PMR symptoms are linked to inflammation around joints (bursitis, tenosynovitis, tendinitis), which can be accompanied by mild joint synovitis. The exact trigger for PMR onset remains unknown. However, immunology studies and clinical trials with biological DMARDs now shed light on the immune pathways involved in PMR.
What goes wrong in the blood?
Most of our insights into the immune pathology of PMR stem from investigations of blood samples. A consistent finding in PMR is elevated serum levels of interleukin-6. Two studies have shown an increase in T helper 17 cells (i.e. IL-17 producing CD4+ T cells) in the blood of patients with PMR. During active disease, circulating B cells appear to shift from the bloodstream into the tissues, while returning into the circulating during remission. Many of these returning B cells appear to produce IL-6, fitting with their enhanced potential to differentiate into IL-6 producing B cells during active disease. There have also been reports suggesting expansions of pro-inflammatory T helper 1 cells (i.e. IFN-gamma producing CD4+ T cells) and senescent T cells (i.e. CD28 negative T cells) in the bloodstream, though these findings need further validation.
 https://doi.org/10.1111/joim.13525
What goes wrong in the tissues?
Until recently, limited access to inflamed tissues of patients with PMR has hindered our understanding of what goes wrong in the tissues. Early case reports from the 1960-1980s showed immune cell infiltrates in structures nowadays identified as key sites of inflammation on imaging studies. In the 1990s, an Italian research group began investigating glenohumeral biopsies obtained via arthroscopy of patients with PMR. These synovial biopsies contained high numbers of infiltrating macrophages, and to a lesser extent also T cells. This was associated with enhanced vascularity, which promotes the entry of additional immune cells into the tissue. More recently, the PMR Research On disease Mechanisms in Synovium (PROMIS) study reported its first results. Ultrasound-guided synovial biopsies were obtained from the inflamed subacromial bursa of patient with PMR. These biopsies revealed prominent infiltrates of immune cells, mostly macrophages. T helper 1 cells were also present, albeit to a lesser extent. Widespread expression of interleukin-6 was observed in the bursa tissue, with macrophages and fibroblasts identified as its sources. GM-CSF was another pro-inflammatory cytokine widely expressed in the bursa tissue. 
What can we learn from the clinical trials?
Although glucocorticoid treatment remains the cornerstone of treatment in PMR, recent studies have highlighted the therapeutic potential of biological DMARDs for this condition. Notably, three clinical trials have provided evidence for the effectiveness of anti-interleukin-6 receptor therapy in PMR (PMR-SPARE, SEMAPHORE, SAPHYR). Furthermore, a phase II study has demonstrated efficacy of B cell depletion therapy in this condition (BRIDGE-PMR). Encouraging results have also emerged from proof-of-concept studies with giant cell arteritis patients, many of whom also have PMR. This includes trials with treatments targeting the GM-CSF receptor or IL-17. These findings underscore the relevancy of the immunological perturbations that have been identified by the translational immunology studies. 
Taken together, our understanding of the immune pathology of PMR has grown in recent years. Further exploring the immune system in greater detail has the potential to reveal novel, important targets for therapy in PMR. 
References:
Dasgupta B, Panayi GS. Interleukin-6 in serum of patients with polymyalgia rheumatica and giant cell arteritis. Br J Rheumatol 1990; 29(6): 456-8.
Samson M, Audia S, Fraszczak J, et al. Th1 and Th17 lymphocytes expressing CD161 are implicated in giant cell arteritis and polymyalgia rheumatica pathogenesis. Arthritis Rheum 2012; 64(11): 3788-98.
Reitsema RD, Jiemy WF, Wekema L, et al. Contribution of pathogenic T helper 1 and 17 cells to bursitis and tenosynovitis in polymyalgia rheumatica. Frontiers in Immunology 2022; 13.
van der Geest KS, Abdulahad WH, Chalan P, Rutgers A, Horst G, Huitema MG, et al. Disturbed B cell homeostasis in newly diagnosed giant cell arteritis and polymyalgia rheumatica. Arthritis & rheumatology (Hoboken, N.J.) 2014 Jul;66(7):1927-1938.
Graver JC, Jiemy WF, Altulea DHA, van Sleen Y, Xu S, van der Geest KSM, et al. Cytokine producing B-cells and their capability to polarize macrophages in giant cell arteritis. Journal of Autoimmunity 2023;140:103111.
Meliconi R, Pulsatelli L, Uguccioni M, et al. Leukocyte infiltration in synovial tissue from the shoulder of patients with polymyalgia rheumatica. Quantitative analysis and influence of corticosteroid treatment. Arthritis Rheum 1996; 39(7): 1199-207.
William FJ, Zhang A, Annemieke MHB, et al. Expression of interleukin-6 in synovial tissue of patients with polymyalgia rheumatica. Ann Rheum Dis 2023; 82(3): 440. doi:10.1136/ard-2022-222873.
Jiemy WF, Zhang A, Sandovici M, et al. POS1435 A GM-CSF AND IFN-Υ-DRIVEN PRO-INFLAMMATORY MACROPHAGE SIGNATURE IN POLYMYALGIA RHEUMATICA. Annals of the Rheumatic Diseases 2023;82:1071-1072.
Disclosures: The author reports a speaker fee from Roche and research support from AbbVie paid to his institution.