More Than a Conference: Life's Lessons
Save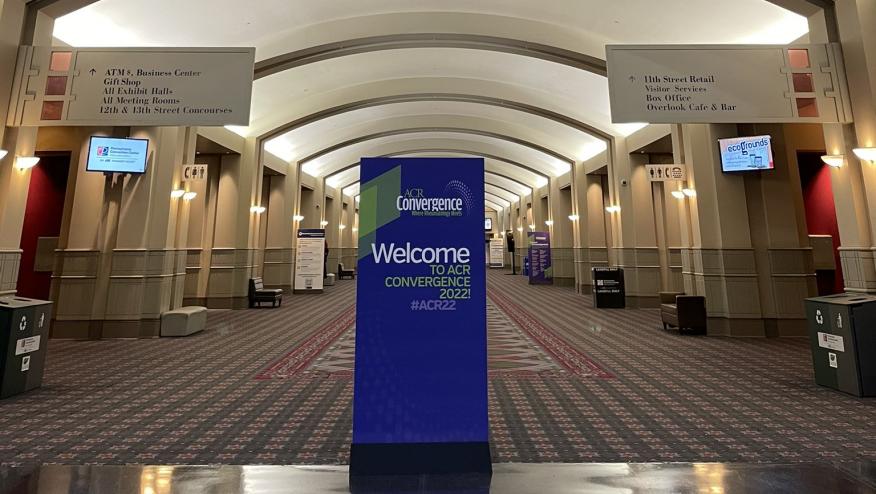 Conferences are held for the purposes of sharing ideas, developing new relationships, and collaborating on future research. The American College of Rheumatology (ACR) Convergence 2022 meeting embodies all these ideals by offering both in-person and virtual attendance options. However, when a conference ends, what happens to the attendees? Will they remember what they learned? Will they incorporate new ideas into their practice? How have they changed? 
This is my 20th year attending the ACR annual meeting; despite my virtual attendance this year, I was still able to connect with people and acquired new knowledge. I reflected on my past and present experience with the conference and wanted to share my life lessons with you.
The Keynote Speech
Every year, the meeting opens up with a keynote speaker who imparts knowledge and inspires people. This year's ACR meeting opened with high-profile author, Dr. Abraham Verghese, delivering the Keynote Address "Physicians, Patients and the Nature of Heroism in Medicine." For those unfamiliar with him, he has written award winning books, including The Tennis Partner, My Own Country, and Cutting for Stone.  For years, he has been one of my favorite authors using descriptive, languorous language to enveloping the reader with a story. During Dr. Verghese's speech, he shared with the audience the elements of a good story, "Conflict, crisis and resolution" make the story. There are heroes and monsters.  The heroes will eventually defeat the monster, but the unexpected reward is "a new way and a new order." It is never the case that things go back to the way they were." As I reflect on his statement, I realize he is correct. We will never go back to just in-person meetings, nor will we discard the advances in telemedicine. It was inconceivable how rapid research was conducted and information disseminated. Trying to recapture the "old ways" would be detrimental to growth.  Life lesson: Change is inevitable, and it is good.
The Abstracts 
Many young faculty and trainees may not realize this, but years ago, the ACR would mail a thick journal issue of the abstracts a few weeks before the meeting. This 1 to 1.5 inch thick issue detailed all the abstracts accepted to the annual meeting. Attendees would review the abstracts before coming to the meeting, dog-earing pages they found exciting to refer to later when they met the authors to ask questions. Later, a flash-drive replaced the abstract issue, and now we have web-based internet abstract access. Despite the changes in formats, the quality of the science has been consistent. Abstracts presented at the meeting become the bedrock for future studies, the foundation of new therapies, and the groundwork for guidelines. Clinicians and researchers were excited about the ideas they would bring home to implement in their practice or their lab. Indeed, several abstracts caught my eye at this year's meeting that I will be implementing in my clinic: 1. holding methotrexate 1 week instead of 2 weeks after vaccination (abst#0936) 2. being proactive talking to my patients about their sexual health and sexually transmitted diseases (abst#0939) 3. teaching the medical students and residents the cost savings of not repeating an antinuclear antibody (ANA) test or ordering an extractable nuclear antigen panel without an ANA (abst#0228, abst#0058) and 4. adjusting the calculated FRAX score based on glucocorticoid dose (e.g, for prednisone >7.5 mg/day or >5 grams cumulatively over a year, the 10 year major osteoporotic risk FRAX is multiplied by 1.12 and the hip fracture risk is multiplied by 1.5 to get a more accurate fracture probability-2022 GIOP guidelines Scientific session 14M111). Life lesson: Innovation is driven by science.    
The People.
Everyone knows a rheumatologist is not just a doctor. A rheumatologist is a skilled diagnostician, a humanitarian, and a healer.  Observing all the rheumatologists in one place like the ACR meeting is quite special. Over the years, I introduced myself to a multitude of rheumatologists from different parts of the word: East Asia, Europe, the United Kingdom, Ireland, Latin America, Canada, Spain, Africa, South America and more. Despite our different accents and cultures, our goals are the same: we hope to better the lives of our patients.  With each conference, I made new friends, and met my heroes – experts in different fields of rheumatology (note that the word expert is derived from the latin word expertus meaning "to have tried" or "experienced"). Awestruck by their research, I have asked these experts questions to clarify a concept, to request advice on a patient, or to collaborate on a project. The opportunity to network with others who share the same passion at the ACR conferences is the highlight of the meeting. Life lesson: Don't be afraid to meet new people and talk to your heroes.