Ultrasound Reveals Which Anti-CCP Positive Patients Progress to Arthritis 
Save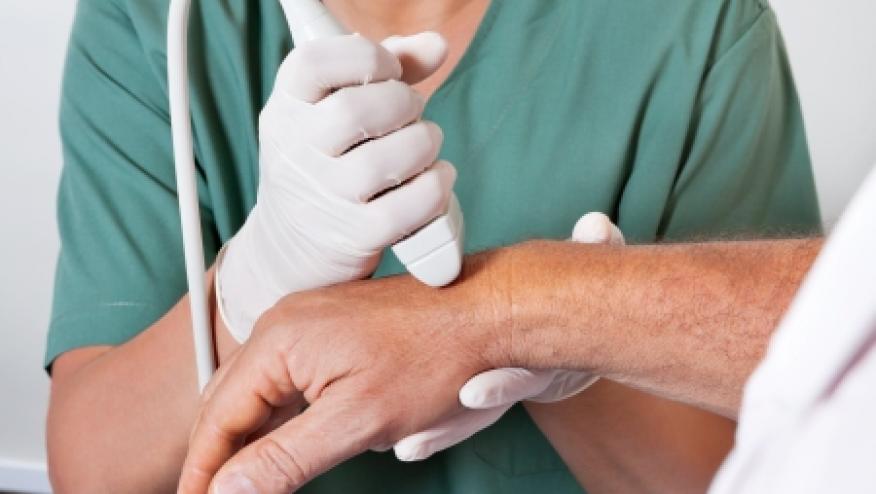 Power Doppler signal on baseline ultrasound exam may well help stratify anti-CCP positive patients with musculoskeletal symptoms but no clinical synovitis, according to data from the Leeds Institute of Rheumatic and Musculoskeletal Medicine presented at EULAR 2019.
The question about what to do with anti-CCP positive patients with arthralgias but no synovitis clinically is a common but contested one. The capacity to determine which of these patients might progress to an inflammatory arthritis would help determine which patients might need early treatment whilst sparing those who might not benefit. Such stratification might be possible by capturing a sub-clinical phase of disease on imaging studies, before established inflammatory arthritis occurs.
Laurence Duquenne and colleagues looked at ultrasound data from 307 such patients captured over 10 years of a prospective observational cohort in Leeds, with palindromic rheumatism patients excluded. All patients had a 38 joint ultrasound examination and were then followed for at least twelve months. Progression to inflammatory arthritis was seen in 31% of these patients, with smokers and high-titre anti-CCP patients more likely to do so but with other demographic features unhelpful.
More strikingly, there was a strong association with Power Doppler signal in any joint, with an odds ratio of 7.52 in the first three months and 3.17 in the nine months following. Hands and wrists proved to be high yield anatomical targets, with individual odds ratios of 5.01 and 4.47 respectively in the first three months. Importantly, additional joints and higher Power Doppler signal both further significantly increased the likelihood of progression to inflammatory arthritis.
These results open up potentially improved targeting of pre-RA therapeutic interventions, and even the possibility of preventing the development of rheumatoid arthritis in susceptible patients without unnecessarily treating patients unlikely to progress.
Add new comment