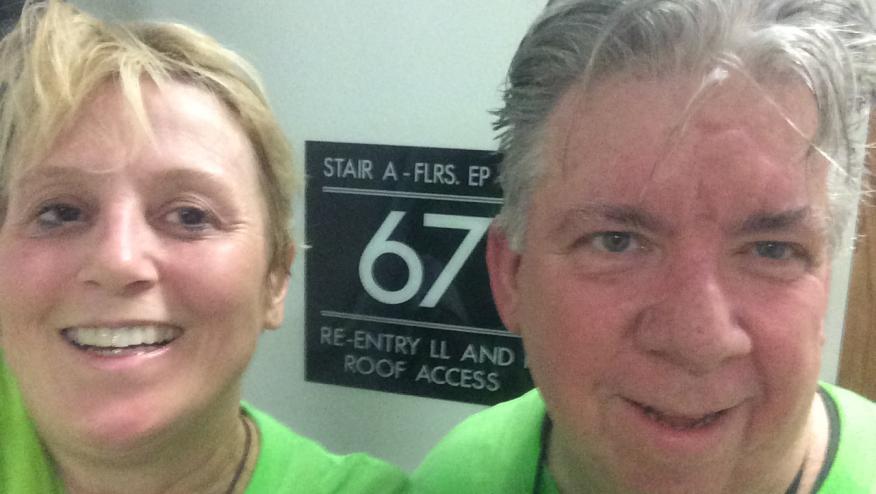 Last Saturday, Jan 30th, I was one of over 2000 crazies who climbed the 70-story Bank One Tower, the tallest building in Dallas. The event was called the "Big D Climb", and it's an annual event to raise funds for the Leukemia & Lymphoma Society.
I did train for this since Christmas break. Twice a week I did the Stairmaster at the gym (equivalent of 30+ flights) and almost daily I would climb the six flights to get to my office. And for five weeks I would meet up with my team ("Tower of Power") at a local bank building to climb 10 flights at least 10 times.
All tolled, I had logged over 10,000 stairs. 10,000 stairs has to be about 10,000 times harder than 10,000 steps. 10,000 - isn't that the number it takes to become really good at something? As we entered into the event, our group was well prepared and ready to easily scale the 70 flights. 
Tower of Power is a team of 8 people unified by this fund raiser. Four men and 4 women, 5 joint replacements, 4 knee arthroscopies, 2 cancers and 6 bad attitudes were not enough to deter the inspiration and perspiration required of this event. The group ended up in the top 7 in fundraising and I was the #4 fundraiser - thanks to the kindness of you, your peers and my many friends.
Many have asked how I did. The good news is I finished. Moreover, no injury, no EMT, and no emergency stents were needed. The next day I fell out  jumped out of bed without any pain. I did finish somewhere in the middle of the pack (if you define middle as the inclusive 95% confidence interval on the Bell curve). Well, more like on the back slope of that curve.
I'm proud to say that I finished before cleaning people arrived. Ok...the real truth is that with 2500 people running upstairs past me, the upwind Bernoulli effect created a vacuum strong enough to suck and propel my spaghetti legs from the 52nd to the 70th floor finish line. While I should have raised my arms in triumph as I crossed the finished line, I instead flopped into the arms and cheers of Team Tower of Power.
Notable Quotes and Moments
Chris L. said "good luck and may the knees be with you" (I had knee replacements in 2011).
Dr. Kelly, said, "I donated enough to cover the co-pay if you need an ambulance….Proud of you for joining the old guy exercise team."
Dan D. said, "I'll donate $100 but if you need an EMT or CPR you owe me dinner and I get to kick your sorry butt!"
The amazing part of the event was the number of runners/climbers who would cheer you on along the way!  I would have done the same, but with my panting it would have come across as some sort of harassment.
I planned on doing 20, rest/water, another 20, rest/water, then stop for a breather every 5 or 10. Well, the organizers could only do rest stations on unoccupied floors, so I was constantly guessing and later cussing and grumbling over when the next dang water stop was.
Aleks S. said, "The only record you need to reach is one you set for yourself!"
I saw an old guy (now defined as someone 10 years older than me) with severe genu varum (bow legs) around flight 55. I told him how impressed I was that he was doing this with such horrible painful knees and how humbled I was since I had new painless knees. He passed and finished ahead of me with a smile that read "eat my dust". I was going to share my ibuprofen with him at the top - but thought he didn't deserve the relief.
A 20-something kid blew by one of my teammates around flight 35. They yelled, "Hey slow down, pace yourself"! The kid turned, continued to climb up (backwards) and said this was his second trip (thus he had already done 70 + 35) and was still running two steps at a time.
Our group started at 9:45AM, and by 11:00 am we were enjoying the free Dos Equis.
Dr. Orrin stated he would only donate if I took the elevator down. Let me tell you how thrilling that 70 flight drop to earth was.
The highlight for me was when my teammate, friend and RA patient Chiffon met me on flight 65 to climb the last five floors with me. It really helped and inspired me. It didn't help that she took pictures of me and laughed at my final drag.
Below you will find a couple of pics taken from the event. Team Tower of Power is dressed in green.
It's not too late to donate, so please do! I only need you to send $10 or $25 or whatever you would pay to see me suffer flights 67 through 70. This is a great cause that benefits patients and families with Leukemia & Lymphoma - CLICK HERE FOR LINK. 
Disclosures
The author has no conflicts of interest to disclose related to this subject
Rheumatologists' Comments