Time for a Paradigm Change in Rheumatoid Arthritis
Save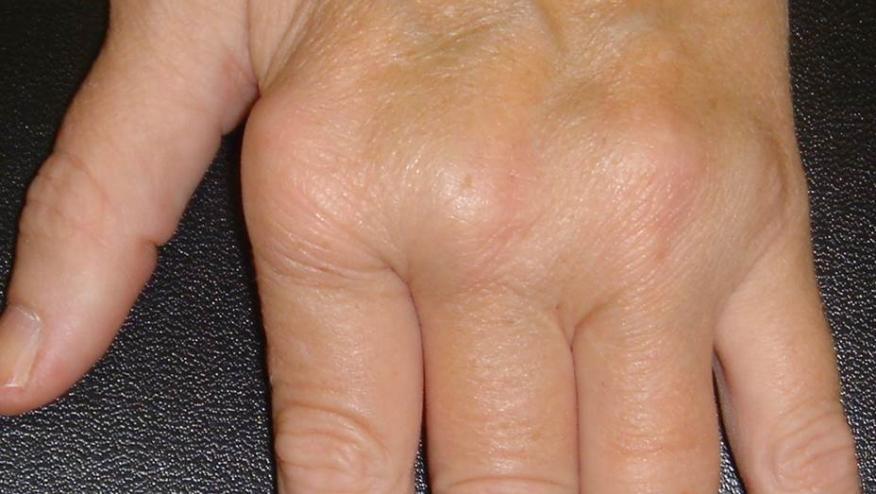 I saw a patient today. She is 37 years old, has RA and was referred to me by another doctor in my city and state. She could only say she was not doing well, and that maybe her doctor wanted a second opinion. 
Immediately I knew she was in trouble. 
She had RA for over 10 years and unfortunately now has that many (and more) swollen joints, with deformities and functional disability.  She had a first-glance exam that was unnerving.
What is more unbelievable is that in the last 10 years, her one and only rheumatologist has only treated her with prednisone, gold, methotrexate, and "Enbrel" (ETN).  I don't know whether to give thanks or curse the God of joints that it took 10 years for this rheumatologist to send her to me after declaring she had been a "failure" to the treatments she took for "at least a year or more".  In the last few months, the prior rheumatologist thought her condition warranted consideration of a change from her ETN, saying she had "difficult" to treat RA.  Presumably that is why she had been sent to me.
Why this irks me is probably something I should take up with a therapist - but instead I chose to blog about it. 
How do I explain why she has been undertreated, leaving her in a damaged mess?
Do I politely treat this as a consult and return the patient with my best recommendations?
How do I tell her ghost of rheumatology past that the follow-ups intervals and frequency of drug changes were abysmally myopic? That his/her unfocused assessments and lack of metrics led to 3 anemic DMARD changes over 10 years?  That it's unacceptable to change DMARDs every 3.3 years in someone who has 18 tender joints, 13 swollen joints, numerous deformities, multiple radiographic erosions, elevated CRP and ESR levels and high titer seropositivity?  Seems this patients quarterly visits were either formalities or billing opportunities, rather than serious attempts to treat a dangerous disease.
How many clues are needed for a rheumatologist to know that something is wrong with the soup he/she is trying to concoct?
Despite being vexed, I remained optimistic - because this patient needs hope. Hope is highly valued and seldom prescribed. I was clear in telling her I'm now in charge and that I'm now taking responsibility for her prescriptions.  
I told her I was going to guarantee that she's going to get better (an easy promise given her horrific inflammation and how few drugs have been tried) and be much more functional and happy with her life and her arthritis.
So what's worse here?  That the patient has been mistreated or that there are physicians among us who for one reason or another, tend to take the "start low, go slow" 1980s approach to rheumatoid therapeutics?  Or that there are still some who prescribe medicine, but worry about the safety of the medicine more so than the hazards of the disease?  Both are certainly needed, but clearly, RA is the 800 lb. gorilla in the room that must be priority one. 
Those who see RA patients cared for by others (second opinions, transfer of care, etc.) will always see the mistakes made by others.  However, the retrospectoscope affords the second rheumatologist the wisdom of unsuccessful choices made by the first.  As the second rheumatologist, I may have more information and knowledge, but I may also have less time, fewer drugs and greater damage to deal with.  My advice to myself and to others is to have great urgency, high goals and little patience when treating disorders like RA, lupus, necrotizing vasculitis.  Time is your enemy and most of the damage goes unseen on a daily basis.  
Hence don't make these management errors: (also known as Cush's Prescribing Peeves):
Trying to get it just right.  This ideology should be left for bears in storybooks. In rheumatology, it promotes undertreatment, stagnated thinking and inaction by the prescriber.  RA is progressive in everyone. If you're not prepared to overtreat from the outset (e.g., be committed to combination DMARDs, etc.), then consider a career in physical medicine and rehabilitation. 
Use of Monotherapy from the outset or when aggressive disease is evident (see below)
Use of hydroxychloroquine (HCQ) at the outset or when aggressive disease is evident. HCQ is a great add-on DMARD and it's incredibly safe.  However, the use of HCQ is largely based on its safety and low potential good in those with "mild arthritis". My problem is I don't know what mild RA truly is and that 30 years of practice has taught me that a) I don't know how bad RA will get; and b) the best first drug should be your best drug or regimen - not you're mildest or safest. (Yes I know that many of you Plaquenators will protest stating that many patients will respond well to HCQ.  I'm sorry but HCQ monotherapy remissions are the exception and not the rule. I don't let the exception drive my prescribing - if I did I would be buying lottery tickets daily.) 
Not measuring. Professor Verna Wright's quote from decades ago is still true: "all too frequently rheumatologists write 'doing well' in the chart of a patients who has become progressively disabled before their eyes."  If you don't have the comparative metrics, then your time to change will be delayed and the patient will suffer in the long run. Gestalt is for those who wish to grow beards, drink coffee and quote Proust.  Measuring should and will be required, takes 90 seconds, is easily trackable and permits the fastest interval prescribing changes. Measurement gives you an identifiable panic button. If you haven't defined what the "red flag" finding is or what the "panic button" value is in your RA patients, then they are in trouble (you're supposed to be captain of their ship). 
Not getting help when you need help. What I love about rheumatologists - local or national, big fish or little fish - is they are all generous in their desire to help their peers. There are clearly going to be several patients who will need more than you can come up with.  I believe that being a rheumatologist is like being a prize fighter.  Give me RA as an opponent, and I'm pretty sure I'm going to beat it down and control the disease. You step into the ring knowing you're going to win - but sometimes you don't. What happens when you give your 1-2-3 cha-cha-cha prescription regimen and it crashes and burns? You need others in your corner and need to know when the throw in the towel and let someone else take a shot a Clubber Lange. 
The New Paradigm
When starting out with a new therapy in RA, we need to make faster treatment decisions. Lessons learned from treat-to-target protocols and studies like BeST show us that if you measure and change, ultimately everyone gets to the same optimal responses.  Given the kinetics of most current therapies, there is no reason we shouldn't be making GO or No-GO decisions of success after 12 weeks of a regimen.  If not successful, then you're on to your next best option.  Until research or a manufacturer can tell me with great predictive value how and when to use a particular therapy, it doesn't matter what your first 3 DMARD choices are.  As long as you're not guilty of the 5 prescribing peeves above and as long as you change up your treatment every 3 months, you can minimize the damage done in RA. 
Please recognize that most of us aren't doing as well as we believe we are in caring for RA. When I have surveyed US rheumatologists and asked how often you achieve either ACR20 responses or remission, they say 80% and 60%, respectively.  These numbers are impressive but unlikely to be true or realistic.  
It's time to be concrete in your goals and metrics.
It's time to switch rather than wait.
It's time to over-treat RA until you've got it just right and then prune back to the essentials of disease control. 
It's time to coach your patients and peers on the hazards of conservativism. 
Disclosures
The author has no conflicts of interest to disclose related to this subject
Add new comment