Dr. Harold E. Paulus (1929-2019)
Save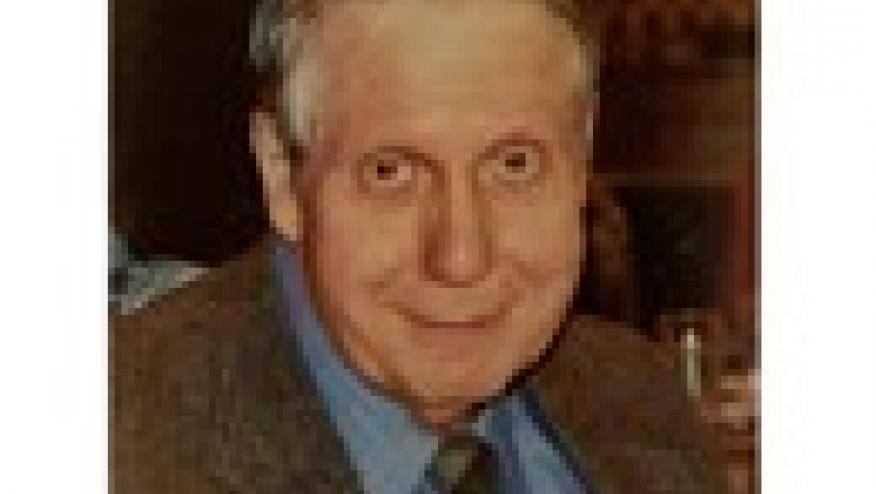 Dr. Harold "Hal" Paulus lives in the annals of Rheumatology and a major contributor, mentor, researcher and clinical trialists. He has passed away last week, one day after his 89th birthday. 
Hal was born in Allentown, Pennsylvania in 1929. He graduated from Lehigh University, Bethlehem, PA, in 1951. In 1955, he graduated from the University of Pennsylvania Medical School, Philadelphia, PA. Alpha Omega Alpha.  He met the love of his life, Rita H. Cota while at Lehigh University and married her the day after he graduated from medical school
Dr. Paulus received his medical degree from the University of Pennsylvania Medical School. After an internship at the Hospital of the University of Pennsylvania, he served in the U.S. Army Medical Corps. He ultimately made his way to California to do a rheumatology fellowship under his mentor Dr. Carl Pearson.  While training in rheumatology at the VA Wadsworth Medical Center and UCLA Medical Center, he also studied biostatistics at UCLA, and in clinical pharmacology at Cedars-Sinai Medical Center, also in Los Angeles.
In 1969, joined the faculty of the UCLA Medical Center as an assistant professor of medicine and began his career as clinician-educator. He rose through the ranks and in 1977 he became director of the Division of Rheumatology, UCLA School of Medicine and later a professor of medicine at UCLA School of Medicine. 
Distinguished by his numerous honors and awards, Dr. Paulus was well regarded for his research in Scleroderma and Rheumatoid Arthritis; and serving as the chair of the Carl M. Pearson Memorial Symposium, Frontiers of Rheumatology Conference held annually in Rancho Mirage.
Dr. Paulus served on FDA committees, volunteered for the ARA, ACR and Arthritis Foundation and was on the editorial board for Arthritis and Rheumatism in addition to serving as reviewer for several journals including Journal of Rheumatology, Mayo Clinic Proceedings, and Annals of Internal Medicine. Furthermore, Dr. Paulus has authored close to 200 articles in peer-reviewed journals in addition to more than 50 book chapters and 140 abstracts.
Harold is survived by his two loving children, Cyndy and Andy, two grandsons, Joshua Ian Manning and Robert Michael Manning and three great-granddaughters: Alleigh Anne, Scarlett River and Willow Marie. He will be remembered as a loving father, devoted husband, highly respected clinician scientist and a great mentor to young medical students, trainees and fellows. 
Donations in his honor may be sent to the Harold E. Paulus Memorial Fund in Rheumatology at UCLA at the below address. www.giving.ucla.edu/DrHaroldPaulusMemorialUCLA Health Sciences Development Attn: Jennifer Brown, 10945 Le Conte Avenue, Suite 3132 Los Angeles, CA 90095 310.206.2435
I met Dr. Paulus as a fellow in 1985, when he easily included me in his discussions and research on rheumatoid arthritis.  I admired his easy demeanor, wry humor and every man character.  Most remark on his calm recessive and kind personality that was complemented by a body of work that was large, impactful and usually at the cutting edge.
Many of Dr. Paulus' colleagues and friends have contributed their testimonies and fond memories of this great man.
Dr. Michael Brenner (former trainee): Hal was the kind of person you cherish to have as a mentor and as a faculty member and as a friend. I never saw him become angry. He was even tempered and stabilizing.  I never saw him undermine a trainee or other faculty member. He was always supportive and provided a reality test for everyone and everything. I never saw him gloat or take pleasure at someone else's expense. He always offered encouraging and realistic advice.  He always wanted to see the best and helped to bring out the best in everyone. He embodied a wealth of information and experience.  And he shared it in a positive, funny and uplifting way.  He was the kind of person you cherish to have as a mentor and as a faculty member and as a friend. 
Dr. Stanley Cohen: Hal was a wonderful teacher and played a major role in the early efforts to provide a framework to measuring disease activity in rheumatoid arthritis with the Paulus criteria which provided the framework for the ACR response criteria. Additionally he paved the way for a new generation of clinical trialists with the methodology he played a pivotal role in developing for conducting RA clinical trials. His contributions were significant but Hal was an incredibly humble unassuming person and never sought the credit he was due for being a pioneer in RA clinical trial design.
Dr. Dinesh Khanna: Dr. Paulus was an exceptional mentor and a kind and gentle soul. I met Dr. Paulus in early 2000 during my rheumatology fellowship at UCLA. He was selfless, soft spoken, supportive, and never once mentioned his magnanimous contributions in the field of rheumatology. He spent hours with me every week and I learnt the basics of clinical research and trials from him. Once he felt comfortable with my skills, he encouraged me to think about the trial design in scleroderma.  He has mentored many rheumatologists (including my mentors—Dan Furst and Phil Clements!).  Dr. Paulus taught me that at the end of the day, it is not the publications that matter, but the person you are. We will miss you, Dr Paulus.  RIP!
Dr. Puja Khanna: It was a privilege and an honor to train under this gentle giant of rheumatology. Dr. Paulus was a brilliant visionary who dedicated his life to clinical investigation and research which has impacted patients in profound ways over decades. He was an amazing mentor, whose few words mattered more than tomes and books. Every line of each manuscript he reviewed for me was marked in "red" in his own hand writing! Then he took great pleasure in describing how to improve my writing with his wry sense of humor. I truly owe my success to the subtle prodding of this true gentleman. Words can never describe how deeply his graceful presence will be missed. Rheumatology will forever remain in debt to this man and his contributions.
Dr. William Koopman:   Thanks for your note regarding Hal's passing. He embodied the best of our discipline- superb clinician, gifted clinical investigator, and dedicated mentor. His integrity and commitment to excellence were always evident. His leadership contributed substantively to the growth and differentiation of American rheumatology. 
Dr. John Fitzgerald: I knew Hal mainly through my role as interim Chief. As many will report, he was very wise. I would say he had "wise efficiency" in as much that with very few words he could impart a lot of advice. He often did it with an under spoken sense of humor (usually accompanied by a small smirk).  He never sought attention, but always had everyone's attention.   He was a kind person. A legend of rheumatology.  He will be sadly missed at UCLA and in the community of rheumatology.
Dr. Vibeke Strand: Hal was an amazing humanistic Rheumatologist — always seeking new therapies for his wife.  He was gentle and thoughtful, he taught generations of rheumatologists. He pioneered total lymphoid irradiation. He developed the Paulus 4 of 6 criteria based on the CSSRD studies (the predecessor to our current ACR20/5/70 response criteria) and served many years on the FDA Arthritis Advisory Committee.   Hal was a terrific role model, and especially sensitive to young upcoming women rheumatologists.  
Dr. Artie Kavanaugh: I remember Hal best from quite a number of advisory boards and other meetings. The most notable thing was that he was always such a gentleman. And, while some people could barely stop talking at such meetings… Hal was reserved; and when he did say something it was always spot-on and profound. 
Dr. Ken Kalunian:  Hal was a humble yet incredible man.  A mentor to so many and he was loved by all at UCLA.  I just read the obit in the LA times and learned so much about him from that--over the years, I asked him many personal questions and never got real answers.  It's so typical of him that I had to wait until he died to find out what had become mysteries to me.  And now I realize that he was grander than I had even imagined.  He was the one who convinced me to become a rheumatologist when I was a resident at UCLA.   
Dr. Fred Wolfe: Hal was an academic generation ahead of me so I didn't know as well personally as others did. But he was one of the best and wisest clinicians and teachers of his generation. Hal was kind, decent, open, and wise, a real leader and a good clinician. One of the people I really admired and liked.
Dr. Bevra Hahn:  Hal Paulus was my colleague and his late wife my patient, so I knew him in several roles. He was unique-brilliant (crazy smart as one of my friends says)- and so productive. If you thought of it you should do it! Hence his groundbreaking work showing that depleting lymphocytes improved RA. Hence his insisting on the idea that means and medians do not describe clinical responses in a useful way but the proportion of patients responding is what we want to know. This idea and his organizational work was the seed of the ACR 20/50/70 responses. And his teaching was superior with many of us who studied with him moving to leadership in new therapies and outcome measures. And he was so fine as a person. Always kind to me. Devoted to his wife and family. Helping her as disability moved achingly forward...moving into her hospital rooms. A great man. Those of us who walked with him are forever blessed.   
Dr. Roy Fleischmann: I was impressed with his knowledge and more importantly impressed that he was a true gentleman. He added immeasurably to our knowledge of the correct metrics to use in clinical studies. 
Dr. David Yu: I was recruited to become a UCLA rheumatology fellow in 1971. The purpose was to assist Hal in one of his first RA clinical trial. It was one of the most daring clinical trials you can imagine. Every day for at least a month, about 3 litres of lymph were continuously drained from the thoracic duct into a bottle. We would remove the lymphocytes by a special centrifuge and then infused the lymph back into the patient. It was probably the first clinical trial in which RA patients saw a lasting remission.  This was the beginning of immunosuppressive therapies in RA. Hal was not only innovative; he was also very generous in sharing the credit with his collaborators, and in promoting my career even though I was only first year fellow. He has trained a lot of outstanding investigators including Philip Clements, Daniel Furst and many others. We not only respected him. We adored him. 
Dr. Veena K. Ranganath: Hal Paulus was my mentor from 2003 when I started rheumatology fellowship at UCLA.  He mentored fellows, residents, medical students, and undergraduates with grace, respect, integrity, and humility.  He pushed his mentees to work hard and strive for excellence.  He never said a bad word about anyone. He always started a conversation with pointing to the chair beside him and asking about you and your family.  Unfortunately, he stopped coming to the office regularly from 2011 after his wife became ill. Not only was he a mentor with the utmost integrity, he was a devoted husband and didn't leave her side during numerous hospitalizations and inpatient rehabilitation admissions till she passed. If only we all could be just "a little" like him, the world would benefit from medicine practiced with compassion, kindness, humility, and truth. 
Drs. Dan Furst & Jim Louie: Dr. Paulus began his career in internal medicine in Minnesota, and then came to Los Angeles where he was a rheumatology fellow under the founder of the UCLA division of rheumatology, Dr. Pearson, and did an informal clinical pharmacology fellowship at Cedars-Sinai Medical Center.  He was a prominent member of the FDA advisory committee which coined the term "Disease  Modifying Antirheumatic Drug" and also helped develop the critical guidance's for DMARDs promulgated by the FDA.  Dr. Paulus was a pioneer in the field of Rheumatology, known internationally for some of his truly seminal work. from his work demonstrating the role of lymphocytes in rheumatoid arthritis (RA) to the development of a composite index for individual improvement in RA, which guided the testing of new drugs for RA and shaped the maturation of modern rheumatology. When speaking to his many friends and mentees, the words "gentle giant" are spoken repeatedly. He was always quiet and retiring but his wry humor and shy smile will characterize many people and memories of him. His influence, thru his many fellows, colleagues and mentees is a lasting legacy.
Disclosures
The author has no conflicts of interest to disclose related to this subject
Add new comment