New EULAR/ACR Classification Criteria for SLE
Save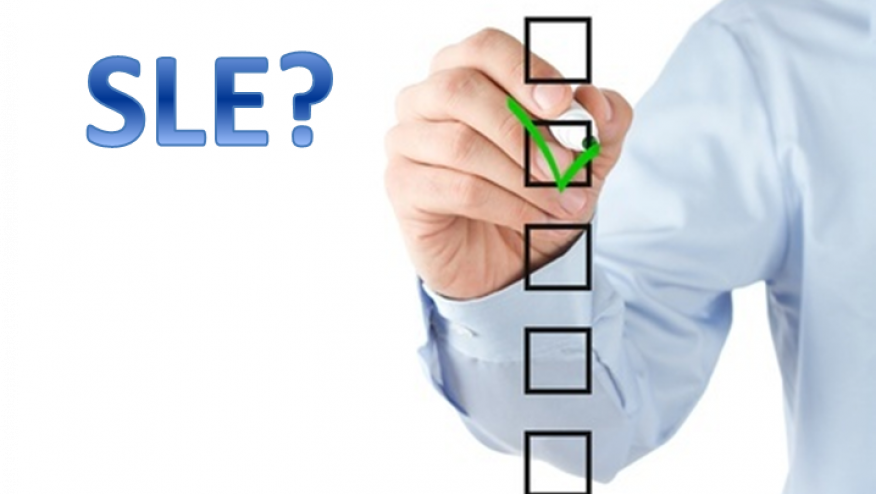 The European League Against Rheumatism (EULAR) and the American College of Rheumatology (ACR) have jointly developed new classification criteria for systemic lupus erythematosus (SLE); prompted by the need for criteria that were both highly sensitive and specific.  The net result is improved sensitivity and specificity, but the use of positive ANA requirement along with a longer list of weighted criteria ensures its utility in SLE research (including early or latent SLE), but not clinical practice.
This international initiative from many lupus research centers had four phases.
Evaluation of antinuclear antibody (ANA) as an entry criterion
Criteria reduction by Delphi and nominal group technique exercises
Criteria definition and weighting
Refinement of weighting and threshold scores in a new cohort of 1,001 subjects and validation compared with previous criteria in a new validation cohort of 1,270 subjects.
The process included 23 expert centers, with each contributing up to 100 SLE patients and non-SLE patients. Diagnoses were verified by 3 independent reviewers for 1,193 SLE and 1,059 non-SLE patients. 500 randomly selected SLE and non-SLE patients formed the derivation cohort and the remainder the validation cohort. 
Past criteria were either too sensitive (1982, revised 1997) or too sensitive with a loss of specificity (SLICC 2012). Thus the new criteria set out to improve both the sensitivity and specificity.
 

ACR 1997

SLICC 2012

New criteria 2019

Derivation

  Sensitivity %

85

97

98

  Specificity %

95

90

96

Validation

  Sensitivity %

83

97

96

  Specificity %

93

84

93
The new 2019 EULAR/ACR classification criteria for SLE requires a positive ANA as obligatory entry criterion. Other criteria were chosen from 7 clinical (constitutional, hematologic, neuropsychiatric, mucocutaneous, serosal, musculoskeletal, renal) and 3 immunologic (antiphospholipid antibodies, complement proteins, SLE-specific antibodies) categories, and weighted from 2 to 10.
Patients with ≥10 points are classified as having SLE
In the validation cohort, the new criteria had a sensitivity of 96.1% and specificity of 93.4%, compared with 82.8% sensitivity and 93.4% specificity of the ACR 1997 and 96.7% sensitivity and 83.7% specificity of the Systemic Lupus International Collaborating Clinics 2012 criteria.
The following algorithm outlines the weighted point system used to classify a patient as SLE: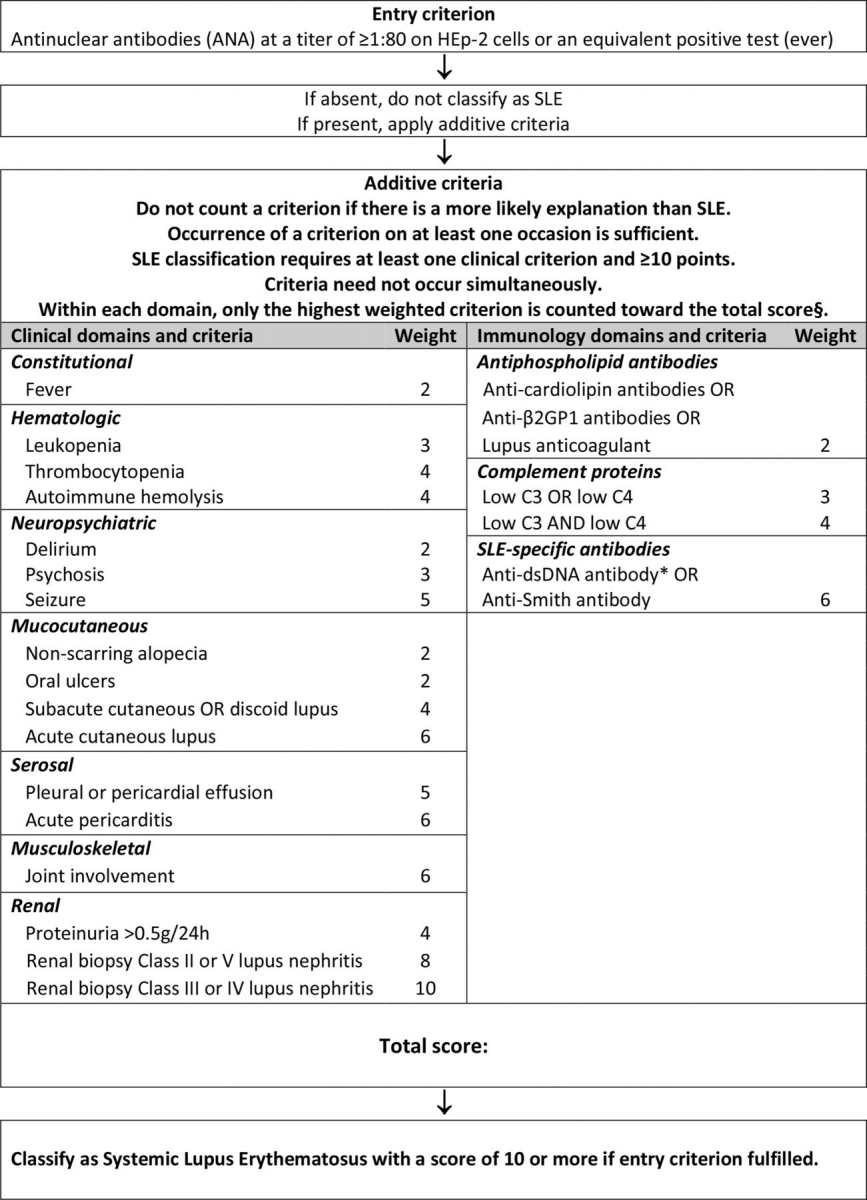 Disclosures
The author has no conflicts of interest to disclose related to this subject
Add new comment