ACR 2022 - Day 1 Report
Save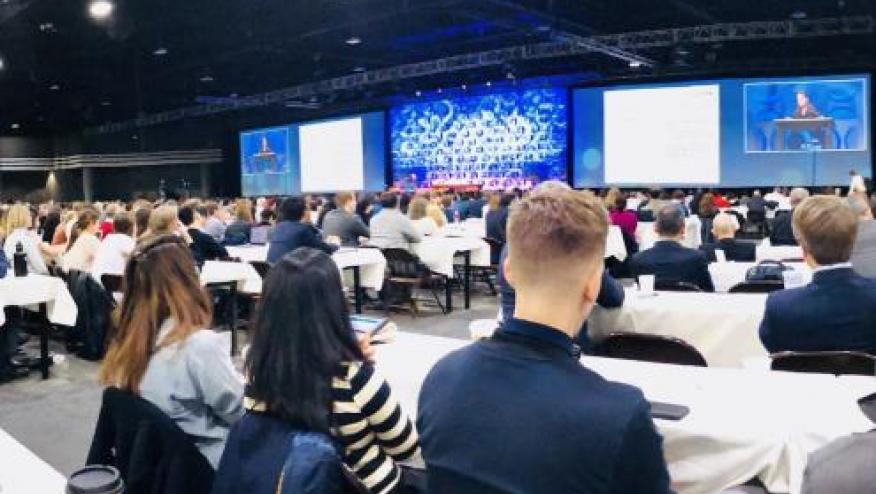 The masses have returned to ACR22, a live, face-to-face, and virtual, meeting that began Saturday in Philadelphia. Throngs and gaggles of MSK wannabees crammed the ballrooms and rushed the exhibits as they relived the rheumatologic meeting we once knew.
What I like most on the first day was the genuine delight of being together once again. Rheumatology reunions abounded and it seems like every 30 seconds I was running into another great friend, friendly face and RheumNow fans. It was a happy and humbling day. No masks, but lots of hugs and great banter amongst friends and colleagues who can talk our talk. Ah, to be back at the annual ACR meeting!
As we struggle to recover from a pandemic, the return to normal has been as challenging for the ACR as it has for the airlines, your favorite café and the workplace. Thus, there were some eye rolling glitches and disappointments as this is a new ACR – it's post-pandemic and recently renamed convergence. The ACR staff was great, working harder, with the smile and service they are known for.
There were hassles with the internet with navigating the meeting, or the wonky app, and pangs of panic from not knowing how to get to your next meeting room in the next 6 minutes. There was no poster floor, and instead we were offered an odd stage show of micro-presentations on only 225 posters. Odd and far from satisfying.
Yet the education and sessions were as you'd expect with many good presentations worth recapping.
Screening Myositis for Cancer. The plenary session highlight for me was the new international recommendations on screening patients with idiopathic inflammatory myositis. This novel approach included stratification of myositis patients into low, intermediate, and high-risk groups and defining two levels of testing/assessments: 1) standard and 2) expansive. The suggested testing was on the excessive side. When I commented at the microphone that the suggested diagnostic overkill was in desperate need of further study and economic analyses, the presenter, Dr. A Oldroyd, reasonably stated this is a start, a proposal for numerous assessments such that future research will better define what has diagnostic utility and cost efficacy.  I believe many of us want to see a reasonable diagnostic approach laid out so that we can consider it in our patients newly diagnosed with inflammatory myositis.
Sputum Autoantibodies in CCP+ At-Risk Patients: Wilson and colleagues from the University of Colorado have previously showed that individuals at risk for developing rheumatoid arthritis (RA) were capable of generating CCP antibodies and demonstrating inflammatory lung disease, even though they had no lung or joint symptoms.  In their current study investigated individuals who were anti-CCP-IgG positive without evidence or criteria for RA and looked for RA-related autoantibodies in the sputum (presumably also reflecting lung involvement). They studied 66 participants over 1-5 years and showed that 21/66 developed RA (median 17 months).  They found significantly more sputum autoantibodies (anti-CCP-IgG, anti-CCP-IgA or RF-IgM) in those who developed RA compared to those who did not. After adjustments they found that any sputum antibody was associated with an increased risk of developing RA (HR=3.4-5.4).  These findings support their "mucosal theory" of the origins of RA.
MIRROR Study – Adding Methotrexate to Difficult Gout Patients Treated with Pegloticase; Botson et al presented data from this trial that was impactful enough to b e a plenary talk, highlight in the year in review, published in Arthritis & Rheumatology, and ultimately leading to a change in the pegloticase prescribing label. The double-blind, randomized trial treated 152 patients with 152 refractory gout patients. Significantly higher treatment responses were seen in the MTX vs. PBO group (71% vs. 38.5%; p<0.0001), with no new safety signals.  Using MTX can reduce the immunogenicity of the PEG moiety in pegloticase with less pegloticase adverse events and longer, sustained efficacy.
Disclosures
The author has no conflicts of interest to disclose related to this subject
Add new comment