ACR/EULAR 2022 Classification Criteria for EGPA
Save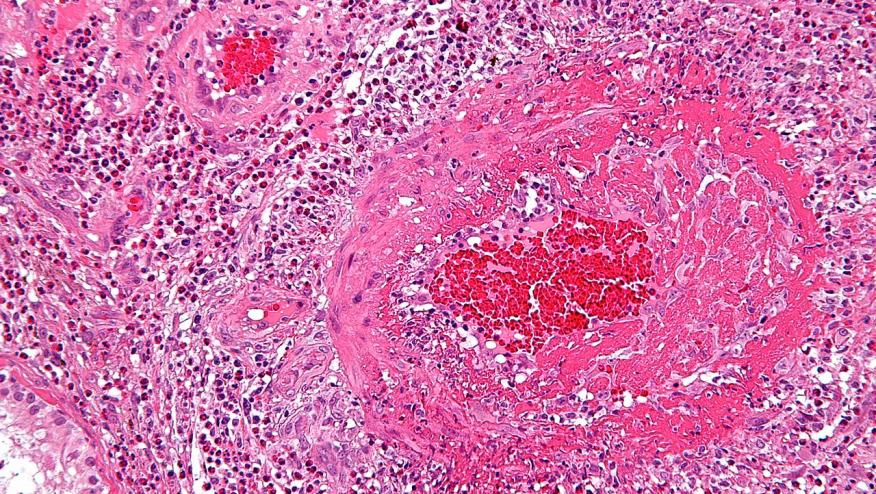 The 2022 ACR/EULAR revised classification criteria for eosinophilic granulomatosis with polyangiitis (EGPA) have been revised and validated for use in clinical research.
This international cohort of vasculitis and comparator cases were to develop and validate criteria based on 91 candidate variables. By regression analysis these were narrowed to 11 items for the diagnosis of EPGA; 7 of which were retained.
The initial analyses were done on a development cohort of EGPA cases (n= 107) and 450 comparators. The validation set consisted of an additional 119 cases of EGPA and 437 comparators.
The final classification criteria for EGPA (and their weights) were as follows:
Maximum eosinophil count ≥1×109/L (+5)
Obstructive airway disease (+3)
Nasal polyps (+3)
Cytoplasmic antineutrophil cytoplasmic antibody (ANCA) or anti-proteinase 3–ANCA positivity (−3)
Extravascular eosinophilic predominant inflammation (+2)
Mononeuritis multiplex/motor neuropathy not due to radiculopathy (+1)
Hematuria (−1)
Patients could be classified as having EGPA, after excluding mimics of vasculitis, and having small- or medium-vessel vasculitis, with a cumulative score of ≥6 points.
These EGPA criteria have a sensitivity of 85% and specificity of 99%.
Disclosures
The author has no conflicts of interest to disclose related to this subject
Add new comment