ICYMI: Shutdown and the New Normal
Save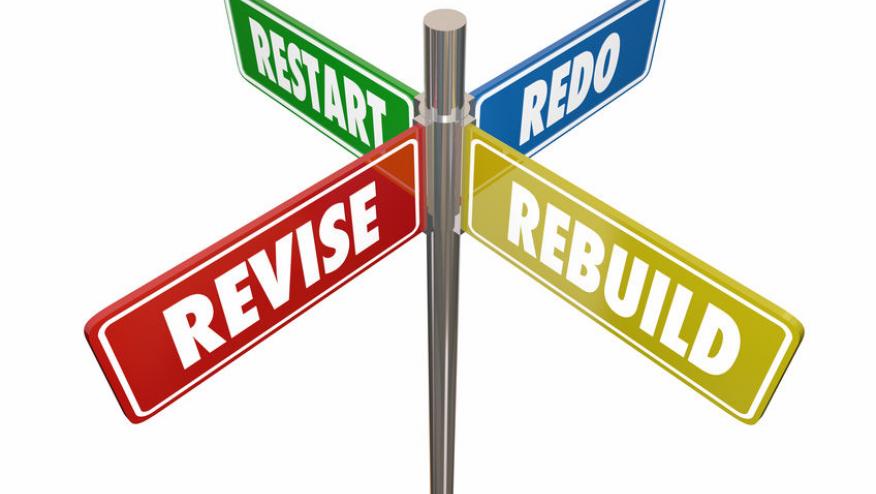 Editor's note: This blog was originally published April 16, 2020, and is being shared again this week in case you missed it. 
 "So far, we've been wrong about everything" claimed a U.S. governor during a TV interview.
A televangelist reminded everyone on Sunday that you cannot listen to 24/7 negative news and stay positive.
The medical, societal and economic consequences of this pandemic are staggering.  The pandemic is worsened by the infodemic. COVIDs worst outcome is not the cytokine storm, it's the "negativity storm".
We are all at our most uncomfortable when we are uncertain, unknowing and unable to predict or guide those who rely on us.
It's no wonder the musical theme of late is the late Bill Withers tune, "Lean on Me".  It seems people want to lead or some want to be led.
When the COVID pandemic hit us hard in mid-March, everyone at work was in a tizzy over bad news, fuzzy clinic restrictions and the unchartered waters of remote care and telehealth. 
I wasn't upset or worried.  I had already gone through the hell of a new EMR adaptation in the prior 4 months.  By comparison, this new COVID challenges could not nearly demand as much PPI and melatonin use. 
I reminded everyone, sure "we don't know what tomorrow will bring", but our collective talent, experience and know-how will be brought to bear as we go to work and figure it out.  No big deal if we misstep (in coding, who/when we see patients, etc.) in the next few days. We will learn adapt and in 2-3 weeks, we will be more proficient and adept at providing a new kind of effective clinical care.
The US Marine Corps live by the adage, "Improvise, Adapt, and Overcome".
Has this not been your new standard operating procedure since mid-March?
I hope by now you're adapting to the new normal and overcoming your individual challenges at home, school, work or wherever you find yourself isolated.
Change. Change is good.  If you want to come out on the other end of COVID-19 in a very positive way you will need to change – at work; at home; and in your professional life.
Changing Work
The Texan columnist/activist Jim Hightower once said, "Do something. If it doesn't work, do something else. No idea is too crazy."
This applies as you develop your new normal at work.  The punch list has to include how you will:
See patients remotely (telephone, televideo) – I would suggest you look at our recent videos by Dr. Alvin Wells
Develop rules for who needs to be seen in clinic – what is an urgent visit?
How will you manage your infusion patients? 
How will you manage you employees?

 

Little has been written on this subject, but I would implore you to keep your clinic business active and business to meet clinical demands and maintain employment for all.

 

Using tools like SLACK, Zoom meetings, texting and weekly team meetings by video (preferably) or phone are paramount to productivity and progress.

  

Lastly, it's your responsibility to maintain moral, be the voice of safety and reason and encourage your colleagues and team members during the "negativity storm" of COVID.  
Change at Home
I think adaptations at home may be the most difficult. Especially, if isolation has become your nemesis, your 800 lb. gorilla.  Whether alone or in confinement with your family, kids, pets, you will need a plan to master your neverending hours at home.  My most shallow recommendations:
 

Study the lives of famous recluses – Howard Hughes,

Edvard Munch

,

,

Marcel Proust, Emily Dickinson, The Grinch, Nikola Tesla, Brian Wilson or Greta Garbo

 

Binge watch disaster movies – Towering inferno, Twister, Titanic, Outbreak, Contagion, Earthquake, Poseidon, Independence Day, Cloverfield, The Day the Earth Stood Still 
Read pandemic books -

The Andromeda Strain, Clearing the Plains, American Pandemic and The Band Played On, The Stand, The Long Winter 

 

Go Basic: recreate through board games, card/poker night, cookouts, theme dinners, sing-alongs.
These may be time wasters, but they are one step ahead of Netflix binging, which will undoubtedly lead to depression and diapers.  I think the home adaptations are about operations, defining roles, creating space, getting outside (recess for adults or kids) and focusing on what makes your home and your family so great.  I worry most about mom-rheumatologists (momatologists?) who are carrying a full patient load from home, while home-schooling, and running the homestead.  PLEASE ASK FOR HELP or pay for assistance or send your spouse to COVID camp where they can learn how to become aware, do dishes and master the art of pancakes for all meals.
Change Yourself
Seth Godin recently wrote, "Its way easier to get someone to watch–a YouTube comic, a Netflix show, a movie – than it is to encourage them to do something. But it's the doing that allows us to become our best selves, and it's the doing that creates our future."
COVID-19 is not going to suddenly end on June 1st. This is a long haul change and you need to be prepared for the aftershocks and fallout.  For your career and professional self, you need to refocus on long term self-improvement plan.  Why don't you:
Learn: a language, musical instrument, woodworking, social media, cooking & baking, etc

Fix: the one thing that is holding you back from being more successful, confident or accomplished 
Enhance: your credentials, knowledge base, personal fitness 
Start over: get back into the habit of reading A&R cover to cover, recreate work flow templates for telemedicine, look for a new job/partner/university or take on that project that really interests you
Sleep better: face it, most of us suck at sleep. Now is the best time to master the one thing that can certainly improve your QOL, brain power and attitude!

 

 
Final One-Liners
Hit the pause button, slow down, and get smart
In times of disaster, people turn to helpers
Lead or be led
Be a better doctor, get better patients, and use a COVID life to rebuild.
Be credible, be certain, be respectful
Snap Out of It!
Disclosures
The author has no conflicts of interest to disclose related to this subject
Add new comment