Allopurinol Risky in Asian Population
Save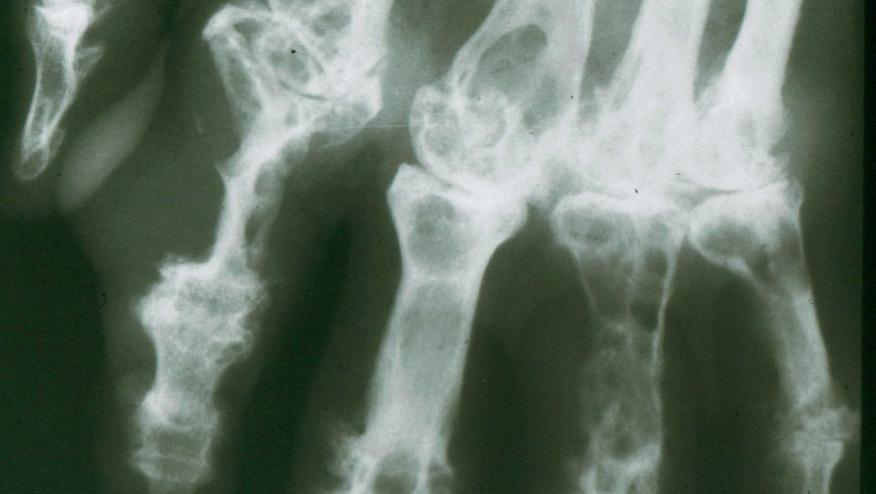 The go-to drug to treat hyperuricemia and gout, allopurinol, put patients at risk for developing hypersensitivity when American College of Rheumatology guidelines weren't followed, a large database study found.
In Taiwan, from 2005 to 2011, the rates of patients initiating allopurinol and developing hypersensitivity increased by 4.68 per 1,000 patients, as did the rates of hospitalization, 2.02 per 1,000, and mortality, 0.39 per 1,000 (PJAMA Internal Medicine.
"The findings of Yang et al. are an important reminder that we should follow the American College of Rheumatology's guidelines," Rachel J. Stern, MD, of the University of California San Francisco, wrote in an editorial inJAMA Internal Medicine. "Mortality rates for individuals experiencing allopurinol hypersensitivity can exceed 30% and long-term morbidity is common."
Stern noted that genetic epidemiology can play a strong roll in allopurinol hypersensitivity, as the HLA-B*5801 haplotype, which is prevalent in Han Chinese individuals, is a major risk factor.
In America, Stern suggested, "all Thai and Han Chinese patients, as well as Korean patients with kidney disease, should be screened for the HLA-B*5801 haplotype prior to allopurinol initiation ... Febuxostat, the newer alternative available only as the proprietary formulation, is not associated with the same hypersensitivity reactions as allopurinol. However, transitioning therapy to febuxostat for millions of patients is not cost-effective," Stern suggested.
The ACR guidelines do recommend genetic testing in patients of Asian ethnicity, Hung and colleagues wrote.
Hung's team used the Taiwan National Health Insurance Research Database, which includes more than 23 million people, and found 1,613,719 patients were issued allopurinol prescriptions from 2005 to 2011. Out of these patients, 495,863 were "new users," allopurinol-naive for the past 3 years.
The database represents more than 99% of the population of Taiwan, of which 98% are Han Chinese, according to the authors.
From 2005 to 2011, the proportion of allopurinol "new users" with asymptomatic hyperuricemia went from 37% to 50%, and the annual incidence of allopurinol hypersensitivity went from 3.71 per 1,000 new users to 6.12 per 1,000. Hospitalizations among new users who experienced hypersensitivity went from 1.63 per 1,000 in 2005 to 2.35 per 1,000 in 2011 (P=0.001).
Those rates of increase accounted for an 8.3% increase in the total mortality among allopurinol patients from 2005 to 2011 (0.36 increasing to 0.39 per 1,000).
Hung's group looked at possible risk factor variables: gender, age, initial allopurinol dosage, other medications, comorbidities, and the use of allopurinol for gout prevention or the treatment of asymptomatic hyperuricemia.
Risk for developing hypersensitivity was higher in patients who had asymptomatic hyperuricemia (odds ratio 2.08, 95% 1.94-2.24) and renal diseases (OR 1.61, 95% CI 1.33-1.94,P
Mortality risk associated with taking allopurinol was double in patients with asymptomatic hyperuricemia (OR 2.32, 95% CI 1.79-3.01), nearly 6 times higher in patients with renal disease (OR 5.59, 95% CI 2.62-11.94,P
"Although it is generally well tolerated, allopurinol is one of the most common drugs associated with life-threatening hypersensitivity reactions, including Stevens-Johnson syndrome, toxic epidermal necrolysis, and drug rash with eosinophilia and systemic symptoms," the authors wrote.
Patients were more likely to present with allopurinol hypersensitivity or mortality if they were female (OR 1.45, 95% CI 1.35-1.56 and OR 1.63, 95% CI 1.28-2.08, respectively), and when initial allopurinol dosage exceeded 100 mg/d (OR 1.27, 95% CI 1.18-1.37, for hypersensitivity only).
Older patients, 60 and up, were also more likely to develop hypersensitivity, especially those 80 and older (OR 2.27, 95% CI 1.97-2.60, for risk of death), and patients who had renal disease (OR 1.49, 95% CI 1.38-1.61, for hypersensitivity and OR 2.20, 95% CI 1.69-2.87, for death), or cardiovascular disease (OR 1.13, 95% CI 1.04-1.22, for hypersensitivity, and OR 1.79, 95% CI 1.39-2.30, for death).
The main limitation of the study was the lack of clinical data available through the insurance database.
The study was supported by the National Health Insurance Administration, Ministry of Health and Welfare, Taiwan, the National Science Counsil of Taiwan, and Chang-Gung Memorial Hospital. Hung and co-authors disclosed no relevant relationships with industry. Stern disclosed no relevant relationships with industry.
This piece is brought to RheumNow readers by our friends at MedPage Today, where it originally appeared on July 22, 2015.
Image credit: "Fluorescent uric acid" by Bobjgalindo - Own work. Licensed under GFDL via Wikimedia Commons.
Add new comment