DMARD Switching in Psoriatic Arthritis
Save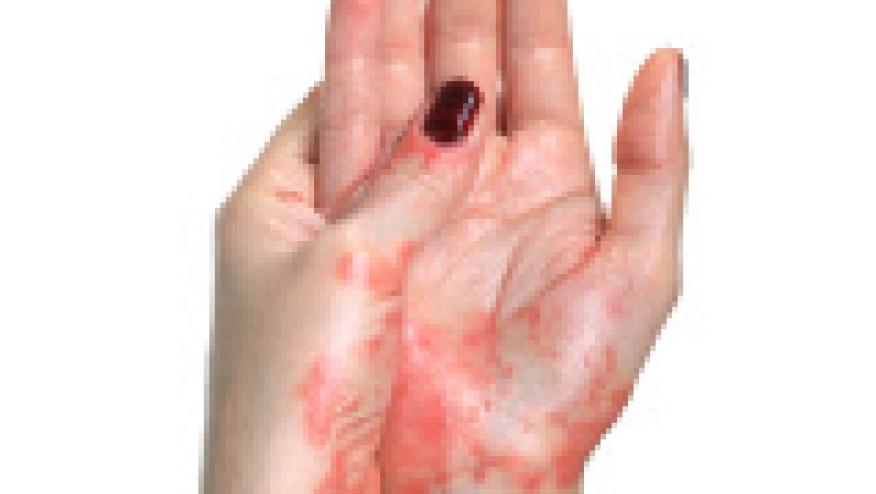 Switching biologic disease-modifying anti-rheumatic drug (bDMARD) therapy after failure of a first bDMARD for the treatment of psoriatic arthritis (PsA) can be effective, according to a review of the literature and PsA consensus treatment recommendations.
Investigators led by Joseph F. Merola, MD, from Harvard Medical School, Boston, conducted a literature review to determine the efficacy and safety related to switching between bDMARDs in the treatment of PsA, and they evaluated PsA treatment recommendations from national rheumatology societies to identify consensus guidelines on switching.
They noted that "data from the clinical literature on switching bDMARD therapies in PsA are limited," with most studies being observational or retrospective. Treatment responses have been decreased when switching from one tumor necrosis factor inhibitor (TNFi) to a second or third TNFi, and the patient characteristics that predict efficacy after switching aren't clear, they wrote online in Seminars in Arthritis and Rheumatism.
Large-scale randomized controlled trials of ustekinumab and secukinumab showed that American College of Rheumatology 20 and Psoriasis Area and Severity Index 75 responses "were significantly improved compared with placebo in patients who failed to respond to one or more TNFi, and that these agents inhibit radiographic disease progression," Merola and colleagues wrote.
The authors indicate that the guidelines that specifically address switching therapy were developed when the only available bDMARDs were TNFis, "and therefore do not include any agents with different mechanisms of action. Thus, these guidelines recommend that patients who fail to respond to one TNFi should be switched to a second TNFi." However, they wrote, recent treatment recommendations for PsA, based on observational studies, from the Group for Research and Assessment of Psoriasis and Psoriatic Arthritis allow for switching to an alternative biologic either within a drug class or to a drug with a different mode of action for patients in whom biologic therapy has failed.
Evidence indicates that "patients with a loss of efficacy due to formation of neutralizing antibodies may particularly benefit from switching to another agent with the same therapeutic target but with lower immunogenicity," the authors wrote. They opine that some patients may benefit from dose escalation within a class, or from adding methotrexate, before switching to an agent with a different mechanism of action.
Merola and co-authors also point to limited evidence that switching to adalimumab, etanercept and ustekinumab leads to lower response in patients previously treated with another TNFi, whereas the efficacy of infliximab appears to be independent of previous bDMARD treatment.
Evidence-based guidance from the Medical Board of the National Psoriasis Foundation supports combining etanercept with methotrexate in selected patients with inadequate response to either agent as monotherapy.
The authors concluded with, "overall, switching bDMARD therapies in PsA is a recommended strategy when patients experience treatment failure. When determining which agent to switch to, physicians should consider the patient's unique PsA disease characteristics, comorbidities, cardiometabolic risk factors, treatment history, and personal preferences."
Comprehensive treatment of PsA, including its variegated clinical domains, is a challenge either because a treatment may not have initial adequate efficacy, may lose efficacy over time or it may have to be dose-modified or discontinued because of tolerability or safety issues,
Philip Mease, MD, from the University of Washington, Seattle, commented to MedPage Today. In general, the data for switching treatments in psoriasis and PsA have been "scant," he said, "and mainly derived from longitudinal registry studies and not controlled trials."
In agreement is Amar R. Oza, MD, from Harvard Medical School, Boston. "Without an abundance of clinical trial data, most of the evidence regarding switching TNF alpha inhibitors involves observational studies and registries," he indicated in an e-mail exchange. "The authors carefully lay out the efficacy, safety and physician/patient preference considerations that go into switching bDMARDs and show that the dogmatic approach of trying a second TNF alpha inhibitor when the first has failed may not persist as alternative biologics become available."
Observations from rheumatoid arthritis demonstrate that treatment efficacy post-switch tends to be blunted, due to factors ranging from immunogenicity, altered immune response, tolerability, to "we don't know why," Mease said. This blunting of effect tends to occur whether the switch is to another agent in the class or to an agent with a different mechanism of action, such as switching from a TNFi to an interleukin (IL)-17 or an IL12-23 inhibitor.
"This is important for us to know so that we can set appropriate expectations with our patients," he said. "Loss of effectiveness due to immunogenicity is an important issue and we are still learning about how to better assess this and control this, for example with use of modest doses of background methotrexate. Degree of immunogenicity appears to vary between various biologics, so this may play a role in choice of either first or subsequent therapies." Immunogenicity will not plague newer targeted synthetic DMARDs, such as apremilast or tofacitinib.
"One point not covered, which will soon affect many of us in North America and already is affecting clinicians and patients in other parts of the world, is the issue of biosimilar institution," not for loss of efficacy but for cost reasons, Mease noted.
Disclosures
The author has no conflicts of interest to disclose related to this subject
Add new comment