Rheum Views on the Upside and Downside of COVID-19
Save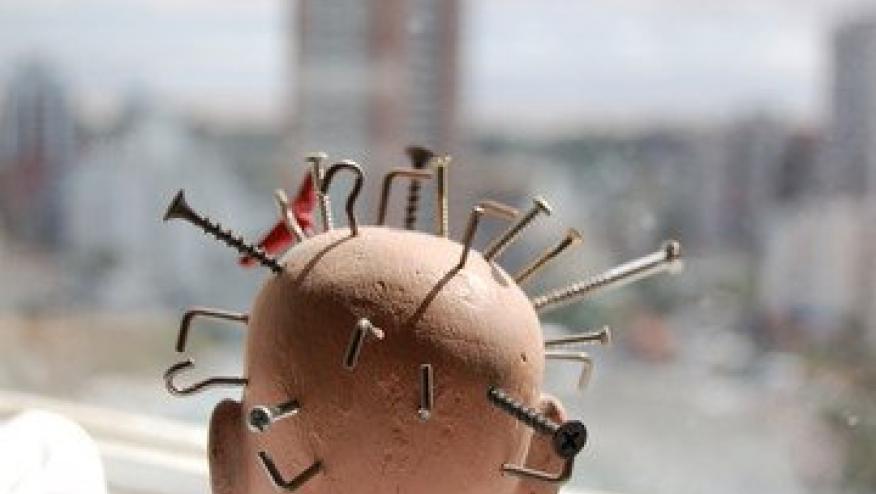 The world has been turned upside down in the last 6 weeks. Medicine and rheumatology have certainly changed – a frightening experience for Chicken Little, a disaster for the pessimist, a challenge for the pragmatist and an opportunity for the optimists amongst us. Last week I asked our audience to tell me their "upside or downside of COVID-19".  Read on to see how your peers have operating or thinking.
Dr. Kathryn Dao - My first patient to die from COVID19 was a patient I had known for almost 10 years. He was an older, charming, and effusive man. Despite multiple medical issues (vascular stents, aneurysms, spinal stenosis, lung disease and cancer), he never felt self-pity and was always thoughtful of others. A year ago he asked me about physician assisted suicide because his life insurance policy would expire the year he turned 80, and he did not want his wife to incur debt after his death. I dismissed his idea. When he contracted SARS-CoV2, he told me it was going to be okay. 
Dr. Rachel Tate – ….my favorite memory of COVID19 so far is the zoom "meeting" I had with my family on Sunday to celebrate our first wedding anniversary. Even my 94 year old grandmother and 95 year old grandfather could figure out the logistics to join us. It's been very difficult not seeing my family, so this was a real treat. As a result, we are planning on continuing the "Tate family zoom chat" every Sunday.
Dr. Philip Robinson - I am really affected by all the healthcare workers who have died from this. There is a really amazing Twitter feed that is posting all the healthcare workers who die from COVID-19 in the UK. I haven't come across something similar for healthcare workers outside of the UK. They have made the ultimate sacrifice and I just feel they are being forgotten in the stream of stupid comments Trump is making etc.  Have a look, the feed is: @NursingNotesUK maybe we should be setting up something for the rest of the world?
Dr. Nancy A. Brown – "With Covid 19, I am doing telemedicine for all my current patients….telemedicine is allowing me to stay in touch with my patients, discuss Covid 19 and the need for staying at home, and also to help ones that are having issues with anxiety with the current situation…. Financially, it is hard to survive as there has been a marked decrease in income and I am still trying to keep my staff employed….depending on how long this last, I do hope to be able to remain in practice but can only continue for so long"
Dr. Phil Molloy -  "how has it affected me? 3/4 of our staff are laid off; our telemedicine video platform is terrible & doctors, staff, patients don't like it and I'm not allowed to visit my kids and grandkids."
Dr. Paul Sufka – There are a few upsides: Here's a few upsides: It's obviously better to be spending more time with family, eating home cooked food, and generally focusing more on what is important in life. As Seneca wrote: "Set aside a certain number of days, during which you shall be content with the scantiest and cheapest fare, with coarse and rough dress, saying to yourself the while: 'is this the condition that I feared?'"  With various regulations lifted, we're learning what can be done via telemedicine. While it's not perfect, many of my patients certainly have expressed they don't want to go back to 100% in-person visits - this will keep many patients from having to miss 1/2 day of work, or more. Lastly, we're getting a good look at what amazing work the scientific community can accomplish when they work together. 
Dr. Bevra Hahn – "I am proud to be in California where we were early in stay-at-home and social distancing, and our curve of recognized infections has not zoomed to the levels of some other states/cities. My family remains well, and a young member who developed cancer was treated promptly, including surgery, and so far has no indication of COVID from hospital stay. Many of my friends and members of church are reaching out to help – shopping for elderly, providing masks they have ordered to nearby nursing homes, being in touch with friends/group members by text or telephone, and having inspirational and religious meetings via Zoom.  As you know, many workgroups are also holding planning meetings, grant reviews, scientific advisory board meeting and classes/grand rounds by internet meeting apps. The work is getting done.  Patients are being seen (about 50%) by video or telephone and those who show up for appointments are also being seen in person using PPE. Approximately half of patients are showing up for scheduled in person appointments.  A significant problem for us as for many others around the world is the huge drop in income that results from severe drop in inpatient appointments and severe increase in costs for PPE and increased staff for inpatient services.  Retired physicians and nurses have responded to a call for return to work in California in the thousands, as in New York, the problem being that most of them are in the high risk group. But they are heroes.   I am discovering many heroes.  I am also growing to like the new system – more time at home, less running around, no travel to meetings where content can be presented online, etc. Not to mention the greatly reduced traffic and smog in Los Angeles. Hmmmmm.  Some things about these times are actually good."
Dr. Janet Pope - Advice during the Pandemic:  For your patients - Do what your Public Health Authority asks. MOST people who have been working and well with their rheumatic disease are not at extra risk. Do not stop your medications as flaring could cause more problems. Advice for Colleagues: this too will pass. Do the best you can. Use common sense and if not, use guidelines an ask colleagues for help or advice (in any aspect - patient treatment, financial advice or shooting the breeze).
Dr. Richard Jones - We've learned that commercial insurances and Medicare CAN exercise some common sense yet still remain infuriatingly obtuse. We take what we can get. It's frustrating to have so little control over some things in the current circumstance. But that's not a bad lesson in learning how to be content with doing the best we can. The pandemic has been a good thing in promoting professional and personal unity amongst the providers in our clinic and, I perceive, in our specialty as a whole. And that is a VERY good thing I hope will persist.  The pandemic is also an opportunity to learn some immunology regarding safety/lack thereof of our drugs in the disease states we treat. While unfortunate, I think that will pay dividends for our patients and our decision making into the future.
Dr. Daniel Wallace - In the fall of 1940, Winston Churchill addressed the British nation after they had beaten back the Blitz, but the Nazis still occupied most of Europe. He told an anxious nation that they had reached "the end of the beginning". That is where we are with the COVID-19 virus.  I am worried that private rheumatology practice will never be the same and that everybody will have to be part of a bigger hospital or health chain system that has deep pockets in order to survive. This will involve non-Rheums deciding how to practice rheumatology. 
Dr. Arthur Weinstein - I am one of the fortunate ones.  I no longer have a clinical practice and therefore have not experienced the great stress that rheumatologists are going through. I am reading the biography of Dr. Benjamin Rush, general physician par excellence in colonial Philadelphia, professor at the College of Philadelphia and then the new University of Pennsylvania Medical School, attending physician at Pennsylvania Hospital, signer of the Declaration of Independence, friend of Benjamin Franklin and John Adams and an abolitionist. Rush authored many treatises to upgrade military medicine and military hospitals.  As a physician, he experienced a number of epidemics, notably typhus and yellow fever.  Unfortunately therapies, like bloodletting, were not evidence-based. Importantly, he was one of the first to theorize that emotional disturbances and "lunacy" were not acts of God but rather physical disturbances of the brain.  Thus he helped to create a separate hospital facility (asylum) for these patients which eventually became the Institute of Pennsylvania Hospital and the birthplace of the American Psychiatric Association.  It is both humbling and inspiring to learn about the giants of our medical past, their greatness and their foibles, and to realize how proud we should be of our heritage.  Keep well everyone.
Dr. Paul Caldron - I'm upside down in New Zealand, bookending my career with a six month stint at a university-affiliated public hospital on the South Island. I was doing just ok making the adjustment from a cutting-edge, bustling US private practice to a resource-constrained, horizontal system whose backbone is the GP in a huge way. New Zealand is the New America, the one we lost in our political and economic divisions. Upside: As with life in general, Kiwis just get to it, work well across all social planes, and cohesively rally around the careful planning of a sensible federal establishment and prime minister. The COVID19 numbers here bear that out. To a person, patients are remaining calm and cordial, and express their appreciation for the phone visits. Downside: As part of mitigation, some of us subspecialists have been drafted to do internal medicine ward rounds in the eventuality that the units get swamped or the regulars and house staff incur attrition. It's ok that I get a bit of free-floating anxiety; why bother with this if you don't get the full experience?
Dr. John Goldman - We still still need 6 feet apart or else 6 feet under. How does herd immunity work? Sweden did it without many requirements. The models bother me, but we need to respect them. My Governor (GA) is starting to open up our state - hopefully people will be safe with common sense.  We have all been to grocery stores and big box stores and this is an extension of that. There is too much nonsense on both sides.
Dr. David Liew - Crises often strip us to our true self. What matters to us? How do we respond to stress, to change? How do we relate and value others? As much as some of us have been swept away by pressing demands and existential threats, there's a little bit of all of this that unveils the values that run at our core.  It's not unmodifiable though. Let's channel the best version of ourselves in this crisis. Also, there is no doubt that this pandemic is one of the greatest single disruptive forces that we will live through. Some of the change will be good, some of the change will be bad. We have a unique chance to influence the future paradigm, for the benefit of our patients, but we can't do that unless we engage. 
Dr. Peter Kent -  I humbly send a new physical exam finding: N95 face. I was doc of the day in our practice today seeing the rheumatologic urgencies.  Acute 200 cc knee effusion seemed urgent enough to warrant the visit and mask.

Dr. Perry Rush - Didn't think I'd be doing this when I did rheumatology (and physiatry) fellowships: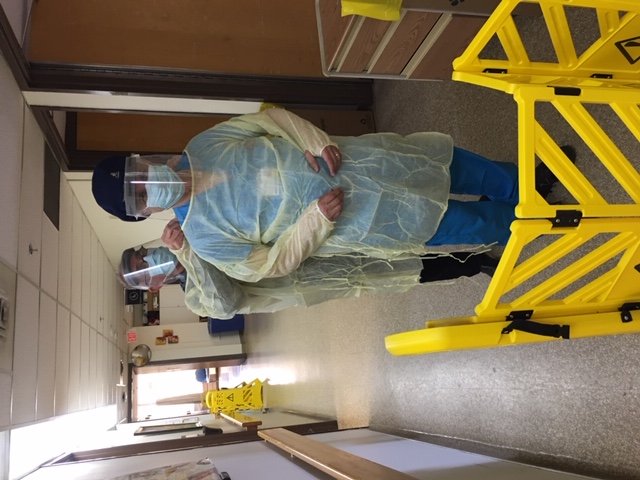 Disclosures
The author has no conflicts of interest to disclose related to this subject
Add new comment