Rheumatologists and Patients Concerns over Biosimilars - RheumNow "Live Vote" Results
Save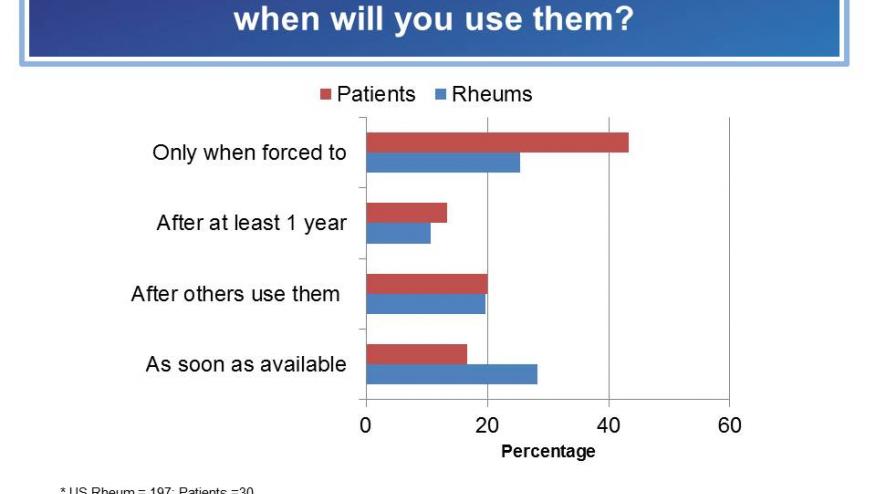 A recent RheumNow "Live Vote" surveyed US and non-US rheumatologists and patients about their beliefs and concerns regarding the use, uptake and safety of biosimilars.  While biosimilars have been in common use for years throughout Europe, their impact and uptake in the United States is uncertain.
There are currently 5 biosimilars approved for use in the USA, with four TNF inhibitors being approved in the 12 months preceding April 2017. 
An email survey invitation was sent to nearly 1800 verified rheumatologists.  A week later, a social media (Twitter) invitation encouraged patients to participate in the same online biosimilar survey.  A total of 266 responses were received from 33 countries. The first week drew 197 responses (most voting in the first day) from verified rheumatologists in the RheumNow database. This included 141 US and 56 non-US rheumatologists from a total of 28 countries. 
In the second week, social media brought in another 69 responses from 30 countries, and included 31 responses from patients (29 from the US and Canada) and another 23 from rheumatologists (12 US and 11 non-US).  
Below are the comparative responses from rheumatologists and patients. USA and non-USA rheumatologists answers were very similar and the USA rheumatologist responses are shown below and compared to the patient responses garnered from a series of social media invitations. There are no correct answers, as these questions were intended to assess the perceptions of both rheumatologist and patient respondents. Dr. Artie Kavanaugh provides commentary below on these results.
Despite new biosimilar regulatory victories, widespread press, educational programs and ACR policy statements regarding biosimilars, there is considerable concern, knowledge gaps and hesitancy regarding biosimilar uptake in the US. The surveys primary question demonstrates that less than one-third of US rheumatologists are prepared to adopt biosimilars when they are available. Nearly 15% are unsure and over half (54.5%) are hesitant, unwilling and slow to adopt biosimilars after their introduction.
Question 1. As biosimilar biologic agents become available, when will you use them?

     Response

Rheums

Patients

Commentary

a

As soon as available

28.2%

16.7%

Overall, patients and physicians are reluctant to readily adopt biosimilar agents when available.  Most will either wait until "forced" to use or wait until others try them first.

b

After others use them first

19.7%

20%

c

After at least a year

10.6%

13.3%

d

Only when forced to

25.4%

43.3%

e

Unsure

14.6%

6.7%
Question 2. How do you feel about using a biosimilar for psoriasis if it has only been tested in Crohn's colitis?

     Response option

Rheums

Patients

Commentary

a

Worried about extrapolation & won't use until studied

in psoriasis

36.3%

40%

While rheums have concerns about extrapolation, patients appear to be uncertain about what this means to biosimilar prescribing.

b

Concerned about extrapolation, but will probably use it

in psoriasis

38.1%

10%

c

Extrapolation/use to other diseases (psoriasis) is fine

16.7%

10%

d

Unsure

8.9%

36.7%
Question 3.  Monies saved using cheaper biosimilars should benefit whom?

     Response option

Rheums

Patients

Commentary

a

Payer (Medicare, insurance, etc) to help other patients

19.9%

26.7%

There appears to be a uniform belief that the monies saved by adopting biosimilars should benefit the patient in some way.

b

Pharmacy benefit manager (as profit

6%

6.7%

c

Patient (lower premiums or co-pays)

63.9%

60%

d

Physicians (who own infusion centers)

3.6%

0

e

Unsure

6.6%

6.7%
Question 4.  How concerned are you about the safety of the biosimilar biologic agents?

     Response option

Rheums

Patients

Commentary

a

Not concerned, if FDA approved

30.5%

26.7%

Roughly 70% have some degree of concern about the safety of biologic agents.

b

Slightly concerned

42.5%

20%

c

Concerned

19.7%

16.7%

d

Very concerned

5.4%

36.7%

e

Unsure

1.8%

0
Question 5.  Approved anti-TNF biosimilars will soon be available. What more information do you most need to prescribe a biosimilar? (choose one)

     Response option

Rheums

Patients

Commentary

a

Interchangeability/switching

50.9%

33%

Interchangeability and safety appear to be the big hurdles in education.

b

Extrapolation

3%

16.7%

c

Costs/discounts

20.6%

10%

d

Safety

17%

33%

e

No more info needed

8.5%

0
Overall rheumatologists and patients are presently hesitant to use biosimilars, as only 28% of rheumatologists and 17% of patients are willing to use these agents when available.  Moreover, these results indicate significant concerns regarding safety (17-24% of Rheums; 33-53% Patients), extrapolation (74% Rheums; 50% Patients), interchangeability (51% Rheums; 33% Patients) and costs (21% Rheums; 10% Patients).
The inconsistencies in some of these responses also suggest the need for education and clarity. When asked about what more information/education would be needed (question 5), the majority indicated a need for information on interchangeability, but only 3% for extrapolation. Yet when asked about extrapolation (question 2), 54.8% are comfortable with extrapolation and 41.2% were either unsure or worried about extrapolation.
Disclosures
The author has received compensation as an advisor or consultant on this subject
Add new comment