ICYMI - The Pregnancy & Lactation Labeling Rule Explained
Save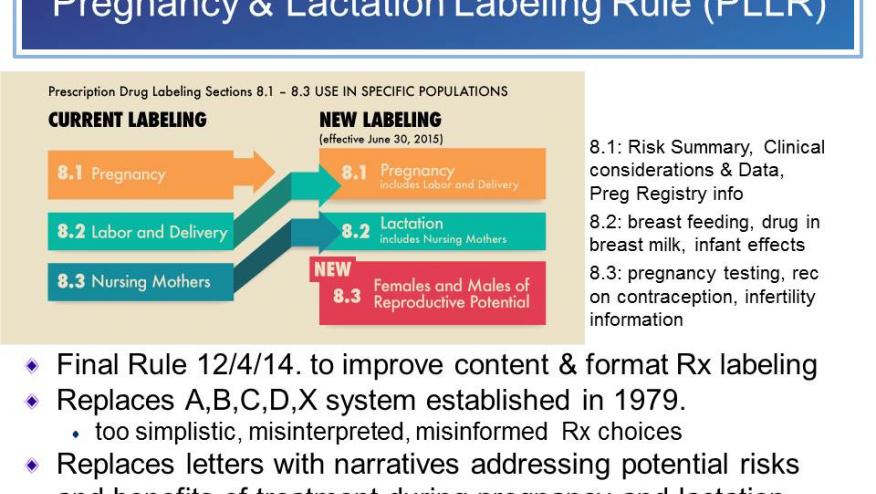 A recent article from Healio.com reviewed the FDA's Pregnancy and Lactation Labeling Rule (PLLR) that became effective June 30th. This rule applies only to currently marketed prescription drug products available in the United States and does not affect the labeling of drug products available over-the-counter.
Past pregnancy labeling included the pregnancy categories ABCDX that have been in use for 35 years. These have been eliminated with the new PLLR as the ABCDX categories were considered to be confusing, overly simplistic, and may not adequately portray risk differences.  Moreover, they may minimize discussion between physician and patient about the risks if taken during pregnancy or lactation.
The FDA has proposed improvements for drug pregnancy labeling for the past several years. But starting in 2015, the product's package insert will be revised to meet these new requirements; this may take up to 3 to 5 years to occur for many drug products. Drugs newly labeled, after June 30, will include these new labeling requirements.
Under the new PLLR, the type of information on pregnancy will not change substantially. But the way the information is organized and described, and the amount of information in the label, will improve and change. The subheadings Nursing Mothers and Labor and Delivery in drug labeling will be eliminated. New labeling information will include three sections: 8.1) Pregnancy, 8.2) Lactation and 8.3) Females and Males of Reproductive Potential.
The Pregnancy section will include information organized into three subheadings: Risk Summary, Clinical Considerations, and Data. This information will include potential risks to the developing fetus (including as assessment of risk), known dosing alterations during pregnancy, effects of timing and duration of exposure during pregnancy, maternal adverse reactions, effects of the drug on labor or delivery, and information on pregnancy exposure registry for the drug, if one exists. Information described in Risk Summary will include an assessment, characterization and summary of known risks to the developing fetus.
The Lactation section will similarly include three subheadings: Risk Summary, Clinical Considerations, and Data. If available, information may include drug concentrations in milk and relative to plasma concentration, and effects of the drug upon milk production and whether the drug as compatible with breast-feeding.
A new section will focus on Females and Males of Reproductive Potential. This section will include information describing when pregnancy testing or contraception is required or recommended before, during or after use of the drug product, and relevant animal or human data suggest drug-associated fertility effects. Subheadings will include Pregnancy Testing, Contraception and Infertility.
Disclosures
The author has no conflicts of interest to disclose related to this subject
Add new comment