Kids With Psoriasis Maintained with Long Term IL-17A Inhibitor
Save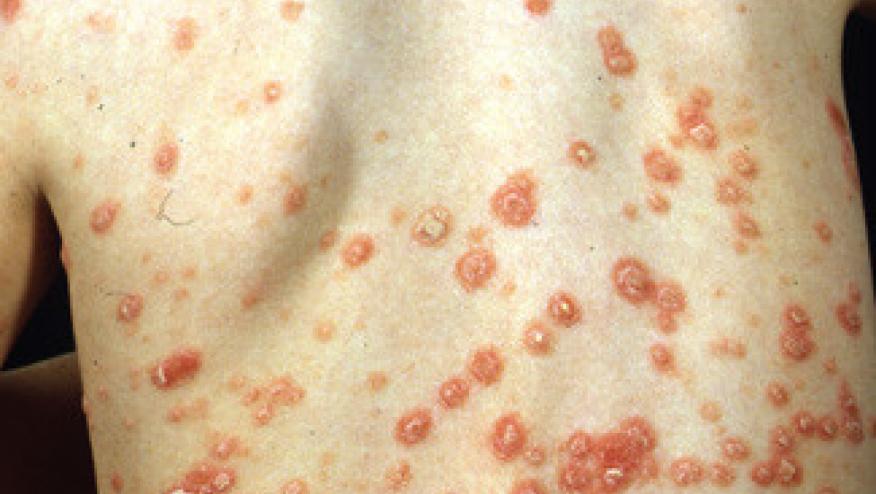 Pediatric patients with moderate-to-severe plaque psoriasis obtained significant improvement in disease status for as long as 2 years with the interleukin (IL)-17A inhibitor ixekizumab (Taltz), long-term follow-up from a randomized trial showed.
After a median follow-up of 108 weeks, more than 90% of patients had at least a 75% improvement in the Psoriasis Area and Severity Index (PASI75), almost 80% maintained PASI90 status, and more than half had complete skin clearance (PASI100). A similar proportion of patients met static Physician's Global Assessment (sPGA) criteria for response and improvement in the Itch Numeric Rating Scale (NRS), reported Amy Paller, MD, of Northwestern University Feinberg School of Medicine in Chicago, and colleagues.
No new safety signals arose during the long-term extension phase, including no new cases of inflammatory bowel disease (IBD) or candida infection, they stated in JAMA Dermatology.
"In pediatric patients with moderate-to-severe plaque psoriasis, ixekizumab provided rapid improvements across patient-reported outcomes and objective measures of complete skin clearance of psoriasis, including clearance of psoriasis, in challenging-to-treat body areas, and these results were sustained up to 108 weeks," the authors concluded. "Most patients achieved completely clear skin and nails. Safety findings were as previously observed in this population and consistent with the known safety profile of ixekizumab."
"Additional studies are warranted to address lingering questions, such as the effect of ixekizumab on additional patient-reported outcomes and the effectiveness and safety of ixekizumab in children with psoriasis in the real world," they stated.
The updated findings came from the phase III IXORA-PEDS randomized trial in patients, ages 6 to <18 years, with moderate or severe plaque psoriasis, defined as a PASI score ≥12, PGA ≥3, and body surface area (BSA) ≥10%. Patients were randomized 2:1 to weight-based ixekizumab or placebo. The primary outcome was the proportion of patients achieving a PASI75 and an sPGA 0/1 at 12 weeks.
Ixekizumab demonstrated superiority at 12 weeks. At that point, all patients entered an open-label extension study with continued follow-up to 48 weeks. Among patients originally randomized to ixekizumab, responses were maintained to the end of the extension period. The updated report encompassed results from an additional 50 weeks of follow-up.
Investigators randomized 171 patients to ixekizumab or placebo. At 12 weeks, 89% of ixekizumab-treated patients had achieved PASI75 responses (versus 25% for placebo) and 81% met sPGA 0/1 response criteria (versus 11%). After 108 weeks of follow-up, efficacy data for patients originally assigned to ixekizumab included:
PASI75: 91.7%
PASI90: 79%
PASI100: 55%
sPGA 0/1: 78.3%
sPGA 0: 52.4%
Additionally, 78.5% of patients with NRS ≥4 at baseline had at least a 4-point improvement at week 108. Patients with involvement of difficult-to-treat areas maintained responses or had continued improvement from week 12 to week 108, including scalp, palmoplantar, and genital psoriasis.
The trial included a randomized withdrawal period at week 60 for patients who had severe psoriasis at enrollment (PASI ≥20, sPGA ≥4) and met response criteria at week 60. Those patients were re-randomized to ixekizumab or placebo. Among patients assigned to placebo, the median time to relapse was 149 days.
The authors reported that 90.9% of patients re-randomized to placebo relapsed versus 17.6% of those assigned to ixekizumab. Among patients randomized to ixekizumab, 100% achieved PASI75 at week 108, 92.9% achieved PASI90, and 75% achieved PASI100.
Acknowledging the difficulties of cross-trial comparison, Paller and colleagues noted that the ixekizumab results compared favorably with other approved therapies for pediatric psoriasis with similar follow-up durations.
Ixekizumab is currently FDA approved in adults with moderate-to-severe plaque psoriasis who are candidates for systemic therapy or phototherapy, and in adults with active psoriatic arthritis.
Source Reference: Paller AS, et al "Long-term efficacy and safety of up to 108 weeks of ixekizumab in pediatric patients with moderate to severe plaque psoriasis. The IXORA-PEDS randomized clinical trial" JAMA Dermatol 2022; DOI: 10.1001/jamadermatol.2022.0655.
ADD THE FIRST COMMENT
Disclosures
The author has no conflicts of interest to disclose related to this subject