Optimal Management of de Quervain Tenosynovitis
Save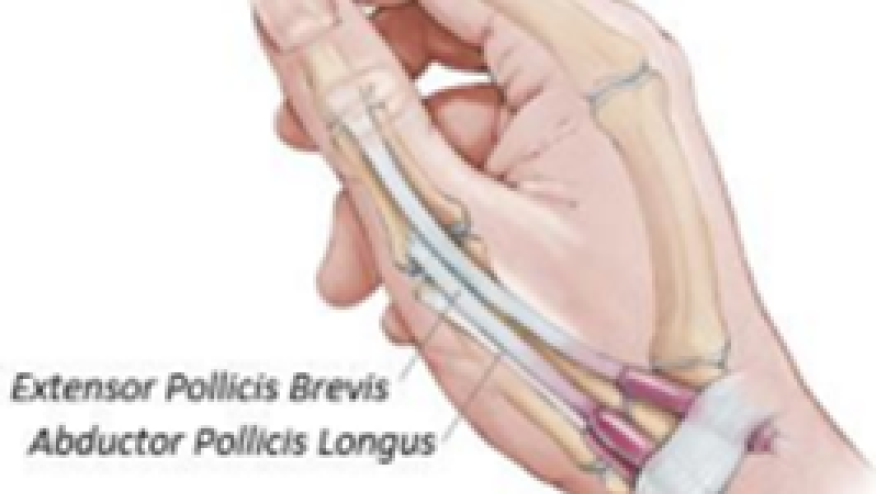 The treatment of de Quervain tenosynovitis (DQT) was examined  by systematic review in JAMA, suggesting that local (US-guided) corticosteroid injection plus a thumb spica immobilization was associated with significant pain-relieving and functional benefits. 
This systematic review and network meta-analysis included 30 studies with 1663 patients with a mean age of 46 years; 80% were female. Pairwise and network meta-analyses were performed for patient-reported pain using a visual analogue scale (VAS) and for function using the quick disabilities of the arm, shoulder, and hand (Q-DASH) scale.
The primary takeaway point from this analysis were:
Addition of thumb spica immobilization for 3 to 4 weeks, along with to a corticosteroid injection was associated with statistically but not clinically significant functional benefits in the short-term and mid-term .
Ultrasonography-guided CSI ranked best at pain relief.
CSI with thumb spica immobilization had the highest probability of being the most effective intervention for short- and mid-term function.
These findings suggest that that 3 to 4 weeks immobilization should follow CSI injections (preferably ultrasound guided).
De Quervain tenosynovitis (DQT) is a stenosing overuse condition of the synovial sheath of the first extensor compartment of the wrist affecting the extensor pollicis brevis (EPB) and abductor pollicis longus tendons (APL).  It is most common between ages 20-40 yrs, especially in women who are postpartum.  Reports suggest an incidence of 1-3 DQT cases per 1000 patient-years.
While this is an overuse and degenerative condition in most, the role of inflammation remains controversial.  Hence, the concern over treatment options. The diagnosis of DQT is largely clinical (pain and tenderness over and proximal to the radial styloid, with a positive Finkelstein's test) some may require imaging modalities (ultrasonography or magnetic resonance imaging) to establish diagnostic uncertainty.
Disclosures
The author has no conflicts of interest to disclose related to this subject