RECIPE Trial - Mycophenolate to Suppress Immunogenicity with Pegloticase in Gout
Save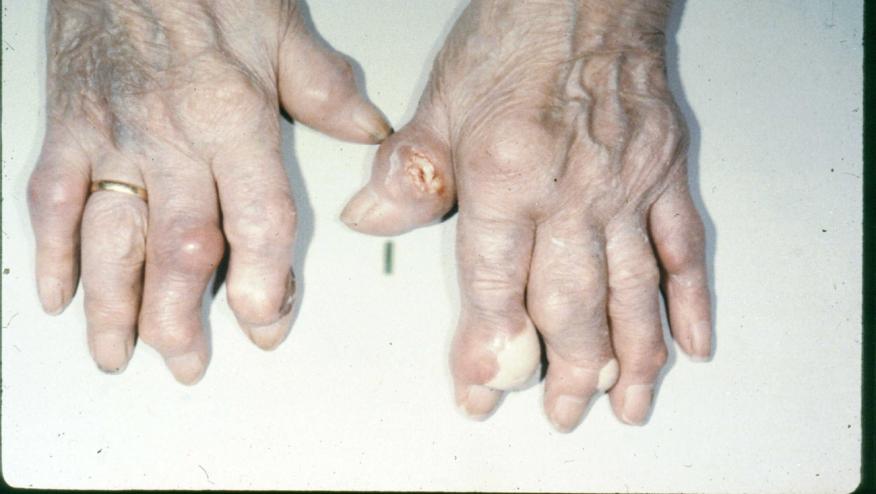 Pegloticase is indicated in the treatment of severe gout patients but prolonged use may be limited by immunogenicity to the PEG moiety. A randomized, controlled trial has shown that concomitant mycophenolate mofetil (MMF) may prolong the efficacy of pegloticase in gout.
RECIPE (Reducing Immunogenicity of Pegloticase) study was a phase II, pproof-of-concept trial wherein patients with refractory gout were randomized (3:1) to receive either 1000 mg MMF twice daily or placebo (PBO) for 14 weeks starting 2 weeks before and while receiving intravenous pegloticase 8 mg biweekly for 24 weeks. The primary endpoint was the number patients with a sustained serum urate (SU) level of ≤ 6 mg/dl at 12 weeks
A total of 42 patients were enrolled, 35 randomized and 32 gout patients (88% men ) were treated abd received at least one dose of pegloticase. Patients had a gout duration of 13 years, and mean baseline SU of 9.2 mg/dL.
At 12 weeks, 19 of 22 (86%) in the MMF arm achieved SU ≤ 6 mg/dl compared to 4 of 10 (40%) in PBO arm (p‐value = 0.01).
At week 24, sustained urate response ≤ 6mg/dL was achieved in 68% with MMF compared to 30% with placebo (p‐value = 0.06).   
There were no significant differences in gout flare rates between groups at week 12, and week 24.
Adverse events were similar between groups, but the PBO patients had more infusion reactions (3 vs 1 patient).
These findings suggest that suppressing immunogenicity when giving pegloticase, may improve outcomes in refractory gout.
Disclosures
The author has no conflicts of interest to disclose related to this subject
Add new comment