2015 Rheumatology Year in Review
Save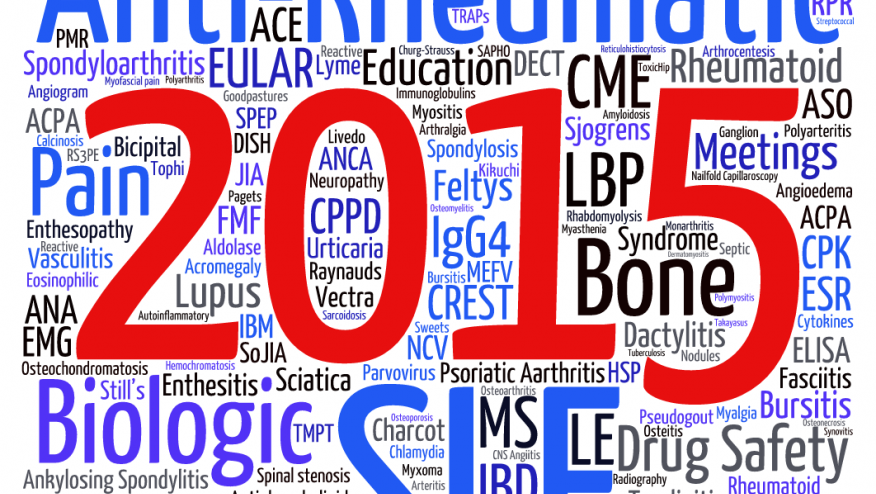 For the past few years, I've written year-end reviews in rheumatology as an exercise to focus on how the science and practice of rheumatology evolves. In 2013,I wrote about new biologics, biosimilars, drug cessation, triple DMARD therapy, the microbiome,modifiable risk factors, and tight control in psoriatic arthritis. In 2014, the notable advances included new drugs, biosimilars, new IL-17 targeted agents, the price of drugs, problems with generics, the chikungunya epidemic, pain and narcotic changes, DMARD withdrawal regimens, and theassociated risks for melanoma and serious infections.
In this 2015 annual review I again have included psoriasis, IL-17 agents, biosimilars and narcotics on the "high profile" list. These carryovers are not surprising as these are major issues, advances or problems and likely to have staying power.
This retrospective highlight review notes several of the most impactful publications, trends, research and news that occurred in 2015. My top ten were culled from Annual Meeting abstracts, rheumatology social media and journal articles in major clinical areas of rheumatology. In no particular order, here are my top 10 rheumatology advances, news and research reports for calendar year 2015.
Opiates Outta Control: The bad news continues. The consequences of restricting the use of opiates has resulted in a) less pain medications and more hassles for patients in pain who need such meds; b) growing numbers of opiate abuse and opiate deaths; c) increased use and deaths from heroin. More rational thought and policy is needed to overcome the problem of pain in America.
2015 ACR RA Treatment Guidelines Released in November 2015: Despite a year of development, 26 authors and 25 pages, the new guidelines did away with treatment options tailored to disease stage or the presence of "risk factors".The new GRADE guidelines yielded many rules that were expected and common practice, but also many controversial recommendations that were of low evidence and contrary to current practice. Shortcomings of these guidelines included no mention of biosimilars, biomarkers or the management of pregnancy. You can read the RheumNow review of these guidelines hereor at the ACR website.
Finally New Hope for Scleroderma: Three major advances in SSc research were seen this year. First, at EULAR 2015, Khanna et al reported their results with tocilizumab in scleroderma (SSc), the so called "faSSinate" study. They reported their preliminary open label study of TCZ in patients with diffuse systemic sclerosis (#OP0054). Enrolled patients had modified Rodnan skin scores (mRSS) of 15-40, with less than 5 years of disease and increased ESR or CRP levels. They treated 87 SSc patients with weekly TCZ 162 mg s.c. or placebo. Although, their primary endpoint for a significant change in mRSS was not achieved – TCZ patients had improved skin scores and significantly less deterioration in their forced vital capacity (FVC) measures. These findings led to the FDA granting "breakthrough" status for TCZ in SSc. Second is a novel report of fresolimumab, an anti-TGF-β monoclonal antibody, being tested in a trial of 15 SSc patients (with mean disease duration of 8 months). The results of this open-label study showed nearly all patients had significant decreases in skin scores, which correlated with forearm skin biopsy scores and biomarkers thrombospondin-1 (THBS1) and cartilage oligomeric protein  (COMP). This is the first report attesting to the potential role of aTGF-β inhibition in diffuse scleroderma. Lastly, the results of a head-to-head trial in scleroderma lung showed the benefits (and less toxicity of mycophenolate compared to cyclophosphamide.
Psoriatic Therapies Take Off: After a few years of research reports and increasing awareness of the Th17 axis and IL-17 as a mediator of inflammation in select disorders, we now have FDA approval forsecukinumab (Cosentyx) to treat psoriasis. Secukinumab has shown extremely high PASI75 skin responses in clinical trials and thisis the first of several anti-IL-17 monoclonal antibodies in development (with ixekizumab and brodalumab in progress). While not yet approved for psoriatic arthritis and ankylosing spondylitis, positive clinical trial results have led to this same drug being approved in the EU for PsA and AS. Despite the impressive efficacy of secukinumab, it seems that apremilast (an orally taken phosphodiesterase–4 inhibitor) has been more popular with dermatologists treating skin psoriasis, presumably because of itsoral administration and lack of appreciable toxicity or monitoring. Apremilast, which failed in rheumatoid arthritis, is approved for psoriasis and psoriatic arthritis and has shown modest uptake by rheumatologists who have relegated its use to those with mild-moderate psoriatic arthritis.
New Research and New Drugs for Giant Cell Arteritis: At the 2015 ACR annual meeting there were two pivotal trials presented on GCA therapy;both were novel in that they involved new biologics (tocilizumab and abatacept) and were randomized placebo controlled trials. Tocilizumab (an IL-6 inhibitor) was given to 30 patients with newly diagnosed or recurrent GCA. Patients received either tocilizumab 8 mg/kg IV or IV placebo. At 12 weeks,remission was achieved in 17/20 on TCZ but only 4/10 on placebo patients and there were more relapses in the PBO group (8/10) than the TCZ treated patients (3/20) at 6 months. Dr. Carol Langford presented another study of 49 GCA patients who received high dose steroids and were randomized to receive either abatacept (ABA) or placebo (PBO). Relapse free survival was seen in 48% of ABA- and 31% of PBO-treated patients (p
Biosimilars: Biosimilars are on the march as they have become widely available in southeast Asia, Europe, Mexico and several South American countries. According to IMS Health, Americans will spend $220 billion on biologic medicine by 2017, and that amount is likely to climb with more than 900 biosimilars in development. Roughly $70 billion in branded biologics will lose patent protection by 2018, and the market for biosimilars could reach $20 billion as soon as 2020. Despite the increasing growth and use of biosimilars, surveys of European rheumatologists show that only 25% EU have used biosimilars (with primary concerns were over safety). Pathways for biosimilar development in the USA are in progress.
ICD10: Like it or not, ICD-10 became an integral part of health care starting October 1st. While many lamented the changeover, the ACR and others eased the pain by providing conversion tools like these from AAPC.com and the ACR.
New Drug Approvals for 2015: Despite a record year for FDA new drug approvals (n=45) in the USA, there were few new agents approved for use in rheumatology and dermatology.Lesinurad (Zurampic) was approved by the FDA and EMA as cotherapy for patients with gout and hyperuricemia. Both agencies have approved adalimumab (Humira) for the treatment of hidradenitis suppurativa. The aforementioned secukinumab (Cosentyx) was approved by the FDA in February for moderate to severe plaque psoriasis. Novartis also received approval to market secukinumab in the EU for psoriatic arthritis and ankylosing spondylitis.
How NOT to Kill someone with Gout: The good news in 2015 is that the chronic use of either colchicine or allopurinol substantially improves survival and lowers death rates in patients with gout. One study showed colchicine use in gout nets 49% lower cardiovascular and 73% less all-cause mortality.Several studies have also shown that allopurinol use is associated with a lower risk of all-cause mortality. Most rheumatologists are impressed with these results but bothered how undermanaged or mismanaged gout is. Surprising, since this condition affects 8.3 million Americans and most physicians believe they know how to manage gout – colchicine and allopurinol right?  Well the research shows that allopurinol is often underdosed, with less than 10% of all patients ever receiving allopurinol greater than 300 mg qd. The high rates of associated obesity and metabolic syndrome in gout patients underscores the need for aggressive and consistent therapy for all.
Vitamin D Claims Overblown: I usually take lots of complaints when I speak ill of the often touted supplement, vitamin D. I usually point to the fact that low vitamin D levels are associated with too many disorders and too many bad outcomes to be meaningful and my requests for data showing that giving Vitamin D fixes anyone of these unpleasant associations are just lacking. My colleagues often point to the observation that vitamin D supplementation improves pain or fatigue in some patients. However, two recent studies (a Cochrane review of 10 studies and 811 patients and a literature review and analysis  fail to show any benefit for vitamin D supplementation and improvement in chronic pain. But, don't worry, I'm still on board  (and take my daily supplement) with the importance of vitamin D for bone health and immune function.
How do these advances, reports and news items stack up against your fond memories of what happened in 2015? If you have suggestions of other impactful news or advances, let me know.
Happy 2016 to all!
Disclosures
The author has no conflicts of interest to disclose related to this subject
Add new comment