Annual Review of Rheumatology Advances - 2014
Save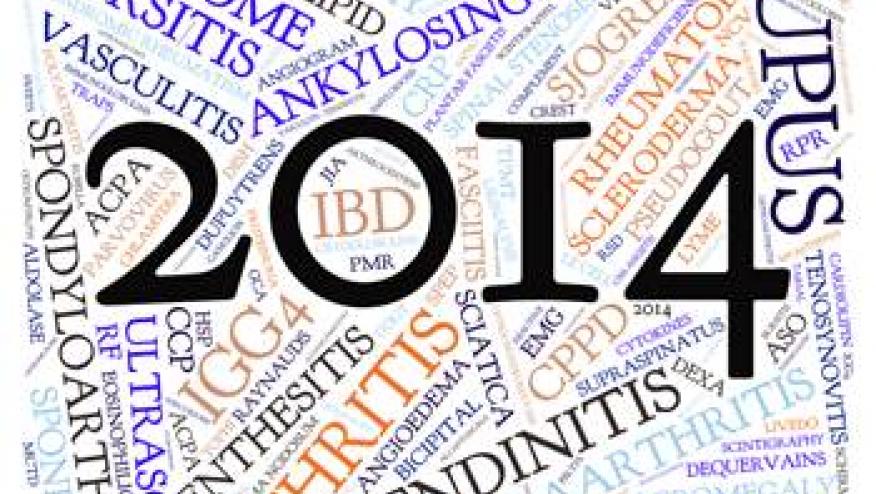 The last year in rheumatology saw increasing regulation, rising drug costs and new developments in rheumatology.  This retrospective highlights several of the most impactful publications, trends, research and news that occurred in 2014.  
My top ten were culled from reviews of 2014 Twitter feeds, top abstracts from EULAR and ACR meetings and PubMed searches for original clinical trials in major clinical areas of rheumatology.  In no particular order, here are my top ten rheumatology highlights for 2014.
New Drugs.  FDA drug approvals were the highest since 1996, with 41 new drug approvals (14 more than 2013). New drugs may translate as either new mechanistic approaches, novel disease approaches or new opportunities for patients.  Two new drugs for psoriatic disease were approved in the last year, including Otezla (apremilast) and Cosentyx (secukinumab).  Apremilast is a PDE-4 inhibitor orally administered and indicated for mild to moderate PsA based on efficacy shown in three large "Palace" trials in 1493 psoriatic arthritis  and three large trials in 1426 psoriasis patients.  Secukinumab is an anti-IL-17a monoclonal antibody approved for use in moderate to severe psoriasis (with encouraging trials in PsA) based on 10 phase II and III trials involving 3990 psoriasis patients.

Generics Gone Wild.  The good news was several major drugs went generic last year. These include:
Risedronate (Actonel)

Celecoxib (Celebrex)

Eszopiclone (Lunesta)

Esomeprazole (Nexium)

Mycophenolic acid (Myofortic)

Raloxofene (Evista)

Duloxetine (Cymbalta)(12/13)
Generics are always good news for patients and payors (condolences to stock-holders and manufacturers).  But wait, did anyone notice the shocking jump in the cost of many generic drugs last year?  For a while it seemed the cost of generics was linked to the cost of petrol.  Reasons for the inflation of generic drugs is not so clear. A Consumer Reports study in 2013 found across the USA, generic prices may vary as much as 447%.  For example, doxycycline was FDA-approved in 1967 and last year cost $20 per 500-count bottle. Now the average cost of the same drug is $1849 per 500 pills!  Several of my patients have remarked their cost for cheap 5mg prednisone (100 tabs) rose from $6 to $40 and others declined to fill hydroxychloroquine prescriptions as copays rose to unaffordable $150 to $260.  In the latter example, cost changes were supposedly driven by manufacturer shortages, which further highlights the major problem of drug shortages: they preferentially affect generics.  A decrease in generic manufacturers has also fueled the increase cost. Nonetheless, the US Congress has undertaken an analysis of this problem in late October 2014. To date, there has been no further elucidation of this problem and investigation.
IL-17 Steps Up.  Several new IL-17 inhibitors have been actively studied in trials, including secukinumab (Novartis), brodalumab (Amgen) and ixekizumab (Lilly).  These agents have failed to demonstrate efficacy in RA,  Crohn's colitis and uveitis, but have been highly effective in psoriasis, psoriatic arthritis and ankylosing spondylitis clinical trials.  Secukinumab is already approved for psoriasis.  At the recent American Academy of Dermatology Annual Meeting, both secukinumab and brodalumab were shown to be superior to ustekinumab in head to head trials. The expectation is the others will follow in 2015.  Recently, Amgen withdrew its interest in developing brodalumab; hence, the future of this compound is up to a co-developer, Astra-Zeneca.

Melanoma Safety Net.   There is a large body of evidence showing TNF inhibitors do not augment cancer rates over and above that incurred by active RA alone.  Yet, some reports have suggested concerns over the use of TNF inhibitors in patients with melanoma.  A study of 41,753 TNF inhibitor treated patients  from multiple registries throughout Europe failed to show any association between TNF inhibitor use and the risk of invasive first time melanoma.  http://buff.ly/15bEJdH

Biosimilar Bonanza. Many are under development and biosimilars are becoming a reality around the world – especially in Norway and Canada. Below is a table of the number of biosimilars currently in development.
Innovator

Compound

Unique biosimilars

Unique biosimilars

in Phase 3

No. of biosimilars

with >1 indication

ADA

7

5

1 (RA, psoriasis)

ETN

4

4

1 (RA, psoriasis)

IFX

4

4

1 (RA, CD, AS)

RTX

3

2

0

Total

18

15

3
Known to Fail.  Sorry Charlie, well-done randomized, controlled clinical trials show the following to not be effective: a) CPM machines post-operatively in patients with knee arthroplasty (http://www.ncbi.nlm.nih.gov/pubmed/25268438);  b) acupuncture in knee OA; c) hydroxychloroquine shows no clinical benefit in patients with Sjogren's syndrome http://www.ncbi.nlm.nih.gov/pubmed/25027140; d) abatacept failed to meet its primary endpoint in lupus nephritis (complete remission at 12 months) http://www.ncbi.nlm.nih.gov/pubmed/24504810.

Pain People Penalized.  Nearly 100 million Americans are affected by chronic pain and nearly half claim poor pain control. Rates of opioid prescribing in the US and Canada are two to three times higher than in most European countries.  Due to increasing evidence of hydrocodone and narcotic abuse, the FDA rescheduled hydrocodone as a class II drug and imposed new regulations for tramadol, a weak narcotic analgesic.   The conflict on pain management has escalated. While all experts believe we undertreat pain, regulators and the safety-minded have significantly altered treatment options for those in need.  In righting the regulatory ship on pain we have unfortunately penalized those most in need.

Is the Excitement over Let-Down Therapy in RA Warranted?  Several large clinical trials (e.g., Prize, Optima) have studied whether we can safely withdraw or lessen the use of methotrexate or TNF inhibitors in patients who have achieved sustained remission or low disease activity.  These trials have shown: a) drug free maintenance of remission is only possible in 10-15% of patients; b) MTX can be safely withdrawn in many, but the biologic needs to be maintained; c) lower doses or less frequent dosing of TNF inhibitors can be achieved with minimal clinical but more radiologic consequences; and d) the success of de-escalation may be related to the depth of remission and the length of remission. Despite these research pearls, rheumatologists struggle to control rheumatoid inflammation, anguish over optimal therapy and are comfortable with combination DMARDs to achieve their goals.  Not surprisingly, many rheumatologists are not endorsing this step down approach to therapy, even in those who achieve remission.  Many stating, "remission is where I want to be – why risk it?"  Patients continue to weigh in on this issue by their adherence or noncompliance with prescribed therapies.

Chikungunya Amongst Us.  Chikungunyis a new cause of polyarthritis.  It is an arboviral infection that has spread from the tropics of Africa and southeast Asia to the Caribbean and even the USA.  This mosquito born viral arthritis bears similarities with Dengue Fever and manifests as fever, rash, fatigue myalgia, arthralgia or polyarthritis.  There is no known effective treatment.  http://t.co/yMVHnFLK0x

The Risk of SIE Quantified.  Two major studies from two major registries have helped to define the risk of serious infections (SIE) in RA patients treated with biologic agents.  Emery and coworkers analyzed the UK BSRBR biologics registry to show that the risk of SIE was more closely linked to disease activity and not whether the patient was on a DMARD or biologic.  Zink and coworkers have used their German biologics registry (RABBIT) to develop and validate the RABBIT risk calculator wherein the risk of a SIE in the next 12 months can be calculated from a few clinical parameters – age, prednisone dose, comorbidities, number of prior DMARDs/biologics, prior history of SIE and the drug to be introduced.  These data are highly instructive in helping to define who should not receive a biologic or novel agen. http://www.ncbi.nlm.nih.gov/pubmed/25190189    http://www.ncbi.nlm.nih.gov/pubmed/23740236
Disclosures
The author has received research/grant financial support on this subject
The author has received compensation as an advisor or consultant on this subject