The Deadly Truth behind Paxil's Study 329
Save
Study 329 was published in 2001, and became a pivotal study for the anti-depressant drug Paxil (paroxetine). In 2002, over 2 million prescriptions were written for Paxil. But this drug and this study are currently under the microscope – largely because of concerns about safety and suicide risk, especially in children and adolescents.
A recent review of all the original data (nearly 77,000 pages of formerly inaccessible records), suggests Paxil was neither effective nor safe (Citation sourcehttp://buff.ly/1PqsomX).  The new flurry of reports, which began with the blog Retraction Watch, casts accusations that GlaxoSmithKline (GSK) misrepresented the drug's safety. For instance, misclassifying suicidal acts (such as taking 80 Tylenol) as less-alarming behavior or side effects. Several researchers who have also examined Study 329's data have come to similar conclusions.
The original report was published in the journal Child and Adolescent Psychiatry and involves 275 adolescents with major depression who were randomized to receive 20mg or 40mg of paroxetine, imipramine or placebo for 24 weeks. Paroxetine was more effective than placebo and imipramine was similar to placebo using standard depression outcome scales. The safety was reported to be similar; withdrawal rates for adverse effects were 9.7% and 6.9% for paroxetine and placebo, respectively.
BMJ published an evidence-based reanalysis of this paper and showed neither paroxetine nor high dose imipramine showed efficacy for major depression in adolescents, and there was an increase in harms with both drugs. Specifically, there were clinically significant increases in harms, including suicidal ideation and behavior and other serious adverse events in the paroxetine group, and cardiovascular problems in the imipramine group. These investigators found problems with following the protocol and attribute their differences to problems with data and safety coding, and following the protocol properly.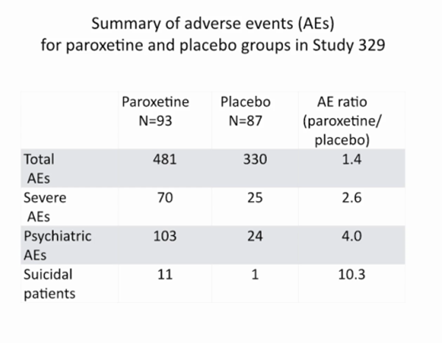 At issue is whether GSK researchers misinterpreted the data or purposefully made a bad drug look good. GSK has been fined $3 million for its erroneous assertions and despite the inaccuracies uncovered with this research, the editor of the journal that published the original work continues to assert there are no grounds for the journal to redact the original paper. Moreover, nearly all involved in producing Study 329 have declined to comment and insisted the original study is sound.
Truth in medical reporting has become a major interest of Dr. Ivan Oransky, Medical Editor of MedPage.com and co-author of RetractionWatch.com, the website that broke this story. His blog has noted a 20 to 25 percent increase in retractions across some 10,000 medical and science journals in the past five years: growing from 400 in 2010 to 500-600 a year today. Reasons for these retractions range from plagiarism, image manipulation, data massaging, tainted samples, mistakes in statistics, or suspicions of misconduct.
The reanalysis of Study 329 underscore the potential perils of safety reporting and highlight the issues of study protocols, authorship and access to pivotal trial data.
Disclosures
The author has no conflicts of interest to disclose related to this subject
Add new comment