Does RA kill you? Let me count the ways….and what you can do about it
Save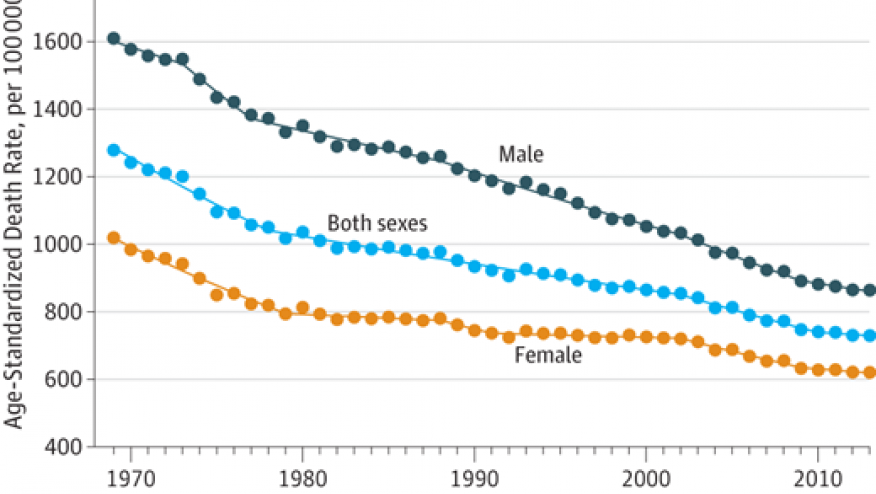 There were many presentations at EULAR 2018 in Amsterdam about the mortality of RA.
Excess mortality seems to start after 6 years of RA with an excess of approximately 13 to 14% over 10 years (0P0344). This was observed in two large administrative (billing) databases from the provinces of Ontario (27,405 people with RA) and British Columbia (13,834 with RA), Canada and showed the same results matched to age and sex matched general population. Others have found that most deaths are from cardiovascular events and then cancer and less often infection (but more common than the general population). The Oslo RA register showed that over time the excessive mortality gap in RA is decreasing (FRI0043) where 10 year mortality was less in the patients studied (from 2004-2008) vs from 1994-1998 and 1999-2003.
So it is interesting that plaquenil (HCQ) prolongs survival (OP091). Incident RA pts from Denmark from 2004-14 compared users of HCQ to matched non-users. The author stated that mostly HCQ is prescribed in combination with MTX and not as monotherapy but the proportion with HCQ monotherapy was not provided so there could be imbalance (confounding) where perhaps HCQ users had less severe disease if many had monotherapy. The all-cause mortality was 17% reduced and CV deaths decreased by 22%. Interestingly there was no reduction in diabetes which other studies have shown.
Mortality was increased in seropositive RA patients (ACPA and/or RF) in an administrative database (HUMANA) that was linked with a lab database. Interestingly mortality was less if using bDMARDs compared to csDMARDs (OP0195). Even more interesting, MTX with a bDMARDs had less cardiovascular events than use of a bDMARD alone (from Medicare database) (OP0192).  
So, what should we do? I don't know the full answer but will continue to use HCQ (as I often start ERA pts on triple therapy) and may consider less likely to stop it and when using a bDMARD I have reasons beyond better disease control and retention to try to encourage concomitant MTX use if tolerated. Finally, we can't forget about the identification and treatment of modifiable CV risk factors in our patients!
Disclosures
The author has no conflicts of interest to disclose related to this subject
Add new comment