Best of 2019 - Upadacitinib (RINVOQ) FDA Approved for Rheumatoid Arthritis
Save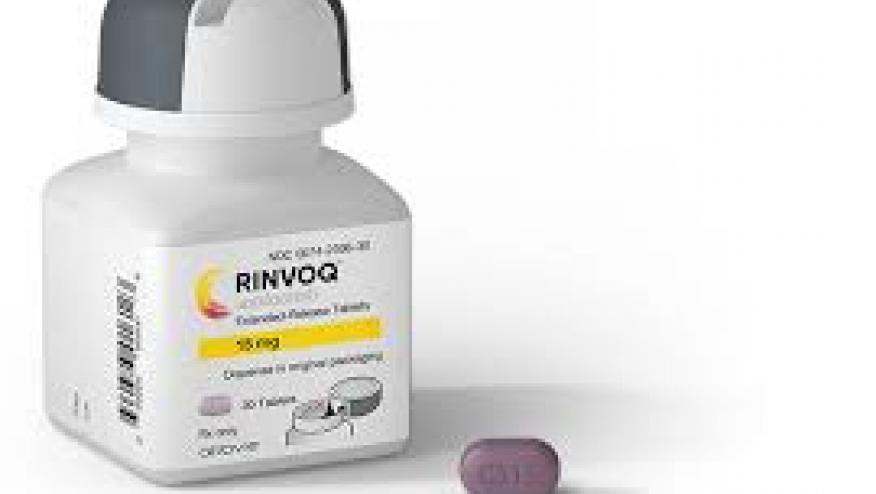 The US Food and Drug Administration (FDA) on Friday, August 16, approved AbbVie JAK1 inhibitor, Rinvoq (upadacitinib) for adults with  rheumatoid arthritis with moderately to severely active disease either not responding to, or intolerant of, methotrexate (MTX). 
The approved once daily dose is 15 mg qd. The drug may be used with MTX or other DMARDs but should not be combined with other JAK inhibitors or biologic agents.
There is a Boxed Warning for serious infection, malignancy and thrombosis risks:
Serious infections including tuberculosis and bacterial, invasive fungal, viral, and other opportunistic infections
Hold RINVOQ if a serious infection develops and until the infection is controlled
Test for latent tuberculosis prior to starting RINVOQ; if positive, start TB treatment prior to starting RINVOQ
Monitor all patients for active tuberculosis during treatment
Lymphoma and other malignancies have been observed in patients treated with RINVOQ
Thrombosis, including deep vein thrombosis, pulmonary embolism, and arterial thrombosis, have occurred in patients treated with RINVOQ
Other precautions and warnings include:
Avoid initiation or interrupt RINVOQ if: A) absolute lymphocyte count is less than 500 cells/mm3; B) absolute neutrophil count is less than 1000 cells/mm3 or C) hemoglobin level is less than 8 g/dL
Consider the risks and benefits prior to treating patients who may be at increased risk of thrombosis. Promptly evaluate patients with symptoms of thrombosis and treat appropriately
Use with caution in patients who may be at increased risk for gastrointestinal perforations
RINVOQ may cause fetal harm based on animal studies. Advise females of reproductive potential of the potential risk to a fetus and to use effective contraception
The full package insert information can be found here https://buff.ly/307rKXv
AbbVie has announced that Rinvoq will be available at a list price $59,000 a year (or $5,174 a month). d on the duration of the treatment and individual healthcare plans. As expected, there will be a co-pay card to reduce out-of-pocket costs to $5 per month for eligible, commercially-insured patients, and a patient support program as well. By comparison, wholesale cost for Humira is $62,088. For Xeljanz is $53,772. Olumiant (relatively cheaper) is $25,642.  
This is the third JAK inhibitor to be FDA approved for use in RA.
Rinvoq (upadacitinib) is also being studied for use in other conditions such as psoriatic arthritis, Crohn's disease and ulcerative colitis.
Disclosures
The author has received compensation as an advisor or consultant on this subject
Add new comment