Bimekizumab's Favorable Safety Profile in Psoriasis
Save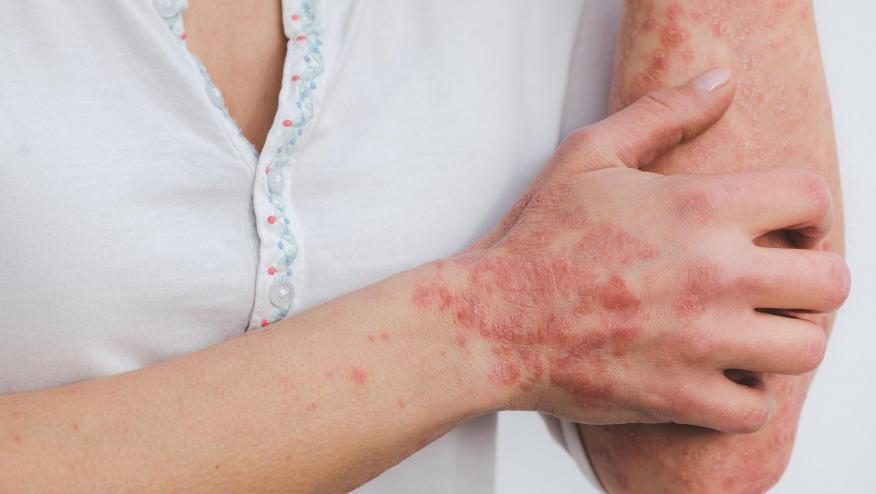 A 2-year safety study of bimekizumab, the dual IL-17A/F inhibitor, plaque psoriasis patients showed bimekizumab (BMK), to be effective, well tolerated, with no new safety concerns other than a modest risk of oral candidiasis.
JAMA Dermatology published this pooled analysis of 8 randomized clinical (phase 2 or phase 3) trials included 1789 patients with moderate to severe plaque psoriasis treated with BMK and followed for up to 2 years.  The primary outcome in this analsysis was treatment-emergent adverse events (TEAEs), serious TEAEs, and TEAEs leading to treatment discontinuation are reported using exposure-adjusted incidence rates (EAIRs) per 100 person-years.
From a total of 1789 BMK patients, there was a total bimekizumab exposure of 3109.7 person-years.
Adverse events (TEAEs) occurred at rate (EAIR) of 202.4 per 100 person-years but did not increase with longer duration of bimekizumab exposure. Common AE included nasopharyngitis (19.1/00PY) oral candidiasis (12.6/100PY), and upper respiratory tract infection (8.9/100PY).
Oral candidiasis with BMK (a dual IL-17A/F inhibitor) appears to be more common that that seen with currently marketed IL-17 inhibitors.  Fortunately, most candidiasis events were mild or moderate, decrease over time and was mostly oral mucocutaneous candidiasis with no cases of invasive candidiasis. A minority of affected patients had repeat candidiasis episodes and most were treated with nystatin and/or fluconazole (median duration of antifungal was 12 days). Only 3 patients (0.2%) with oral candidiasis discontinued BMK.  There were few cases of other fungal infections.
Other adverse events of concern were infrequent and included:
Inflammatory bowel disease (0.1 per 100 person-years. There was a total of 4 cases (2 Crohn disease, 1 colitis, and 1 ulcerative colitis);
Adjudicated suicidal ideation and behavior (0.0 per 100 person-years);
Adjudicated major adverse cardiac events (0.5 per 100 person-years)
Bimekizumab is a selective inhibitor of both IL-17A and IL-17F.14-16 and in clinical trials has previously demonstrated superior efficacy compared to placebo, ustekinumab (anti–IL-12/23), adalimumab (anti-tumor necrosis factor), and secukinumab (anti–IL-17A) in patients with moderate to severe plaque psoriasis.
ADD THE FIRST COMMENT
Disclosures
The author has no conflicts of interest to disclose related to this subject