Dr. Naomi Rothfield (1929 – 2023)
Save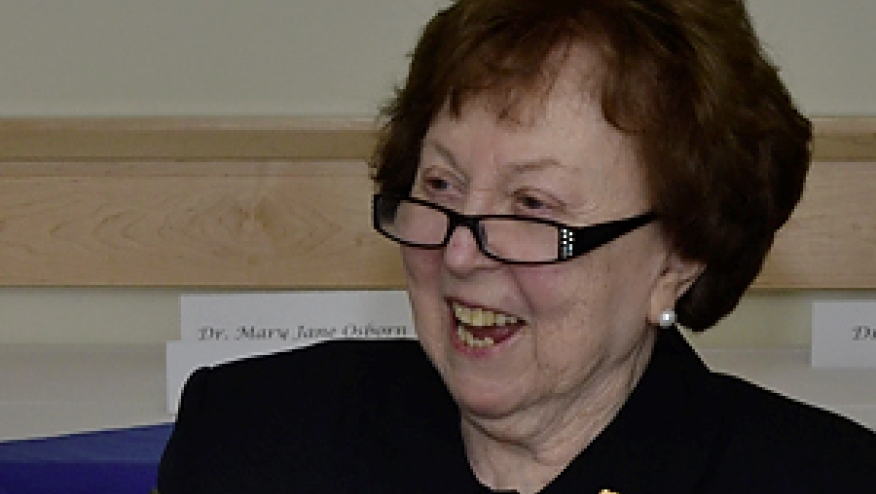 Medical schools are rife with mentors. In my rheumatology fellowship I had two great mentors, Peter Lipsky and Morris Ziff. They introduced me, and other young rheumatologists, to other rheumatology giants and mentors, including Dr. Naomi Rothfield - who they often spoke of as a leader worth following.
I met Dr. Rothfield on a few occasions and was impressed by her clarity, character and good humor. She was engaging and inclusive. And she stood out as one of the few strong rheumatology department chairs in the 1980s.
Naomi F. Rothfield, MD, famed leader from the University of Connecticut, passed away on Sunday, July 2, 2023, at the age of 94.
At UConn, Dr. Rothfield was a professor of medicine and leader of the Division of Rheumatology for decades. She started her medical studies at NYU School of Medicine, did her residency at Lenox Hill Hospital and her rheumatology fellowship also at NYU. Her long academic career started at NYU, and later joined was one of the early faculty to join the UConn School of Medicine in 1968. From 1973 to 1999, she served as chief of the Division of Rheumatology. She retired in 2016.
Her six-decade academic career was devoted to medical education, patient care and research on systemic lupus erythematosus. She is known for starting the Lupus Foundation and co-founding the Connecticut chapter of the Scleroderma Foundation. She wrote more than 150 journal articles, authored 42 book chapters, and trained hundreds of rheumatologists who became practitioners and academic leaders worldwide.
Many of her contemporaries in rheumatology have responded to her passing.
Dr. Michael Lochshin:
"Naomi—friendly, collaborative, and modest, was one of the first physicians to structure thinking about SLE. In the 1960s she defined the field; her definitions are still used today. She one of the earliest and strongest proponents of the use of hydroxychloroquine for SLE (as opposed to cutaneous LE), a decade before the rest of understood. I had the pleasure of meeting her when she was at NYU. (I was then at Columbia, then Hospital for Special Surgery/WeillCornell Medicine.)  We stayed in touch throughout her ground-breaking move to Connecticut. She always responded to my questions, we shared patients, and we maintained a warm relationship.  What was most striking was her humility—rare in such prominent leaders. She is and will continue to be an important person in the history of our field."
Dr. Michael Weisman:
"Naomi was one of a kind.  She was a great friend of Nate Zvaifler, and as such made a lot of visits to us at UCSD.  I remember her almost relentless pursuit of scientific honesty in everything she did.  Aside from watching her light up a cigarette in the living room of my house, I was her greatest fan.  We loved her."
Dr. Robert Lahita:
"Naomi Rothfield was a giant in the lupus and scleroderma community. She did research early in the field of autoimmune disease and was highly regarded. Her major accomplishment was in the area of clinical disease and therapy. She trained some of the best."
Dr. Bevra Hahn
Thanks for asking for a few thoughts from me about Naomi.  How shall I honor the unique and wonderful Naomi Rothfield?

She was a super mentor to all of us in Rheumatology and Research Medicine; a strong woman leading science and all the students she touched, like me.

She was an outstanding role model - a person who successfully combined practicing medicine, research, teaching, family, children, grandchildren.

She was dedication itself - to discovery science, to applying best care to patients, to teaching, to developing top grade teaching programs.

She moved the understanding of pathogenesis and treatment of lupus from primitive to sophisticated.

She is my only teacher/colleague who nearly froze me to death by insisting that all the windows be open in her guest bedroom to let in the crisp Connecticut air in winter.

Naomi my fond fond friend, I am grieving.
Dr. Peter Lipsky:
"Naomi Rothfield was a true giant of Rheumatology. She embodied the "Quadruple Threat", excelling in research, teaching, patient care and public service. She contributed important findings in understanding the importance of autoantibodies in both lupus and systemic sclerosis. She was one of the founding faculty members of the University of Connecticut School of Medicine (one of only four women) and established a world class Rheumatology Unit providing training to scores of excellent rheumatologists throughout Connecticut and the world. She was beloved by her patients and set a standard for compassionate care. Finally, she contributed meaningfully to the growth of the UC School of Medicine and the development of the Lupus Foundation. But recitation of these amazing achievements does not capture Naomi (Rheumatology really should retire the name because there really was only one Naomi, with apologies to other great Naomis). And referring to Naomi as a "giant", while true, somehow seems to depersonalize her, to make her a remote object to be admired and not a real person to interact with and be enriched by the interaction. And Naomi was a real person, who saw problems as opportunities and barriers as inconveniences to be overcome with more focus and hard work. She exuded a passion for problem solving that was infectious. Her patient advocacy and commitment to the welfare of each of her patients were legendary. And she certainly served as a role model for women in medicine by being a highly visible, greatly supportive and enormously successful academic physician who was also a mother of four and life partner of a very successful husband. The true legacy of Naomi is that she left a piece of herself in everyone she interacted with. When I was a medical student, I was looking for inspiration and met Naomi with the eternal question of medical students, "What should I do?". Without hesitation, Naomi said, "Study lupus because whatever to look at will be abnormal." Great advice and very true. In thinking about Naomi, I am reminded of the words of the Scottish poet, Thomas Campbell, "To live in hearts we leave behind, is not to die." And that certainly is Naomi.
Naomi Rothfield was preceded in death by her husband Dr. Lawrence Rothfield, Professor Emeritus of Molecular Biology and Biophysics at UConn School of Medicine.
We extend our sincere condolences to her loving family.
Disclosures
The author has no conflicts of interest to disclose related to this subject