Efficacy of Subsequent b/tsDMARD Use in Rheumatoid Arthritis
Save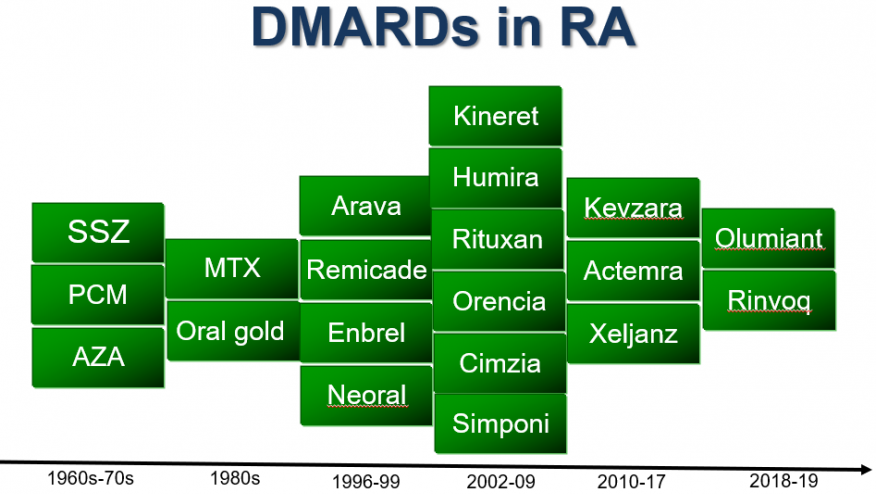 Analysis of rheumatoid arthritis (RA) data from the British Society for Rheumatology Biologics Register shows that, even after failing three or more biologic or targeted synthetic DMARDs (b/tsDMARDs), patients may continue to benefit from repeated trials of unused b/tsDMARDs. 
BSRBR data from 2001 to 2020, and new new b/tsDMARD (excluding biosimilars) starts included 22 934 RA patients starting their first b/tsDMARD. Overall, 10 823 tried a second-line drug, 5,056 third, 2,128 fourth, 767 fifth and 292 sixth-line b/tsDMARDs. The outcomes included achieving DAS28 remission (≤2.6), low disease activity (LDA, ≤3.2) at 6 months, and median time to drug discontinuation
While TNF inhibitors were most frequently used first-line drug; the choice of subsequent therapies changed over time.
The odds of achieving remission or LDA decreased but plateaued with 2nd through 6th drug used.
DAS remission: 17% with first-line agents, then 13% second and 8% to13% with third through sixth b/tsDMARD choice
LDA: 29% with first-line, 23% second, 17–22% through to the sixth.
Duration of first-line therapy was a median of 2.6 years, but ranged from 1.0–1.4 years for lines two to six.
While the efficacy of repeated b/tsDMARD use over time does wane, it remains a viable efficacy option, even out to the 6th line choice. Research on better predictors of treatment selection is needed to avoid a "trial and error" to long-term RA management. 
Disclosures
The author has no conflicts of interest to disclose related to this subject
Add new comment