Vaccine Efficacy in Patients with Seronegative Spondyloarthritis
Save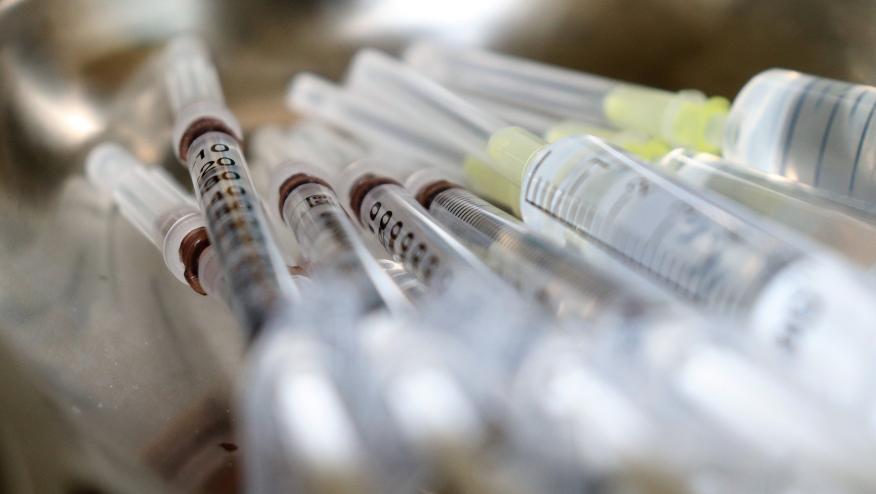 Vaccine efficacy remains an important and highly discussed topic at this year's annual meeting given the ongoing COVID-19 global health crisis, current influenza season, and recently published 2022 ACR guidelines for vaccinations in patients with rheumatic and musculoskeletal diseases.
Patients with seronegative spondyloarthritis (SpA) are a susceptible population given the need for prolonged immunosuppression to achieve and maintain disease control. Understanding the impact of spondyloarthridities and its therapies on vaccine efficacy and response is essential to providing preventative healthcare to this vulnerable population. 
Do COVID-19 Vaccines Prevent Infection and Hospitalization in Patients with Psoriatic Disease?
Abstract #0389. Dr. Lihi Eder et al. from the University of Toronto evaluated the effectiveness of COVID-19 vaccination in more than 125,000 patients with psoriatic disease (psoriasis and/or psoriatic arthritis). Hazard ratios for COVID infection and need for hospitalization were similar between patients with psoriatic disease and  600,000 controls after the second vaccination. However, use of etanercept was associated with higher risk of COVID infection (OR 2.39) and janus kinase inhibitors (JAKi) with need for hospitalization (OR 9.90). Psoriatic arthritis (PsA) status was not associated with higher risk for these outcomes when compared to patients with only psoriasis. 
Take home point. While vaccine responses were similar to controls, patients with psoriatic disease treated with tumor necrosis factor inhibitors (TNFi) or JAKi may be higher risk for COVID infection and hospitalization despite vaccination status. 
How does Treatment for Axial Spondyloarthritis and Psoriatic Arthritis Impact Efficacy of COVID-19 Vaccination? 
Abstract #0796. Dr. Carla Saad et al. from Faculdade de Medicina da Universidade de São Paulo evaluated humoral responses to the SARS-CoV2 vaccine (CoronaVac) in 180 patients with axial spondyloarthritis (AS) or PsA. CoronaVac is administered in two doses 28 days apart with a booster at day 210. Serum samples were collected on days 0, 28, 69, and 240 evaluating for anti-SARS CoV2 IgG seropositivity and neutralizing antibodies. On day 69, AS and PsA patients achieved 80% seropositivity (vs. 96% controls) with older age, methotrexate, and TNFi associated with significantly lower seropositivity. Neutralizing antibodies were detected in 62% of AS and PsA patients (vs. 83% controls) with prednisone and Caucasian race predictive of diminished levels. Interestingly, patients on sulfasalazine (SSZ) monotherapy achieved 100% seropositivity and 83% neutralizing antibody positivity. When SSZ was combined with TNFi, non-significant differences were observed between patients and controls. Dr. Saad and her team question the utility of SSZ as a counterbalance to TNFi to improve vaccine response in patients with SpA. 
Take home point. Various classes of therapy for SpA impact vaccine efficacy differently with TNFi decreasing vaccine response and SSZ potentially enhancing it. 
Is the Shingrix Vaccine Effective in Patients with PsA?
Abstract #0800. Dr. Alina Kifayat at New York Medical College explored responses to the recombinant, inactive Shingrix vaccine utilizing varicella IgG titers (U/ml) in 23 patients with SpA (N=3), rheumatoid arthritis (N=14), or systemic lupus erythematosus (N=6). Two vaccinations were administered 2-6 months apart and bloodwork was collected 6-12 weeks following the second vaccination. A level of 150 U/mL was considered protective. The control group (N=6) experienced a 6.7 fold increase in antibody titers compared to a 3.4 fold increase in PsA patients. Vaccine responses were lower in patients treated with methotrexare (2.8 fold) and glucocorticoids (3.4 fold). All patients with PsA reached the protective threshold (314-460 U/ml), however antibody titers were at least 3 times higher in control patients compared to those with rheumatic diseases. 
Take home point. The shingles vaccine (Shingrix) evoked a response in the majority of patients with rheumatic diseases, but serum titers were lower compared to controls and impacted by use of methotrexate and glucocorticoids.