Activity Trackers May be Helpful in Arthritis Patients
Save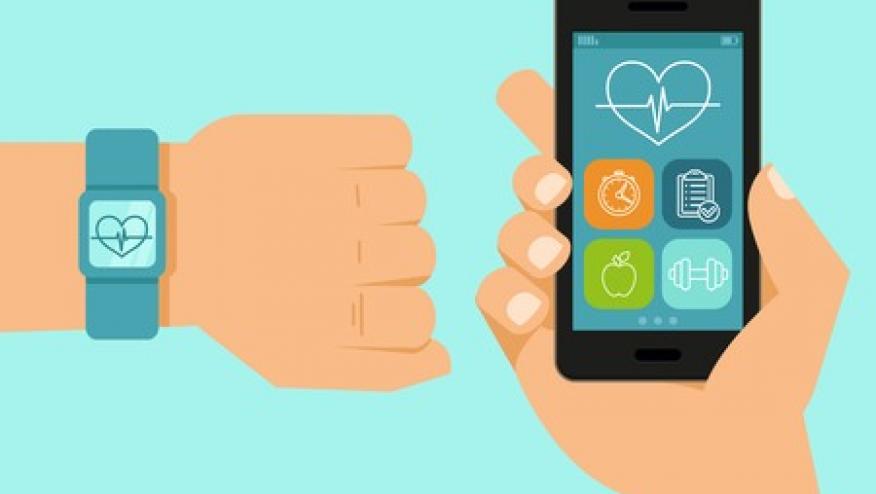 Use of wearable activity trackers was associated with increases in the number of daily steps among individuals with rheumatic and musculoskeletal disorders, a meta-analysis found.
In seven studies that assessed the number of daily steps during a mean study duration of 13.9 weeks, the mean difference between tracker users and comparators was 1,520 steps per day, according to Thomas Davergne, PT, MSc, of Sorbonne Université in Paris, and colleagues.
This was considered a large effect, with a standardized mean difference of 0.83 (95% CI 0.29-1.38), the researchers reported online in Arthritis Care & Research.
However, in studies that were longer than 8 weeks, there was a significant increase in pain, with a standardized mean difference of -0.25 (95% CI -0.07 to -0.43).
Patients with inflammatory rheumatic diseases and conditions such as lower limb osteoarthritis tend to restrict their physical activity, yet guidelines recommend regular physical activity as beneficial for preventing disability and improving quality of life.
Wearable activity trackers such as simple pedometers and more sophisticated devices such as Fitbit are widely used in the general population for monitoring activity levels, although adherence typically has been less than optimal.
To see if patients with rheumatic and musculoskeletal diseases could benefit from use of these devices despite difficulties such as pain and other limitations, Davergne and colleagues conducted a systematic review of the literature, identifying 17 studies published from 2003 to 2018.
Ten of the studies compared a tracker versus no tracker, five compared one type of tracker with another, and two had no comparator group. A total of 1,588 patients, mean age of 55, were included. More than half were women.
Nine of the studies included patients with osteoarthritis, five were for low back pain, and three were inflammatory diseases such as rheumatoid arthritis or psoriatic arthritis. Ten of the studies were included in the meta-analysis.
In the four studies that evaluated adherence, the time participants spent wearing the device was 92.7%, for a mean duration of 10 weeks, which was "encouraging," according to the researchers.
In the seven studies that evaluated the number of daily steps, the overall heterogeneity was large (I2 = 77%), which likely reflected differences in the types of trackers, duration of use, and other components of the intervention such as counseling and goal setting.
Three studies that looked at the time spent in moderate to vigorous activity after a mean of 12 weeks showed a small standardized mean difference of 0.41 (95% CI 0.04-0.77, I2 = 0%), which corresponded to a difference versus comparators of 16 minutes each day.
A subgroup analysis of studies including patients specifically with osteoarthritis found a large effect on the number of daily steps, with a standardized mean difference of 0.92 (95% CI 0.33-1.52, I2 = 84%).
While there was an increase in reported pain in studies that exceeded 8 weeks in duration, no differences were seen in short-term studies in pain, function, disability, or quality of life. "It is possible that the moderate increase in physical activity was not sufficient to lead to clinical benefits," the researchers noted.
In discussing their findings, they pointed out that the change in number of daily steps represented a shift from what is considered sedentary to low disease activity. In addition, the increase of 16 minutes in moderate to vigorous activity "may be considered clinically relevant when time in moderate to vigorous activity is around 10 minutes per day in lower limb osteoarthritis."
However, the general recommendation from the American College of Sports Medicine and the American Heart Association is for 30 minutes of moderate activity on 5 days per week for all healthy adults.
The small but significant increase in pain seen in longer studies needs to be confirmed in other studies, but should not discourage physical activity among these patients. "To deal with a potential increase of pain, activity should be tailored to the individual characteristics such as type of disability and evolution of disability," Davergne's group wrote.
The use of these devices is a "promising strategy" for increasing potentially beneficial physical activity for patients with rheumatic and musculoskeletal complaints, the researchers concluded. "However, research may be needed to determine whether changes are maintained over time, ways to improve long-term use, and the most effective adjuncts."
The study was funded by the French Society of Rheumatology.
Disclosures
The author has no conflicts of interest to disclose related to this subject
Add new comment