Gout Crystal Deposition is Deeper than its Measures
Save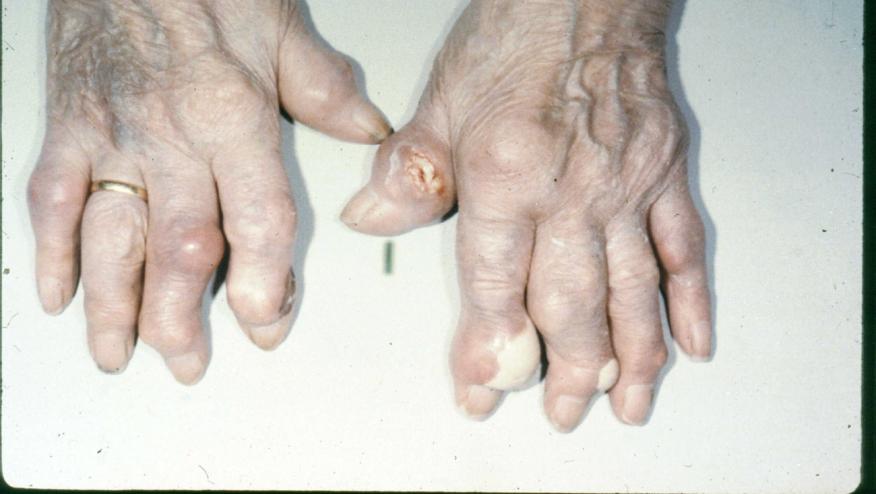 Dalbeth and colleagues have published that among gout patients without palpable tophic and despite long term allopurinol, nearly half have monosodium urate (MSU) as detected by Dual-energy CT (DECT).  The total body urate deposition is even greater in those with higher sUA and evidence of severe disease. 
They enrolled 152 gout patients from New Zealand and USA who were receiving allopurinol ≥300 mg/day for a mean of 5.1 years. MSU crystal deposition was assessed b DECT in the hands/wrists, feet/ankles/Achilles and knees and correlated with sUA levels and gout characteristics.
Among allopurinol treated patients, 69.1% had crystal deposition on DECT, with a median total crystal volume of 0.16 cm3.
Crystal deposition was found in 46.9% of patients with sUA
Crystal deposition was found in 90.0% among those with sUA ≥6.0 mg/dL and tophi.
Total volume of crystal deposition was positively associated with sUA ≥6.0 mg/dL, gout flares, tophi and the patients global disease activity scores.
These data are sobering, given the fact that only 30-45% of treated gouty patients will achieve a treat-to-target goal of sUA
Gout runs deeper than the tophi and is more sinister than the serum urate level measured.
Disclosures
The author has received compensation as an advisor or consultant on this subject
Add new comment