Novel TYK2 Inhibitor Efficacious for Treatment of Psoriatic Arthritis
Save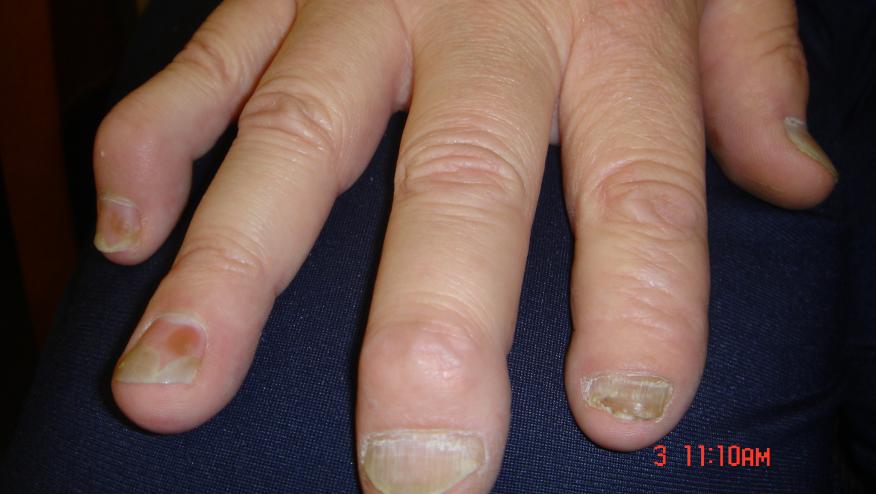 Dr. Philip Mease et al presented results of a phase II trial (OP0227) at EULAR 2021 that shows the efficacy and safety of an oral tyrosine kinase inhibitor (TYKi), deucravacitinib, for treatment of active psoriatic arthritis (PsA).
Deucravacitinib is a novel, oral drug that selectively inhibits TYK2. It has downstream inhibitory effects on IL23, IL12, & type I IFN pathways. In two recent phase III clinical trials evaluating patients with moderate-to-severe psoriasis, POETYK PSO- 1 & 2, deucravacitinib was efficacious and outperformed apremilast (Otezla) in PASI75. 
The trial presented was a double-blinded, placebo-controlled trial that randomized 203 patients with active PsA equally to deucravacitinib 6 mg, deucravacitinib 12 mg daily, or placebo. Eligible patients had a PsA diagnosis for at least 6 months, met CASPAR criteria, failed up to one TNF-inhibitor, and failed or were intolerant to at least one csDMARD, NSAID, or GC. Baseline demographics and clinical characteristics were similar across the groups with a mean age of 50 yo, mean PsA duration since diagnosis of 4.5 years, and moderate disability at baseline per HAQ-DI scores.  Of note, 65% were using csDMARDs and 16% had an inadequate response to TNFi.
The primary endpoint was achievement of ACR20 response at week 16. Both deucravacitinib 6 mg PO daily and 12 mg PO daily demonstrated statistically significant ACR20 responses versus placebo: 52.9% vs 62.7% vs 31.8%. ACR20 responses were similar in patients with and without a prior history of TNFi use. Achievement of ACR50 and ACR70 responses at week 16 were also significantly higher with deucravacitinib vs placebo. Mean improvements from baseline in individual ACR components (TJC, SJC, hsCRP, patient global assessment of disease activity + pain, and physician global assessment of PsA) were greater with both deucravacitinib doses vs placebo. There were significant improvements in HAQ-DI scores (defined as an improvement of at least 0.35 relative to baseline) by week 4 with 6 mg deucravacitinib and by week 8 for both doses of deucravacitinib vs placebo. A greater proportion of patients in the deucravacitinib groups achieved enthesitis resolution by week 16 as measured by LEI and SPARCC enthesitis indices. Dactylitis resolution was achieved by week 16 in 76.7% of patients in the 6 mg deucravacitinib group and 79.2% of patients in the 12 mg deucravacitinib group compared to 60% in the placebo group. Lastly, achievement in MDA and improvements in DAPSA + PASDAS were significantly greater in both deucravacitinib groups compared to placebo by week 16.
Overall, deucravacitinib was well-tolerated. The most common adverse events were mild-to-moderate in severity and included nasopharyngitis, sinusitis, headache, rash, URI, bronchitis, and diarrhea. No serious adverse events, including serious infections. No clinically meaningful changes were observed in laboratory parameters during the trial. 
Thus, efficacy of deucravacitinib vs placebo was demonstrated across all ACR domains and enthesis endpoints and similar safety profile as observed in phase 3 trials in patients with psoriasis (POS1042).