X-Linked Hypophophatemia - Survey Results
Save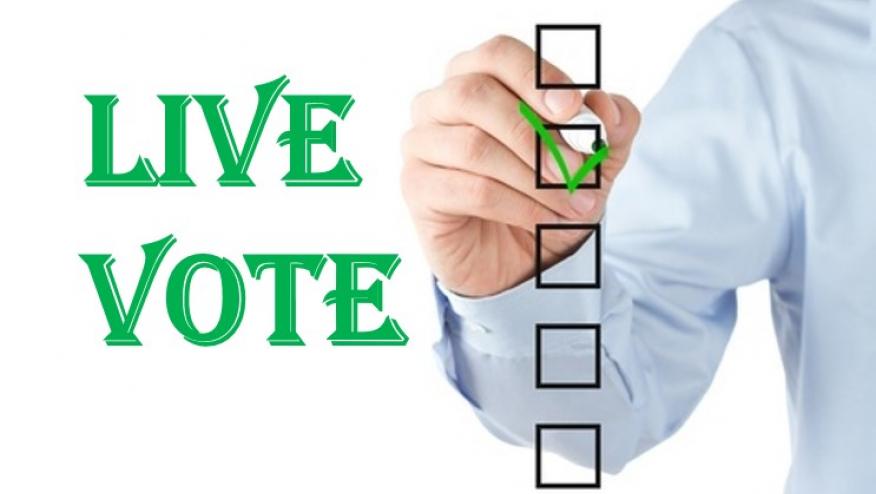 The July 2021 RheumNow "Live Vote" surveyed US and non-US rheumatologists on their knowledge and practices when dealing with the bone disorder, X-linked hypophosphatemia (XLH). Although rare, XLH can be a diagnostic consideration in patients with recurrent fractures, rickets, osteomalacia and a family history of fractures.
X-linked hypophosphatemia (XLH), an autosomal dominant disorder with pathogenic variants in the PHEX gene leading to elevated serum fibroblast growth factor 23 (FGF23) and below-normal serum phosphate.  Renal phosphate wasting leads to low serum phosphate levels that prevents normal bone mineralization. 
XLH manifests as rickets, osteomalacia, short stature, and lower limb deformity and symptoms of myalgias, arthralgias, weakness, fatigue, bone pain, and enthesopathy. Genetic testing for PHEX gene abnormalities is available from Invitae.com at no-charge (supported by Ultragenyx) using a 13-gene next-generation sequencing panel to confirm or aid in the diagnosis of XLH.
This "Live Vote" survey was sponsored by Ultragenyx and conducted at the end of June, beginning of July 2021. A total of 200 rheumatologist responses collected: including 119 US rheumatologists and 81 non-US rheumatologists (from 34 countries). Survey responses were collected over 2 weeks. In the first week the survey was sent by email to RheumNow verified, registered rheumatologists (n=158 respondents) and in the second week, rheumatologists on social media were invited to partake (n=42 respondents).
Overall, these results indicate that a majority of rheumatologists are familiar with XLH, the diagnostic importance of low serum phosphate levels and that such patients can be found and managed amongst endocrinologists, rheumatologists and primary care physicians.
Below are the rheumatologist's responses to four clinical questions on XLH, along with the takeaway, teaching points to each question.
Response

Rheums

Commentary

Fasting serum phosphorous

53%

Low serum phosphorus level is the key biochemical hallmark of XLH, due to the chronic hypophosphatemia that defines the condition. Fasting serum phosphorus is not a part of a routine blood panel and must be ordered separately if XLH is suspected.

Serum testosterone

37%

Magnesium

6%

HLA-B27

3%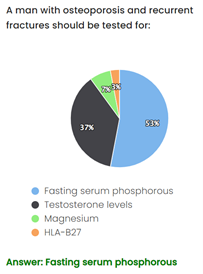 Question 2. Which of the following is not a feature of x-linked hypophosphatemia (XLH)?

Response

Rheums

Commentary

Elevated ESR or CRP

73%

Although XLH may present similarly to other rheumatic diseases, XLH is fact a metabolic bone disease and a disorder of bone frailty that has no associated inflammatory pathology – hence no elevation of ESR or CRP. Its pathogenesis is driven by an excess of a protein called fibroblast growth factor 23 (FGF23), leading to chronic hypophosphatemia and the clinical presentation of osteomalacia and rickets, enthesitis, and fractures.

Enthesopathy

19%

Low serum phosphate

5%

Osteomalacia

3%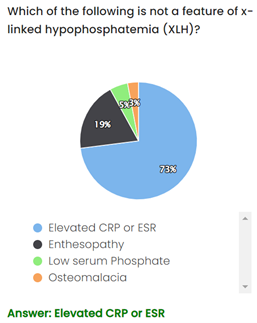 Question 3.   Which specialties can manage XLH?

Response

Rheums

Commentary

All of the above

78%

XLH is a complex metabolic bone disease, and its treatment has multiple aspects that require the involvement of multiple specialists. Some rheumatologists may choose to treat while others may refer to an endocrinologist for further treatment and management of XLH.

Endocrinologist

14%

Rheumatologist

7%

Nephrologist

1%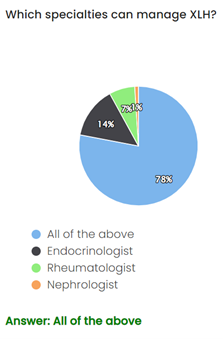 Question 4. A patient presents with long bone pain. What finding would NOT necessarily increase your suspicion of XLH?

Response

Rheums

Commentary

Low vitamin D levels

67%

A diagnosis of XLH is typically based on clinical and biochemical findings in combination with family history. Vitamin D (1,25(OH)2D) levels can be low or inappropriately normal in XLH, so the presence of low vitamin D alone would not necessarily suggest a diagnosis of XLH. The key laboratory findings in XLH are low fasting serum phosphorus and low TmP/GFR. Osteomalacia and fractures/pseudofractures are common in XLH due to delayed bone mineralization. A history of rickets within the patient's family is consistent with a diagnosis of XLH.

Family Hx of Rickets

25%

Healed fractures/pseudo Fx

6%

Osteomalacia

2%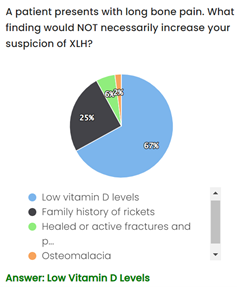 Disclosures
The author has received compensation as an advisor or consultant on this subject
Add new comment