Hyaluronic Acid Knee Injections Equivalent to Placebo
Save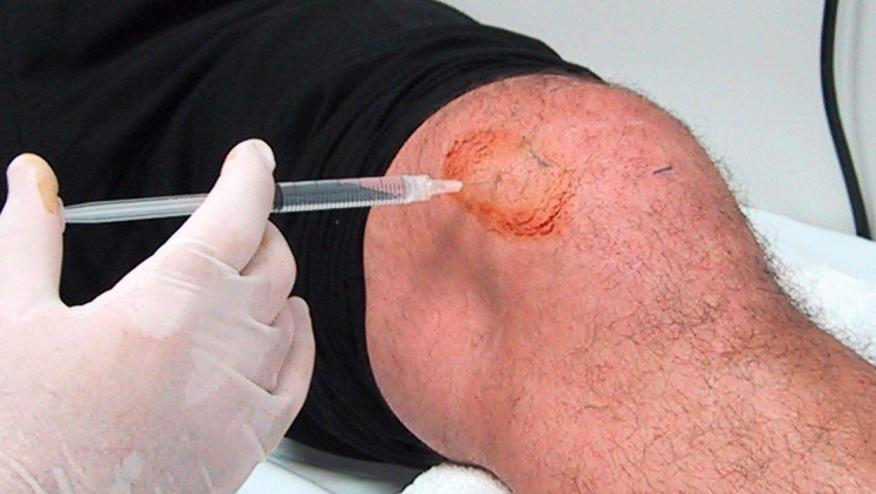 In the United States, where over $300 million is spent annually on intraarticular hyaluronic acid injections, yet another study shows such therapy to be no better than placebo.
BMJ has published a metanalysis of the efficacy and safety of viscosupplementation (intraarticular hyaluronic acid injection) in knee osteoarthritis patients. This is one of many such reviews, all ending with the same conclusion.
The authors reviewed 169 trials involveing 21,163 randomised knee OA patients. The prespecified primary outcome was pain intensity. Secondary outcomes were function and serious adverse events. .
Data from 24 large, placebo controlled trials (8997 patients) concluded that viscosupplementation was associated with a small reduction in pain versus placebo (SMD −0.08, 95% confidence interval −0.15 to −0.02), with the lower bound of the 95% confidence interval excluding the minimal clinically important between group difference. This corresponds to a lowering of 2 points on a 100 point (mm) visual analogue scale for pain.
Numerous trials since 2009 have shown conclusive evidence of clinical equivalence between viscosupplementation and placebo.
Yet, the safety concerns often go unnoticed. The results of 15 large, placebo controlled trials (6462 patients) also showed viscosupplementation to be associated with a significantly higher risk of serious adverse events than placebo (relative risk 1.49, 95% confidence interval 1.12 to 1.98). 
Moreover, In 2018 Medicare expenditures for viscosupplementation was estimated to be $325 million, with approximately 28% of that amount was spent on treating large joint infections following viscosupplementation injections.
Viscosupplementation appears to be capable of minimal (nonsignificant) reduction in knee OA pain and minimal (but significant) risk of serious adverse events compared with placebo.
Most international guidelines currently discourage the use of intra-articular hyaluronic acid derivatives in treating knee OA.
Disclosures
The author has no conflicts of interest to disclose related to this subject
Rheumatologists' Comments