CDC Lyme Disease Surveillance Report
Save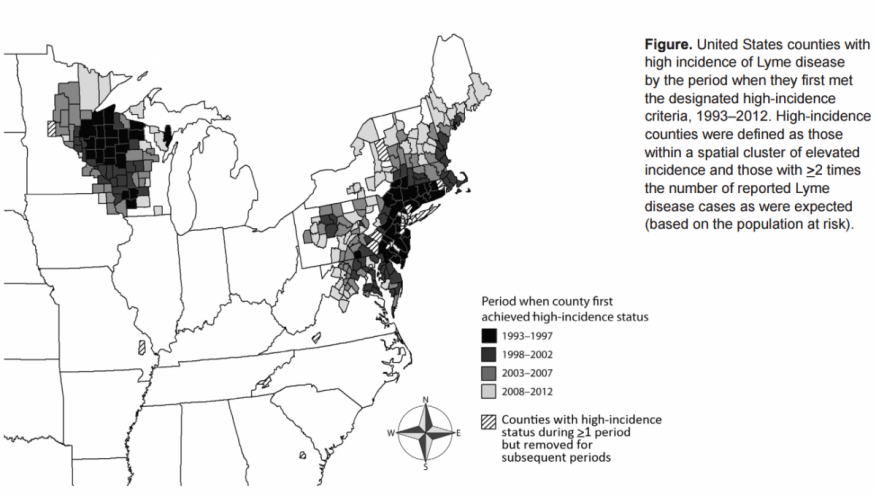 Lyme disease, caused by the spirochete Borrelia burdofgeri, is the most common vector-borne illness reported in the U.S. Cases occur mainly in the Northeast, Mid-Atlantic and upper Midwest as well as certain areas of the Pacific coast, with a geographic distribution based on residence of Ixodes scapularis (Ixodes pacificus on the West Coast), the vectors that transmits Lyme disease.
Lyme disease has been a reportable disease since 1991, with cases reported to the Health Department by both physicians and laboratories. Confirmed or probable cases are then reported to the CDC through the National Notifiable Diseases Surveillance System.
MMWR recently published surveillance data for Lyme Disease in the U.S. from 2008-2015. States with an average annual incidence ≥ 10 confirmed cases per 100,000 population were considered high incidence. During this time period 275,589 cases of Lyme were reported to the CDC and most cases were from regions previously considered to be high incidence.
According to the CDC surveillance report, the top 7 states for Lyme disease in 2015 include
Vermont (78.4 per 100000/yr)
Maine (74.7 per 100000/yr)
Pennsylvania (57.5 per 100000/yr)
Rhode Island (53.4 per 100000/yr)
Connecticut (52.2 per 100000/yr)
New Jersey (43.9 per 100000/yr)
Massachussetts (43 per 100000/yr).
For the most part these counts have remained stable over the years; however, incidence is rising in states that neighbor these regions. Demographics of reported cases are similar to in the past, but in lower incidence areas there were more cases in younger females compared to the past.
We can take away from this that Lyme disease continues to concentrate in known high-incidence areas although the geographic distribution seems to be spreading. This will add to the continuing public health challenge that is Lyme disease, and Lyme should be considered in a patient with a  suggestive clinical presentation even if they are not from a high risk area.  
Disclosures
The author has no conflicts of interest to disclose related to this subject