Trends in Inflammatory Arthritis Care in Germany
Save
The German National Database (NDB) has reviewed their experience in the care and quality of life of inflammatory rheumatic disease patients snce 1993, showing improved use of metrics, improved outcomes and a changing profile of biologic and anti-rheumatic drug use.  
Data from the NDB was collected from 15 to 17 rheumatological institutions yearly, comprising more than 10,000 patients. About half of all NDB patients are RA, while 10% of patients have AS, 10% PsA and about 6% SLE. 
Identified trends include:
Increasing use of biologics, especially in rheumatoid arthritis where 30% of patients receive biologics
Decreasing reliance on glucocorticoids
Methotrexate remains as the standard therapy for rheumatoid arthritis
Disease activity, functional and social restrictions have decreased across all diseases
Work absenteeism has decreased
Epidemiologic trends - the age at onset has changed from 1994-96 to 2014-16, especially in AS and PsA, an increase in the age of onset of the disease over time was seen.  Particularly so in seronegative patients where the chage has been as much as 6 years later. The age of onset has not changed in SLE. 
Rheumatologic consultations -  have increased in all diseases, but is still low for AS at 45% in 2016 and much higher in RA (73%), SLE (71%) and PsA (66%). The mean disease duration till first contact with a rheumatologist has decreased (from  1994/2016): 1.0/0.5 years in RA; 5.0/2.1 years in AS, 2.0/0.6 years in PsA. AS remains the disorder with the longest disease duration before seeing a rheumatologist.
Trends in Drug Therapy - Biologic (dark black line below) use grew by 2016 to 28% i RA, 33% in PsA and 50% in AS. In RA and PsA, 60% of biologics are combined with a conventional synthetic DMARD, mostly methotrexate, except for AS, where biologics are used as monotherapy (84%).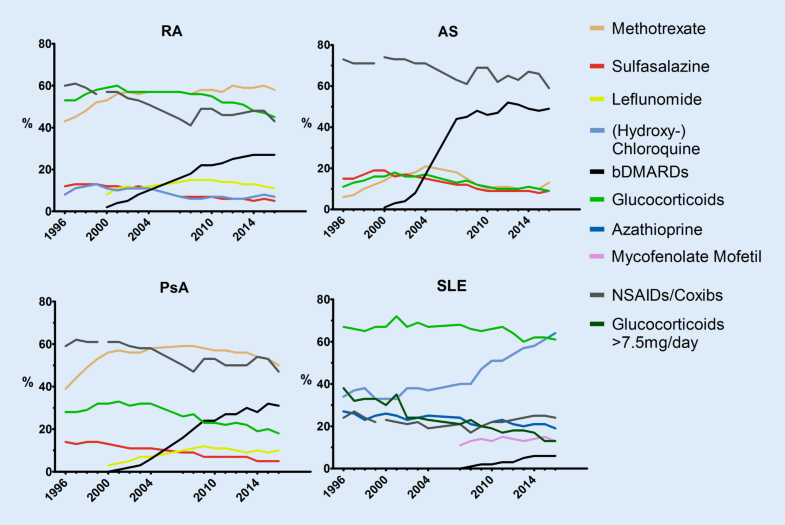 Overall, the outcomes and health status of many patients with rheumatic diseases in the NDB have improved.
In the digital age, there will be an increasing need for measuring instruments and the standardization of documentation systems.
Disclosures
The author has no conflicts of interest to disclose related to this subject
Add new comment