25 Great Women in Rheumatology
Save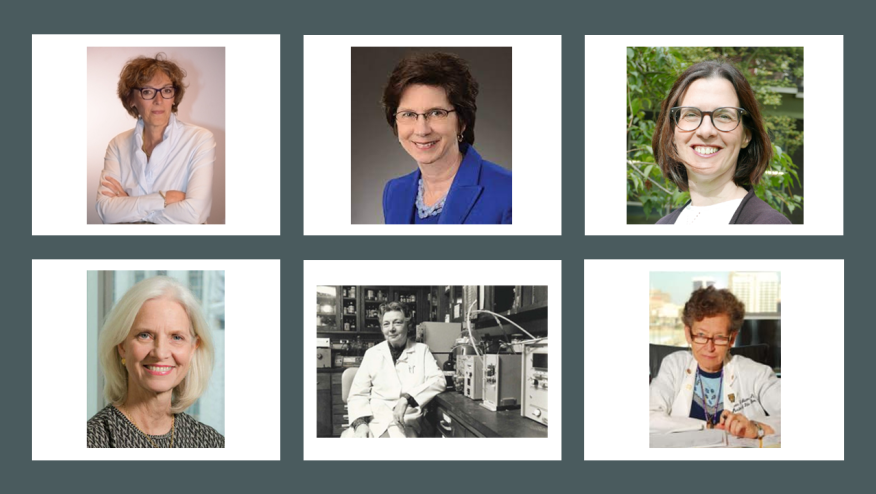 This week I reached out to many leaders in rheumatology and asked: who are the great women in rheumatology who should be recognized? This was prompted by a smart article in Annals of Rheumatic Disease written by Drs. Tuhina Neogi (Boston) and Nicola Dalbeth (N. Zealand), entitled "Where are the women 'Heroes and Pillars of Rheumatology'?
Below are the many responses from many great rheumatologists who went out of their way to extol the great leadership and mentoring of many.
Tuhina Neogi, MD (Boston Univ): Thank you for taking our article and dedicating space in RheumNow for this. I would like to strongly encourage each of the 'living legends' that we listed out be given the recognition they deserve (Professors Deborah Symmons, Désirée van der Heijde, Amita Aggarwal, Ellen Ginzler, Seza Özen, Ellen Gravallese, Cornelia Weyand, Dame Carol Black, Bevra Hahn, Graciela Alarcon, Dafna Gladman, Michelle Petri, Patricia Woo, Marina Botto, Lyn March and Betty Diamond).
I'd also like to make a general comment about the importance of women leaders in Rheumatology for the career paths of trainees. I was fortunate at the University of Toronto to have numerous women leader role models –Dr. Dafna Gladman was our Program Director, Dr. Claire Bombardier was our Division Director, and Dr. Gillian Hawker was a leader at Women's College Hospital (a teaching hospital) and is now Chair of Medicine at the University of Toronto. – one of the largest Faculty of Medicine departments in North America, if not the world! Seeing all these women in leadership roles normalized for me that women could be and should be in leadership; it was not a rare, unusual occurrence, but rather something that could commonly and naturally happen. As a result of these role models in leadership positions, it never occurred to me that my path in academic rheumatology as a woman would be any different than a man's. My quick thoughts on two of the women we listed:
Dr. Dafna Gladman (Univ. of Toronto): I trained under Dafna when I was a Rheumatology fellow. She is a pioneer in lupus clinical research, having established one of the first (maybe *the* first?) SLE longitudinal inception cohorts in the world. She also established one of the first psoriatic arthritis longitudinal inception cohorts. A memorable quote: something to the effect of, "go into academic rheumatology and you get travel and have friends all over the world" (referring to all the international meetings and collaborations one develops over a career). And it is true – I've really enjoyed being able to travel and have friends from all over the world.
Dr. Cornelia Weyand (Stanford Univ.): One of the only women rheumatology researchers in vasculitis that I had seen as a trainee. Seeing her present at ACR got me excited about vasculitis research, which I then pursued during my fellowship and early career.
Dr. Peter Lipsky said there are several remarkable women leaders, including:
Naomi Rothfield, MD (University of Connecticut). Naomi Rothfield founded the rheumatology division at UConn and led it for many years. She founded a great division in 1968 and trained numerous rheumatologists who became the foundation of clinical rheumatology in Connecticut. She did a great deal of early research in lupus, especially related to anti-DNA antibodies and treatment with hydroxychloroquine. She was a great and inspirational person.
Evelyn Hess, MD – Shouldn't be forgotten for she had a similar story of leadership and accomplishments at the University of Cincinnati.
Dr. Anisha Dua (Northwestern University) singles out:
Dr. Marcy Bolster (MGH):  Marcy has inspired clinician educators consistently, both as a program director to her fellows and also to junior faculty members trying to develop careers in education. She has paved the way for countless rheumatologists as a coach, a mentor and a sponsor. The precision and dedication she has for each endeavor has led to many leadership roles. Within each of these roles, she consistently pulls in colleagues and mentees to raise the performance, visibility, and impact of others.
Dr. Sue Manzi (Allegheny Health Network): Sue's work in lupus is inspirational, innovative and impactful, but her ability to mentor and inspire her colleagues, collaborators and trainees is even more commendable. She has received recognition from multiple entities throughout her career, but her approachability, warmth and forward thinking have been most impactful in my own career development.
Professor Désirée van der Heijde had praise for:
Professor Claire Bombardier (Toronto General Hospital Research Institute, University Health Network, Toronto, Ontario, Canada, Institute of Health Policy, Management and Evaluation, University of Toronto, Toronto, Ontario, Canada, Department of Medicine, University of Toronto, Toronto, Ontario, Canada). For me, Claire Bombardier was my (only female) role model in my career. Therefore, I like to recognize her. During my first attendance at the annual ACR meeting in 1989 in Ohio, I listened to a lecture by Claire Bombardier. I got inspired by her enthusiasm and I was shown that it is indeed possible as a woman to have an academic leadership role in clinical (epidemiological) research. Over many years, we met and collaborated on several topics, mainly outcome assessment, education and mentoring of fellows. She remained the enthusiastic and inspirational person for many women throughout her long career.
Dr. Alexis Ogdie (U Penn) nominated the greatness of:
Joan Bathon, MD  (Director, Division of Rheumatology, Columbia University):  Dr. Bathon has a leadership presence about her that makes young women investigators want to be her. She is strong, generous and supportive. While not a formal mentor, every time I've met with her, I've walked away with some piece of wisdom that has helped me to be a better researcher and leader.
Dr. Marc Hochberg (Univ. of Maryland) is writing for an upcoming issue of Rheumatic Disease Clinics on "Giants of Rheumatology" and advocates for:
Mary Betty Stevens, MD (from Johns Hopkins): she is one of the Giants of Hopkins Rheumatology.  Mary Betty is the winner, in my opinion, of the Female Giant of Rheumatology.
Dr. Pamela Weiss (U Penn) proffered:
Kate Sullivan, MD, PhD (Chief, Division of Allergy and Immunology, CHOP; Professor of Pediatrics, UPenn Perelman School of Medicine):  Kate is both an immunologist and rheumatologist and in the lab, she investigates the biochemical origins of immunodeficiency and autoimmune disease. She has received the Founders Medal for Outstanding Contribution to Clinical and Translational Immunology (2022) from the Clinical Immunology Society (2022) and both the Community Service award (2021) and the Boyle Scientific Award (2017; the highest honor in the field of primary immune deficiency) from the Immune Deficiency Foundation. Importantly, she is strong advocate for women and a wonderful mentor.
Dr. Nancy Lane (Univ. of California Davis) nominates:
Maripat Corr, MD (Professor of Medicine and Associate Dean for Academic affairs at UCSD). Dr. Corr has spent over 30 years teaching and mentoring rheumatology fellows to achieve both excellence in patient care and research.   She is the pillar that stands behind so many successful junior faculty at UCSD.  She also has invested her time, supporting women in academics across her own institution, carefully shepherding them through their academic promotions.  Her research in animal models of inflammatory diseases and pain, and biomarkers for inflammatory diseases is legend.  She was studying the wnt/beta-catenin signaling pathway before most of us in rheumatology could even pronounce it.
Mary Nakamura, MD (Professor of Medicine and Rheumatology at the University of California at San Francisco). Mary Nakamura is an amazing mentor, researcher and clinician at UCSF.  I cannot count the number of women physician scientists that Mary has mentored and have successfully become successful scientists including MaryBeth Humphrey (Vice President of Research at the University of Oklahoma, Health Sciences Center and Julia Charles (Assistant Professor of Medicine and rheumatology at BWH/Harvard) to name a few.  Mary is a brilliant immunologist who has made seminal findings related to the immune system and bone remodeling, especially osteoclasts and macrophages, and she is currently the PI of an NIH sponsored P30 to perform Precision Medicine.  She is the recipient of numerous teaching and mentorship awards at UCSF and should be recognized by the rheumatology community.
Professor Elena Nikiphorou was proud to extoll both:
Prof. Dr. Angela Zink (German Rheumatism Research Center): She is the very definition of an inspiring and beautiful woman. To be so humble and down to earth when you have achieved so much, makes it all extra special.
Kimme Hyrich, MD, PhD (Univ. of Manchester):  Kimme is an inspiration, I look up to her. She is not just a highly accomplished academic, she is a lovely human being.  Always willing to give you her time and with a very pragmatic view of life, she is the very definition of what a mentor should be.
Dr. Megan Clowse (Duke) endorses:
Dr. Carol Ziminski (Johns Hopkins Rheumatology) spent her entire career at Johns Hopkins Hospital, dedicating much of her effort to paving and guiding the path for women; this started when she was appointed as the first female assistant chief of the residents of the Osler Housestaff in 1981. She was a tireless supporter of women in medicine at Hopkins, frequently meeting medical students, residents, and fellows in the Mary Elizabeth Garrett room, a women's only meeting space in Hopkins Hospital, to talk about life in medicine.  Through her support, she enticed an entire generation of women into rheumatology, training them each through fellowship to be wise and kind clinicians.
Dr. Susan Shenoi (Univ. of Washington) nominates:
Virginia Pascual, MD (Weill Cornell Medical School): She discovered the IL1 signature in SJIA and also used anakinra for the first time as a pilot in 9 kids with SJIA and it worked like magic! And was instrumental in the discovery of IL1 signature in systemic JIA and pioneering use of anakinra in this disease. This discovery revolutionized management of this patient population and paved the way for other cytokines important in these patients.
Dr. Carol Wallace (Prof. Emeritus Seattle Children's Hospital): Dr. Wallace was my mentor and pioneer in pediatric rheumatology. She defined and identified criteria for inactive disease and remission in JIA known fondly as the Wallace criteria.
Elizabeth Mellins, MD (Stanford Medical Center): Betsy was one of the initial founders of CARRA, the childhood arthritis and rheumatology research association and continues to work as a basic scientist having made many contributions to the field of pediatric rheumatology.
Dr. Sofia Ramiro (FDS) has strongly recommended a unique female rheumatologist, worldwide known:
Prof. Dr. Désirée van der Heijde (Leiden University Medical Center). Désirée stands out as a clear worldwide leader in rheumatology that has shaped clinical and outcomes research in inflammatory arthritis. She leaves many footprints in the field, among which the development of the disease activity score (first for RA, later also for axSpA) and the modified Sharp van der Heijde Score, among an extensive number of impactful contributions to research and to rheumatology in general.  Désirée's vast knowledge is inspiring, her enthusiasm for research is contagious, her personal and career guidance a privilege and the way she cares about the people she mentors including their personal life is heartwarming. Désirée has a gift for guiding people which extends far beyond their scientific work.
Dr. Anne Stevens (Washington) submitted this nomination of praise:
J. Lee Nelson, MD (University of Washington, Fred Hutchinson Cancer Center): Lee Nelson is such a bold, creative, and spirited leader.  It has long been known that the high prevalence of autoimmune diseases in women was a key to understanding pathogenesis.  Dr. Lee Nelson developed a novel, ground-breaking hypothesis to explain why.  Her superpower is the ability to bring people of diverse backgrounds together.  Through active inquiry, inspiring encouragement, delightful humor and bottomless supply of homemade cookies, she integrated the fields of transplantation immunology and maternal-fetal medicine to rheumatology.  Her pioneering work established the persistence of fetal cells in women with systemic sclerosis decades after pregnancy. She identified the importance of not just HLA specific alleles, but maternal-fetal HLA compatibility in risk for autoimmunity. The field of rheumatology and beyond is represented by the league of innovative investigators, educators, and physicians she continues to mentor.  Microchimerism is now recognized as a widespread phenomenon with implications for autoimmune disease, malignancy, stem cell transplantation, and healthy pregnancy. An extraordinary mentor, innovative investigator, leader of break-through thinking around the etiology of systemic sclerosis.
Anonymous Colleague strongly advocated for:
Mary K. Crow, MD (HSS, NYC). Peggy was president of ACR, past chair of the Hospital for Special Surgery, founder of INF pathways in SLE, and mentor to many.
Jane Salmon, MD (HSS, NYC) has lead by holding many various leadership positions including associate Dean. Jane has been a major developer of complement and reproductive biology, and has done many of the major clinical studies/trials in SLE and pregnancy. Plus, a mentor to many.
Lisa Sammaritano, MD (HSS, NYC) was the leader and force behind the ACR's reproductive medicine guidelines committee; a truly superb one-on-one teacher, and mentor to many.
Medha Barbhaiya, MD (HSS, NYC) is a rising star in Rheumatology; She has led APS ACR/EULAR guidelines committee (soon to be published); She was done influential work on COVID and rheumatic disease, and other important work on UCTD. She too has been a mentor to many.
Dr. Kathryn Dao (University of Texas Southwestern Medical School) was inspired by:
Graciela Alarcon, MD (Univ. of Alabama, Birmingham):  she shared with me her struggles of being an immigrant and having young kids, yet still able to achieve greatness in light of gender, age, and race discrimination.
Dr. Nicola Dalbeth (University of Auckland), closed this call for Heroes in Rheumatology by saying, "this is a great initiative, and I'm really pleased that our (ARD) letter has stimulated this response. I'd like to nominate:
Professor Fiona McQueen (recently retired from clinical practice):  Fiona McQueen was the first woman Professor of Rheumatology in Aotearoa/New Zealand. She was at the forefront of MRI research from the 1990s; her ten-year longitudinal study of MRI in early rheumatoid arthritis was the first of its kind and identified the central importance of osteitis in the development of bone erosion in rheumatoid arthritis.  She was a founding member of the OMERACT MRI working group, and played a major role in the development of the RAMRIS scoring system.
Many recommendations and endorsements for Women Giants in Rheumatology continue to stream in:
Dr. Theodore Pincus (Rush University) suggested these academic leaders:
Mentors and leaders like: leaders in mentorship such as Marion Ropes, Barbara Ansell, Evelyn Hess. Mary Betty Stevens and newer leaders:
Desiree van der Heijde
Tuulikki Sokka
Prof. Dr. JMW Hazes (Erasmus University Medical Center) proposed: 
Prof. Dr. Deborah Symmons (Manchester) - is an excellent Rheumatologist and leading epidemiologist for rheumatic diseases, in particular at the population level. She started large cohorts such as the Norfork study and did important work on incidence and prevalence rates of RA and inflammatory arthritis. Her research was leading in the field. 
Disclosures
The author has no conflicts of interest to disclose related to this subject