COSMOS: Guselkumab's Immunologic Benefits in Psoriatic Arthritis
Save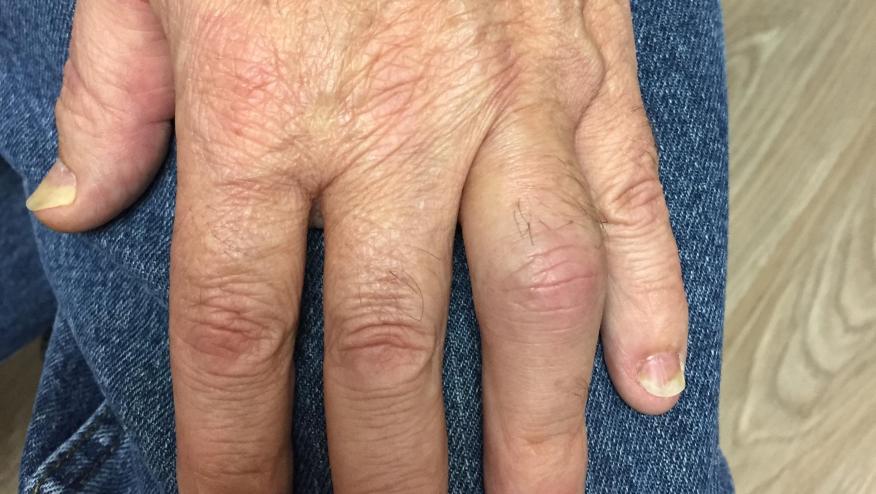 The anti-interleukin (IL)-23 inhibitor guselkumab (GUSO) was studied in active psoriatic arthritis (PsA) patients in the phase 3b COSMOS trial, and shown to be clinically effective while reducing multiple effector cytokines, including those associated with the IL-23/IL-17 pathway.
To be enrolled patients had to be adults with active PsA (≥ 3 swollen joints,  ≥ 3 tender joints) and have an incomplete response (IR) to one or two TNFi (TNFi-IR). Patients were randomized 2:1 to guselkumab at Weeks 0, 4, then every 8 weeks (Q8W) or placebo➔guselkumab Q8W at Week 24 with possible early escape at Week 16. Immunologic assessments included serial levels of serum cytokines, including interferon ɣ (IFNɣ), IL-10, and tumor necrosis factor α (TNFα); T helper 17 (Th17) effector cytokines IL-17A, IL-17F, and IL-22; and acute phase proteins C-reactive protein (CRP), IL-6, and serum amyloid A (SAA). Cytokines and biomarkers were correlated with 1) baseline disease activity (28-joint disease activity score using CRP [DAS28-CRP], psoriasis area and severity index [PASI], and % body surface area [BSA] affected by psoriasis) and 2) ACR20 response at Week 24.
PsA patients had significantly elevated baseline serum levels of IL-6, IL-10, IL-17A, IL-17F, IL-22, TNFα, and IFNɣ (compared to matched healthy controls).
Baseline IL-6, CRP, and SAA levels were associated with baseline DAS28-CRP. IL-17A and IL-17F levels were associated with baseline PASI score and psoriasis BSA.
Baseline swollen or tender joint counts did not associate with baseline biomarker levels.
At Week 24, GUS treated patients had significant decreases in CRP, SAA, IL-17A, IL-17F, and IL-22 levels (vs placebo-treated participants). IL-17F and IL-22 levels at Week 24 in guselkumab-treated participants did not significantly differ from those of matched healthy controls.
GUS ACR20 responders at Week 24 had higher baseline IL-22 and IFNɣ levels versus nonresponders.
GUS reduces levels of effector cytokines associated with the inflammation and IL-23/IL-17 pathway, including those associated with baseline arthritis and skin disease activity.
Disclosures
The author has no conflicts of interest to disclose related to this subject