Inflammatory Arthritis Spread by ATP and Neural Crosstalk
Save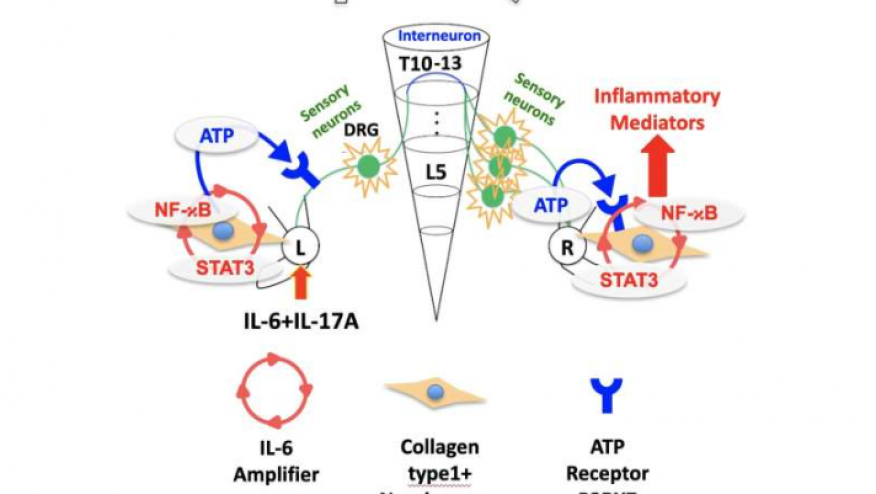 A novel study from the Journal of Experimental Medicine suggests that a reflex neural signaling at sites of inflammation may lead to spread to other inflammatory sites via and ATP-mediated neural crosstalk. Such findings may be important in disorders like rheumatoid arthritis (RA) and may lead to future novel interventions for RA.
The goal was to assess whether specific neural signaling leads to vascular and immune promotion of local and remote inflammation. Investigators used murine models of RA. They induced ankle arthritis and then observed spread of arthritis to the contralateral ankle.  Established inflammation was amplifed by IL-6 in the affected joint, that causesd ATP secretion that signals through the spinal cord, which in turn, triggers an increase in ATP concentrations and inflammation in the unaffected joint.
With surgical ablation or pharmacological inhibition (to disrupt sensory neural circuits) of this neural pathway they were able to prevent inflammation development on the other side.  They showed that this neural crosstalk was mediated by ATP, serving as a neurotransmitter and an inflammation enhancer.
The authors stated that this "remote inflammation gateway reflex", may have therapeutic value for inflammatory diseases, especially RA, where the  hallmark finding is "symmetric polyarthritis". 
These data suggest that sensory neuronal crosstalk, mediated by ATP, may account for the symmetry of RA. 
Disclosures
The author has no conflicts of interest to disclose related to this subject
Rheumatologists' Comments