Tocilizumab and Drug Shortage Headaches
Save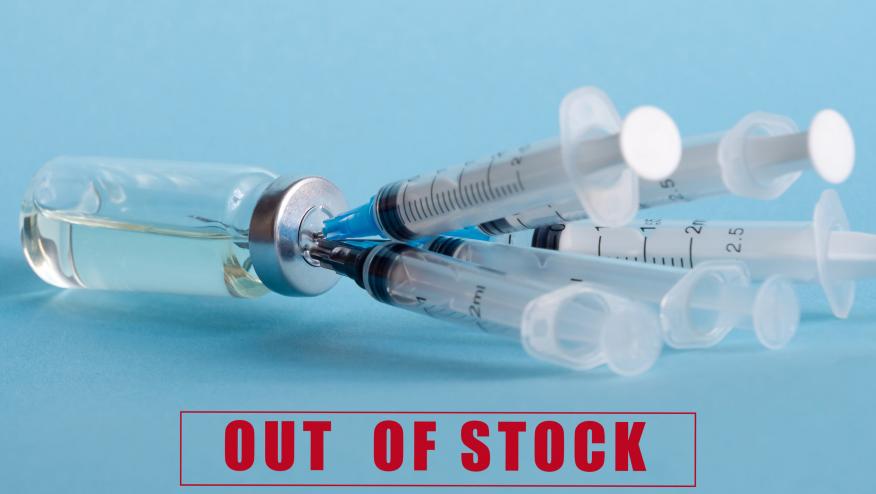 Do you know what's in short supply? Trust, pediatric rheumatologists, and drugs. Since the onset of the pandemic, numerous drug shortages have affected rheumatology, including sulfasalazine, hydroxychloroquine, and now, tocilizumab.
On June 24, 2021, the FDA announced an Emergency Use Authorization (EUA) for use of tocilizumab in hospitalized adults and children over age 2 years who are "receiving supplemental oxygen, non-invasive or invasive mechanical ventilation, or extracorporeal membrane oxygenation (ECMO)". Since then, increasing demand has out-stripped existing supplies of intravenous tocilizumab (TCZ).
While it appears shortages have been sporadic in the USA, the run on intravenous TCZ has hit other countries much harder, especially in Europe and Australia, forcing rheumatology patients taking TCZ to either change to another agent, sarilumab or subcutaneous TCZ. There has been no shortage of the subcutaneously administered tocilizumab or sarilumab, both IL-6 inhibitors.
Currently, the status of the tocilizumab shortage in the USA is illuminated on websites addressing the problem:
FDA Drug Shortages: lists TCZ as being available (all doses: 200 mg/10ml; 400 mg/20ml; 80 mg/4ml), noting that prior shortages were from "Demand increase in use".
ASHP: TCZ IV on shortage due to unexpected increased demand. Status updates can be found here
Genentech media statement (updated 9/3/21): "We have begun receiving scheduled replenishments of Actemra in the U.S. and anticipate additional replenishments of all SKUs of Actemra IV and subcutaneous (SC) formulations (ACTPen ® and prefilled syringe) in the coming weeks and months. During this time, availability of Actemra will vary. We expect additional intermittent periods of stockouts in the months ahead, especially if the pandemic continues at the current pace."
The 1984 Hatch-Waxman Act that permitted the licensing of generic drugs was a major advance in healthcare, especially the accessibility and affordability of healthcare. (Generics account for 90% of prescribed drugs in the USA, with trillions of dollars saved.) Yet, while the generic economic advantage has driven competition, there has been an unexpected downside that contributes to frequent drug shortages. A 2018 report from the Annals of Internal Medicine shows how drug shortages can also drive-up generic prices and may cost the US as much as $230 million a year.
The expanding number of cheaper generics from numerous companies has led generic makers to stop making certain generics (too little profit margin), to concentrate on fewer drugs that will sustain their generic business.  A recent NY Times article on generics states, "Competition for market share at rock-bottom price points has led to chronic shortages, unpredictable price-spikes, allegations of illegal price-fixing, and substandard and even dangerous practices."
Shortages have become a (hard) way of life for both patients and prescribers.
Current Drug Shortages (for Rheumatologists)
Carisoprodol 350 mg: While available from some manufacturers (Mylan, Carlsbad, Sciengen), others have discontinued manufacture (Cadista, Endo, Rising) and Teva is currently in short supply (manufacturing delay) and on intermittent back order.
Dexamethasone injection, 4 mg/ml; 10 mg/ml: due to increased demand; on back order with potential release in late September 2021.
Lidocaine injection, 1% and 2%: manufacturing delays by some manufacturers, but others with available supply (Fresenius Kabi, Auromedics, Amphastar, Pfizer). Possible resolution by late September or mid October 2021.
Methotrexate injection, 25 mg/ml 10 ml PF vial: increased demand, on back order. Mylan estimates release in late September 2021. Still available from other manufacturers (Accord, Fresenius Kabi, Hikma, Pfizer, Teva)
Mycophenolate 250 mg tablets and capsules: on back order with shortages from Hikma and Sandoz. Trade drug Cellcept is available and generic drug is available also (Genentech, Accord, Ascend, Hikma, Mylan).
Prednisone tablets: 5 mg, 10 mg, 20 mg in short supply from Teva and Hikma, but numerous other manufacturers have availability. Estimated resupply in Sept – Oct 2021.
Sulfasalazine EC and immediate release 500 mg tablets: in shortage from Pfizer, Teva and Greenstone, with an estimated resupply by October to November 2021
Tocilizumab injection, 20 mg/ml: Genentech has Actemra IV on shortage due to unexpected increased demand. Status updates can be found at: https://www.gene.com/contact-us/customer-service/product-distribution/p…. Subcutaneous tocilizumab is available.
Tramadol tablets, 50 mg: currently on back order at Mylan, with possible resolution in Sept 2021. Product available from other manufacturers (Teva, Sun, Amneal)
Rheumatologists' Comments