EULAR 2018 - Day 4 Report
Save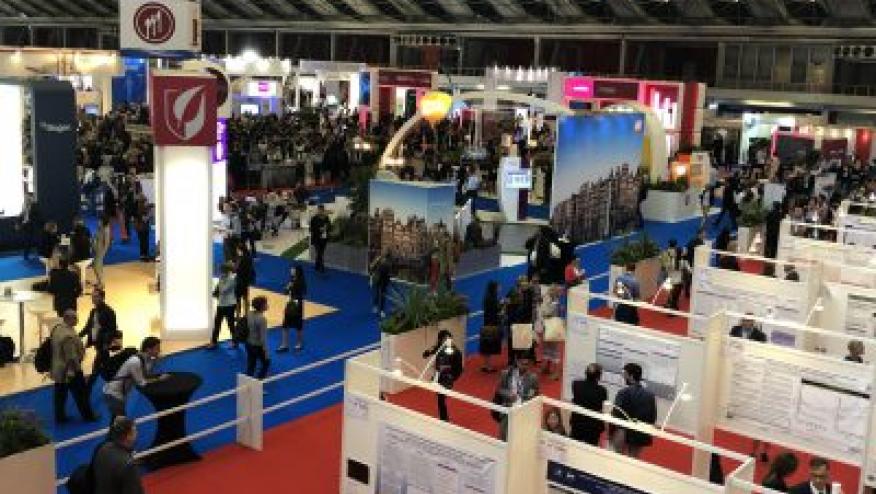 The EULAR 2018 wound down on Saturday with fewer oral presentations but many posters.  In my last report I put together a collection of impressions and some thematic highlights not covered in previous reports. Also some of these represent research and reporting trends – some healthy, others not so – that were evident at the EULAR 2018 meeting.
Pain 
In the last year where it was shown that Jak inhibitors (especially baricitinib) seemed to show a positive effect on pain responses (in RA) that was greater than that seen with comparator drugs (like adalimumab). Following that big splash are new reports showing that pain may be the unattended target in many of our patients.  This includes a well done analysis from SWEFOT showing that despite the clinical improvements seen with either TNF inhibitor (TNFi) with methotrexate (MTX) vs. Triple DMARD therapy (MSH), up to 12% continued with unacceptable pain (despite control of inflammation) and there was another 11% with pain overall.  The question being are we not paying enough attention to pain in our attempts to control systemic and joint inflammation?  Personally I'm all for paying attention to and targeting pain control, but it is one of the 7 core variables we improve in our multimodal assessment of response. Also its not unreasonable to experience joint pain in the face of disease control as the joints have previously been under attack and it's not unreasonable to have degenerative or mechanical sequelae to previously controlled inflammatory arthritis.  It remains to be seen if all the talk of pain control is unique to a particular class (e.g., JAK inhibitors) showing a differential effect compared to other agents or if this is just part of inflammatory arthritis management.
Also there were a number of abstracts on the identification of persistent "chronic widespread pain" in patients with inflammatory arthritis.
Lupus 
Baricitinib in lupus (OP0019). After 24 weeks, two-thirds of SLE patients on 4 mg baricitinib showed a resolution of arthritis or rash which was better than the 53% placebo response.  Unfortunately the 2 mg baricitinib dose group failed to show statistically significant improvement.
Validation of the new EULAR/ACR Classification Criteria for SLE (OP0020).  A multinational committee, 2000 patients and long Delphi process lead to a new set of weighted criteria that were compared to non-lupus controls. In the end, an SLE diagnosis had to have an ANA greater > 1: 80 with criteria that were weighted based on their strength of lupus association. Thus nephritis on biopsy having has the most number of points and oral ulcers having the least number.  The new criteria now significantly increased the sensitivity (to ~ 96-98%) by 14% over the previous ACR 1998 SLE criteria and improved the specificity (now 93-96%) over the 2012 SLICC criteria by 6%. While the lupus experts applauded this effort and new criteria, I worry they have lost their diagnostic and teaching utility and may not be useable in clinical practice – yes I know these are "classification criteria" designed to establish homogeneity in clinical trials and studies.
Ustekinumab in SLE (FRI0303) - This was a phase 2,  PBO-controlled study in 102 pts with active SLE. Patients were randomized (3:2) to UST IV ~6 mg/kg or PBO at wk0, followed by UST SC 90mg or PBO injections q8w, both added to standard care.  A significant 24 week SRI-4 response was seen in 60% on UST vs only 31% on PBO (p=0.005). Moreover, UST demonstrated significant advantages in flares, joint and improvement compared with PBO.
Still's Disease
Abstract SAT0626: examined the effect of anakinra in stills disease – this cohort of 40 AOSD patients had 26 who were treated and responded to methotrexate. Thus there were 14 were deemed refractory and went on anakinra.  Only 7/14 responded, with the other half being unresponsive or having toxicity or side effects.
Abstract SAT0608 addressed how to differentiate stills disease from other forms of fever of unknown origin (FUO). This was a prospective single center study of 156 patients with AOSD and 87 patients with FUO.  FUO causes were rheumatologic, infectious or malignant. And their multivariate analysis, AOSD was distinguished by rash, arthralgia, sore throat neutrophilia, hyperferritinemia, or elevated LDH. They constructed an algorithm that started with fever >38° and then branched decisions included either arthralgia,  ferritin, sore throat, neutrophilia to arrive at a high predictive value for Still's disease or FUO.
Other Diseases and Drugs
Abstract SAT601: Tocilizumab (IL-6 receptor inhibition) in patients with Graves ophthalmopathy (AKA thyroid-associated orbitopathy [TAO]. This report of 29 patients who were refractory to multiple therapies (including steroids and methotrexate) went on to be treated with TCZ. After a mean of 9 months of therapy on TCZ, all of the patients noted significant improvement.
Vedolizimab in SpA Associated IBD (OP0029) – a single center study of 171 patients diagnosed with IBD and treated with vedolizumab was reviewed.  Nearly all (97%) had previously been treated with at least one TNFi. Patients were followed for a mean of 14.3 months. Ten (5.8%) patients had a history of IBD-associated SpA but were in clinical remission at the time of initiation of VDZ.  Four patients with active SpA were treated with VDZ, but none of these patients did VDZ benefit the active SpA patients clinically.  Some of the SpA remission patients (6/10) noted exacerbation of SpA with initiation of VDZ. All those 14 patients with IBD-associated SpA were under TNF inhibitors just before starting VDZ.  There was one case of new onset of SpA induced by VDZ.    Vedolizumab may not be effective IBD-associated SpA and might even induce exacerbation or new onset of SpA in some patients.
Disclosures
The author has no conflicts of interest to disclose related to this subject
Add new comment