Alveolar Hemorrhage and Mortality in Lupus
Save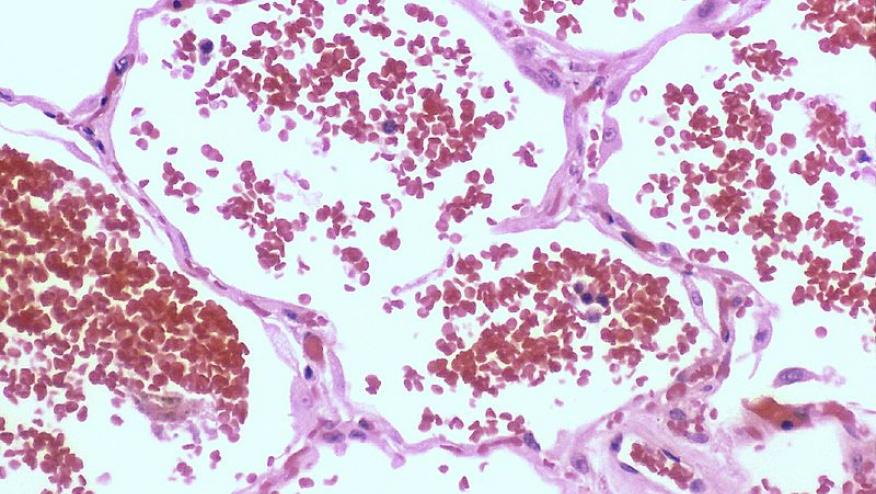 Metanalysis of patients with diffuse alveolar hemorrhage (DAH), show this to be a rare and life-threatening complication of systemic lupus erythematosus (SLE), that is more apt to affect older, severe lupus patients with active infection.
The diagnosis of DAH is challenging as it may be confused with pulmonary infection, and acute lupus pneumonitis. A DAH diagnosis is suggested by progressive dyspnea, hypoxemia, an acute drop in hemoglobin and diffuse diffuse patchy ground-glass opacities or hilar-centered consolidation on CT imaging of the chest. Mortality rates of up to 85% have been reported with DAH.
Eight studies were analyzed and included 251 SLE patients with DAH. In these studies the mean mortality was 37.5% (range 29-62%).
Independant risk factors for mortality included older age at the diagnosis (SMD = 0.35), longer lupus disease duration (SMD = 0.28), concurrent infection (OR = 2.77), plasmapheresis treatment (OR = 1.96) and mechanical ventilation (OR = 6.11).
There was no association between DAH survival and concurrent lupus nephritis, neuropsychiatric lupus or cyclophosphamide therapy. 
The associations with plasmapheresis and mechanical ventilation were indicative of severe SLE and poor outcomes
This analysis did nto examine best practices and therapies for SLE-associated DAH. Other than high dose (pulse) glucocorticoids, better insights for improved outcomes are needed for this life-threatening complication of SLE.
Disclosures
The author has no conflicts of interest to disclose related to this subject
Add new comment