Raynaud and Microvascular Complications with New Migraine Meds
Save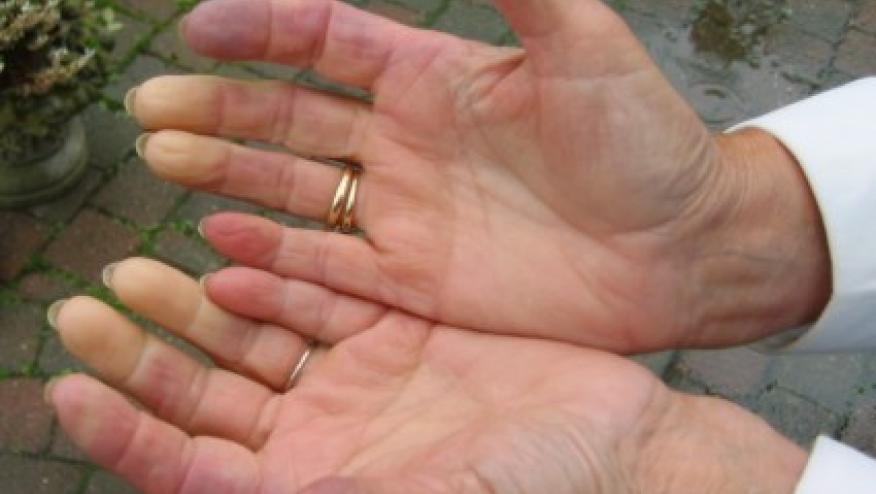 A new study of calcitonin gene-related peptide (CGRP) antagonists for migraine headaches found that a small subset manifested Raynaud phenomenon and other had microvascular complications, suggesting that CGRP antagonists should be used in caution in patients with Raynauds. 
Calcitonin gene-related peptide (CGRP) antagonists are promising agents in migraine management. There are 2 types of CGRP inhibitors: monoclonal antibodies and small-molecule CGRP receptor antagonists.  These suppress CGRP, a neuropeptide located in the peripheral and central nervous system (for pain modulation) but may also decrease reflex vasodilation and thereby exacerbate microvascular diseasem as with Raynaud phenomenon (RP).
This retrospective cohort study included 169 patients with Raynaud phenomenon (primary or secondary) while undergoing CGRP antagonist therapy to treat migraine. The intent was to examine the safety of CGRP in such patients.  The primary outcome was microvascular complications (e.g., worsening RP, digital ulcerations, and gangrenous necrosis).
Of the 169 patients identified, only 9 (5.3%) exhibited microvascular complications, ranging from worsening RP to gangrene and autonecrosis that required distal digit amputation.
From nine patients with microvascular complications were all female, five had previously diagnosed RP and four were newly diagnosed with RP while on CGRP.  The CGRP antagonist agents associated with the microvascular complications included galcanezumab (in 3 patients), erenumab (in 5 patients), and fremanezumab (in 1 patient).
Microvascular complications of CGRP antagonist use in migraine patients are uncommon, yet caution is advised when giving these agents to Raynauds patients.
Disclosures
The author has no conflicts of interest to disclose related to this subject
Add new comment