Severity Associated with Erosive Hand Osteoarthritis
Save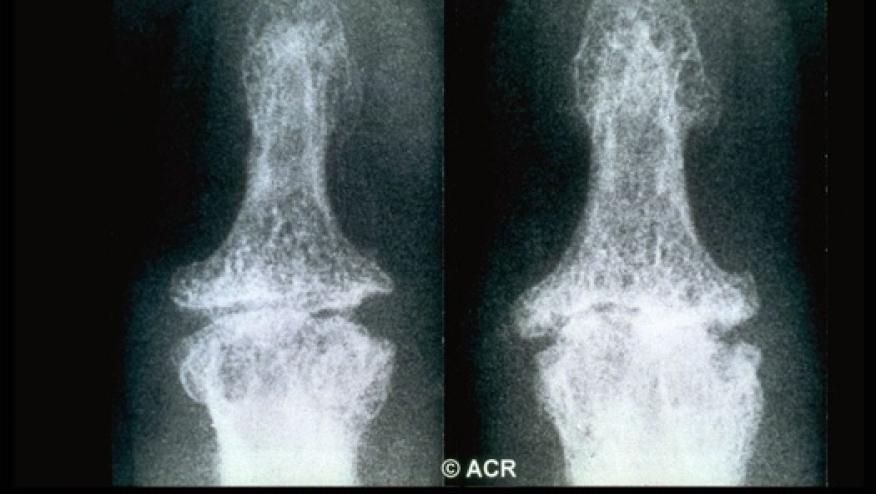 Erosive hand osteoarthritis (EHOA) was studied as part of the Osteoarthritis Initiative, and shown to increase with advanced age and female sex, with developmental findings to suggest that EHOA as a disorder of skeletal frailty.
The Osteoarthritis Initiative is a longitudinal study of OA patients followed clinical and with radiographs from baseline and 48‐months. EHOA was defined as Kellgren‐Lawrence (KL) grade≥2 changes in in at least one interphalangeal joint on two different fingers and central erosion in at least one joint.
From a total of 3365 patients without EHOA at baseline, 2.6% (86) developed EHOA over 48‐months of observation.
Risk factors included being older [RR 0.76), female [RR=1.73, greater osteoarthritis severity and less cortical width (AKA "thinner bones";  1.38 vs 1.52 mm, p<0.001).
Those developing EHOA had greater progressions of radiographic osteoarthritis and loss of cortical thickness. 
These findings suggest that EHOA is a consequence of more severe OA and may be a disorder of skeletal frailty.
Disclosures
The author has no conflicts of interest to disclose related to this subject
Add new comment