Best of 2021: Consults in Cars
Save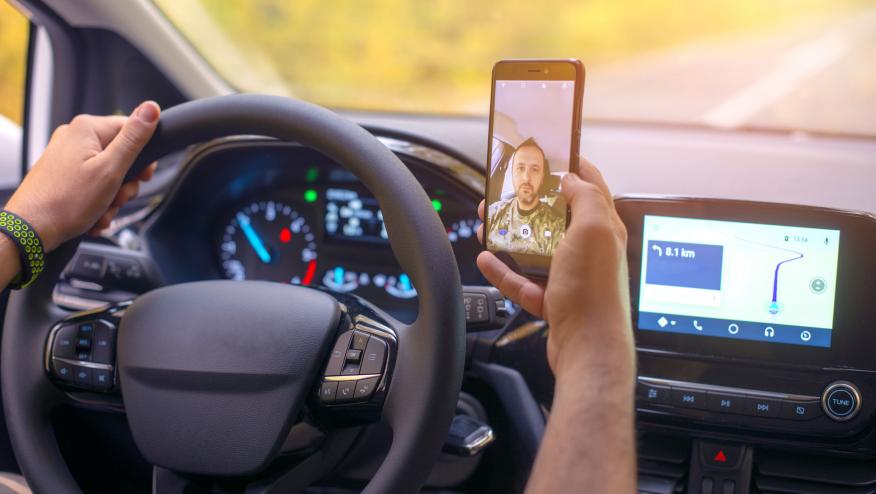 In this episode of Dialing for Doctors (AKA Tales of Telehell), we will consider a growing subset of telehealth seekers connecting from their cars.
I don't mean they are driving to the clinic, or driving to a virtual care center.  
I'm referring to my Thursday 2 p.m. telehealth appointment wherein my video connection revealed my patient, behind the steering wheel, with scrolling interstate, upwards moon roof view from her Audi Q5 .  She was "driving and dialing" with her rheumatologist at her regularly appointed time. In her defense, she was not told, nor instructed to be on terra firma, at home, at a desk with a well-lit camera and connection.
This has happened several times and it always catches me surprise. While I've had "live" televideo visits with patients walking the dog, waking up in bed, and from the waiting room of another doctor's office, consults in cars is about the nuttiest.
We have all mastered telemedicine in the last 9 months. The EASY PART was becoming a professional zoomatologist (lights, webcam, microphone), understanding the legalities and coding and learning how to efficiently script a virtual care visit.
The HARD PART has yet to be solved: the patient's role in telehealth. 
I (we) have presumed that the patient understands the tenets of this digital remote interaction; even though most are technologically challenged and nearly none are properly educated on the essentials. That means a workable video and audio connection, reasonable transmission bandwidth and a venue conducive to effective communication and demonstration.
So, like much of the pandemic, we are making this stuff up as we go along. Finding new challenges and working out the solutions. I've instructed my scheduling staff that all telehealth visits must be video visits, indoors and from home or their office and without distractions.
I'm now on record declaring telehealth visits are unacceptable when distractions are in play, such as moving vehicles, traffic jams or back seat kids and dogs.
Patients are not to blame, as the norms keep changing. The patient no longer gets their weather report from a 3-piece suited meteorologist in front of a green screen; instead it's Sam the weatherman, wearing a hoodie and reporting from the breakfast nook, flanked by his Toast-R-oven.
Ya' know, there are even companies out there working on mobile health assessments done while driving.  One company claims, "In-car telemedicine is an emerging class of technologies that leverage recent advancements in automobiles to monitor and manage chronic diseases".  While this may be a futuristic accessory to the autonomous electric (or soylent green) vehicle, today it would be a preposterous outgrowth of the "selfie while driving crowd" wanting to do telemedicine from their Prius.
I'm all for technology advancement, but my key performance measures do not include an "auto"mated pulse, blood sugar, miles per hour and crash statistics.
While we are on the subject of optimizing telemedicine, I am also highly averse to Telephone medicine.
Why Am I Against Telephone Medicine?
Telemedicine – is the delivery of expert health care by virtual and digital means that allow for effective, intelligent and informed patient assessment and care.
Telemedicine requires real time audio and video transmission to assess and treat the patient.
Telephone medicine should be discouraged and avoided; assessment by telephone only puts patient health and physician integrity in jeopardy.
I understand that telephone telemedicine may be the only option for some patients. But usually this is the option delegated to the underprivileged and technology deficient – most of whom shouldn't be treated by phone for these reasons.
I've always advocated telephone medicine is dangerous medicine. Telephone medicine carries a greater risk of communication errors. While many in-person medical visits are attended by the patient who is accompanied (spouse, family, friend), the telephone visit is usually with just the doctor and patient, further limiting the education of the patient.
Moreover, none of us have been trained in telephone medicine. Exactly how do you elicit or confirm a physical abnormality, assess degree of disability or quantify burden of disease in a 15 or 30 minute telephone call?
Can you teach someone how to do a back stretching routine over the phone? While they are in their car? Driving?
Over the phone, the best you can surmise is that "this history sounds like…."
Handicapped physicians and rheumatologists would be very handicapped if they could only do telephone medicine. With Video Telehealth or face-to-face visits handicapped physicians are as effective as able physicians as they (like you) have expertise in pattern recognition and what they observe visually; and they (like you) can use their hands to palpate and manipulate the patient to elicit diagnoses.
Don't drive and Face-Time, especially during telehealth visits.
(Acknowledgement: special thanks to Dr. Sherry Singh for prompting this rant)
Editor's note: This blog was originally published February 1, 2021, and is being republished today as part of RheumNow's Best of 2021. 
Disclosures
The author has no conflicts of interest to disclose related to this subject
Add new comment