Zoomatology – Present in Absentia
Save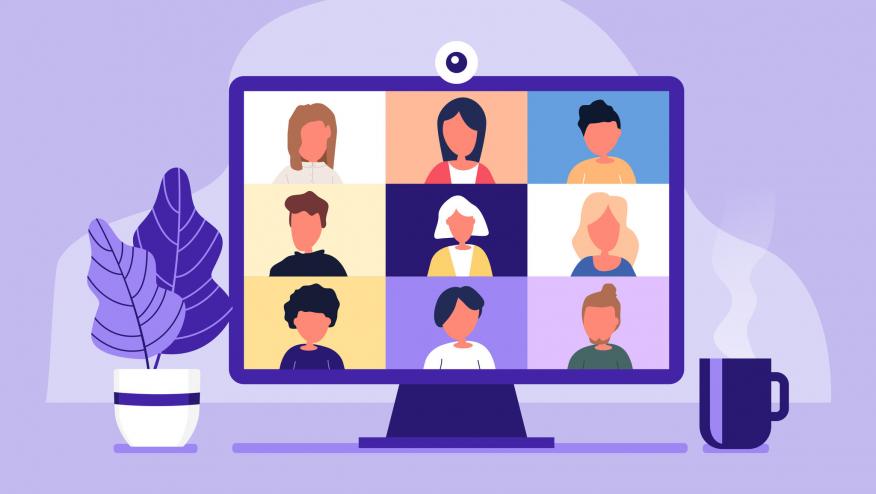 Zoom has become the slam dunk answer to the pandemic. With zoom you can avoid congregations, but still attend and belong.  Because of zoom you can sustain your business and continue medical care.  With zoom, learning moved from the classroom to the dining room for all.
Unknowingly, you have become a zoomatologist – an old dog who has mastered the new trick. Despite the shutdowns, lockdowns, fear and forced anonymity, you can be everywhere, do everything, and learn by being present in absentia.  Welcome to our new world of telepresence, telemedicine, teleferral, teleconsultation, telerounding, telediagnosis, telehealth, virtual learning, hybrid conferences, etc.
Zoom has lead a worldwide revolution in communication. It is the future, now. Playing now at a phone or monitor near you. It has top billing on your daily activities.  According to Wikipedia, in one day in March 2020 the Zoom app was downloaded 2.13 million times and In April 2020, Zoom had more than 300 million daily meeting participants.
"Zoom" is a noun, verb or metaphor; now used to indicate a digital face-to-face digital video interchange.  "Zoom" use to imply FAST; and it still implies expediency, but also immediacy and stop gap efficiency.  "Zoom" use mean fun or focus.  Now the Zoom takes you there, delivers you. It cab portend connection or disengagement; a sense of urgency or avoidance; and even excitement or resignation. 
Zoom may be a sign of the times, but it can be construed negatively.  Zoom has replaced the meeting, the teleconference or the board meeting. If your old meetings were bad, then your replacement zoom meetings will also be bad, if not worse. Largely because you have failed to master the medium. To use zoom is to demand communications that are better, more personal, meaningful and productive.
Seth Godin did a whole podcast episode on the Zoom Revolution. He asserts that Zoom should transform meetings because it combines the best of telephone, television and the internet. Here are his unique advantages to the "Zoom Revolution":
Timing (economy, efficiency, no more driving, flying etc.)
Commuting (just goes away)
Size of your meeting (the size you choose is often a choice between a) sharing/cooperation or b) status/power)
Be Multimodal (talk, listen, watch, share, side conversations, polls, etc.)
Limitless creativity
Breakout rooms (are underutilized in most zoom events)
Video (the power of seeing and being seen; if people share their energy, then you have a great zoom meeting)
Synchronous or asynchronous
Record the meeting (for those asynchronous viewers)
Translation or transcription (of recorded meetings)
All meeting content is Searchable
Apply Artificial Intelligence and Machine Learning to analyze meeting content (remember the line, 'you don't know what you don't know'?  Now AI will tell you what your missing.)
Reflex triggering (monitoring can lead to instant triggering of relevant content)
Gamification (take participant engagement to new levels)
It's always on (you can have a zoom room open at all times for drop-ins, like at the water cooler)
Zoom scales (once paid for its free, widely adopted, distributed, shared and powerful)
It serves the long tail (people like you, doing important work you want done)
Zoom Tools
There are other apps or services that can be integrated with your videoconferencing service to enhance, amplify and trick-up your zoom meetings:
Survey Monkey – While "polling" is possible with some platforms, you can use a survey service like Surveymonkey.com to engage your audience with surveys
Calendy – this calendar scheduling app can be used to set up multiple zoom meetings/calls. Calendar invites can have embedded zoom links within.
Eventbrite – can be used to sell (or give away) tickets to your event
Otter.ai – and similar programs can be used to transcribe real-time meetings into a text-print version.
Gmail – can be used to invite and connect with Zoom attendees
The Downside of Zoom 
Loss of Personal Interchange. Most point to the loss of personal interchange and the inability to be with friends outside of meeting confines.  Yet zoom works to join family and friends during holidays, broadcast performances, weddings and psychotherapy sessions. (The point being that the capabilities of zoom communications are limitless and yet to be fully defined.)
It's not like we use to do it. Is this an issue of habit or efficiency?  New norms are evolving.  Medical school is being taught virtually; Piano lessons are Skype scheduled; convictions are handed out in virtual courtrooms and all of this can play out on your cellphone.
It's a bit overwhelming.  Zoom can serve thousands simultaneously, but the impact and efficiency of zoom is enhanced when you go small.  One on one video calls only needs a scratch and sniff add on to compete with actual F2F discussion. Zoom "breakout rooms" allow for small group learning and planning.  Remember, Cannon's Law of Meetings states: The productivity of meetings is inversely proportional to the number of attendees.
On Being a Zoomatologist
Those who work fast, inspire the smart and rise to power are probably zoomatologists.  A zoomatologist is a professional who communicates more effectively in a multimodal and more social way.  Today, a certifiable (can-do) zoomatologist contrasts the (don't want to) doomsatologist in meeting the challenge of daily communication. And in doing so she or he leads, learns and shares.
Doing it "the old way" may never be the same.  Passport, plane ticket, Uber, hotel, daytime meetings, evenings on the town, all in one exhaustive weekend meeting. 
Or you can virtually attend, participate or run those meetings from your $125 tricked-out zoom room, ride your bike during the break and attend your kids Taekwondo piano recital too.
The Rules of Zoom
Be clear on the objective(s), agenda and who is speaking and when
Video on, mic on (muted till you talk); this is a televideo meeting, not a teleconference.
Cam is chin high (endoscopic nostril views of the ceiling light screams amateur)
Lighting should be in front of you, not behind you
Note that your background (books, art, guitars, shower curtains) WILL distract others
It's ok to raise your hand or finger when you wish to speak or join the conversation
During a zoom meeting – Don't: drive, eat, drink, make calls, paint nails, bite nails, dress, undress
Multitasking while zooming is rude, distracting and demeans the effort
The Zoomatologist has both video and audio on; this makes the event real, social, cooperative and honest.
ADD THE FIRST COMMENT
Disclosures
The author has no conflicts of interest to disclose related to this subject