ACR 2018 - Day 3 Report
Save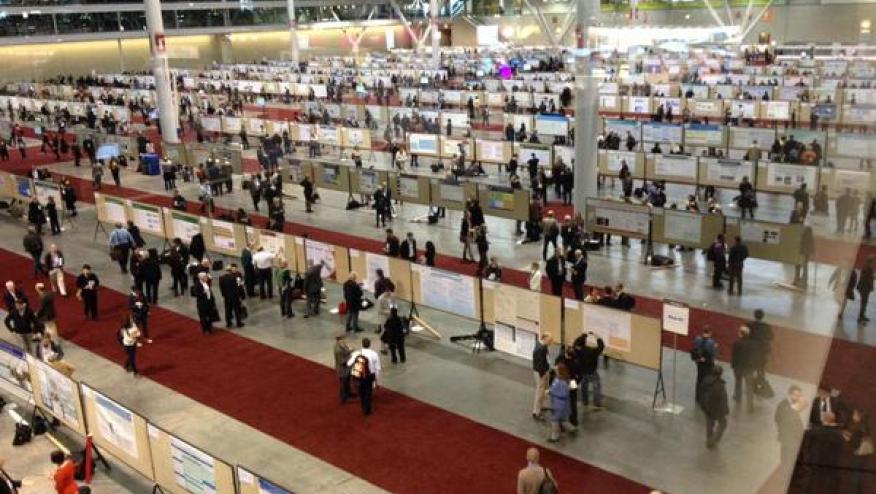 Highlights from Tuesday, day 3 of the ACR Annual meeting in Chicago, included:
The PEXIVAS Study –  2x2 Trial of Plasma Exchange and Reduced Steroids in ANCA-Associated Vasculitis (AAV) - Abstract #2788
Dr Peter Merkel presented this important trial during the morning plenary session.  THe study was designed to answer 2 questions:  1) in AAV patients will Plasma exchange lower the rates of death or ESRD; and 2) will reduced doses of steroids be noninferior or safer than standard high dose steroids in AAV.  They enrolled 700 patients with / GPA/MPA who were  PR3+ or MPO+, and had to have / severe disease (manifest as Creatinine Clearance < 50 cc/min or pulmonary hemorrhage.  Patients receive 7 plasma exchanges or sham and were given standard or ~50% reduced steroids.  Overall Plasma exchange did not reduce risk of ESRD or death and met the noninferior definition.  Compared to a standard dose, glucocorticoids did not substantially increase the risk of death or end-stage renal disease, but did have fewer serious infections.  The primary results of PEXIVAS, regarding both the use of plasma exchange and dosing of glucocorticoids, will have immediate and substantial impact on the standard of care for patients with ANCA-associated vasculitis.
ACR Reproductive Health Draft Guidelines Presented - Drs. Sammaritano, Lockshin, Chakavarty, Clowse, Bermas, Chambers
The leadership of this guideling committee presented several the recommendations from the recently completed guidelines on reproductive health. In the future they will be publishing 3 manuscripts devoted to 1) contraception, fertility and menopause.  2) pregnancy assessment, counseling management.  3) on medication use in pregnancy and lactation
Many guideline recommendations were based on limited evidence and with conditional recommendations. Some of the highlights from this session included the following recommendations.
Medication use for those planning pregnancy

Stop CTX, thalidomide, MMF, MTX, LEF
OK to continue HCQ, SSZ, AZA, Colchicine
Consider continuation of CyA, tacrolimus, TNFi , nonTNFi biologics (there is no data on small molecules)

Women with rheumatic diseases (without SLE/APL) – recommend using hormonal contraception or an IUD
Stable SLE with APS: recommend against combined estrogen/progesteron contraceptives and instead conditionally recommend using or progestin only contraceptives
In women of child-bearing potential - You need to ask about pregnancy intent and contraception OFTEN
Worry about the use of fetotoxics but they drew special attention to avoiding mycophenolate as this is one of the most fetotoxic meds that rheumatologists use.  MMF results in 40% pregnancy loss and a 25% defects
Tofacitinib in refractory dermatomyositis: a Proof of concept study - Late breaking abstract L02
Based on several case reports of efficacy with ruxolitinib and other JAK inhibitors in patients with refractory dermatomyositis (DM), researchers from Johns Hopkins have reported their single-center, open-label, 12-week study of tofacitinib 11 mg qd, in 9 patients with dermatomyositis (no myositis, lowCPK, 5/6 +TIFF-1 gamma Abs).  They allowed up to 20 mg/d of prednisone and steroid-sparing agents were washed out. All 9 improved (5 moderate, 4 minimal) according to the skin score used (CDASI); 3/4 tapered their prednisone.   These preliminary findings are similar to the surprising findings seen with JAK inhibition in alopecia Universalis.  Clearly more research is needed.
ADD THE FIRST COMMENT
Disclosures
The author has received compensation as an advisor or consultant on this subject