EULAR 2023 – Day 2 Report
Save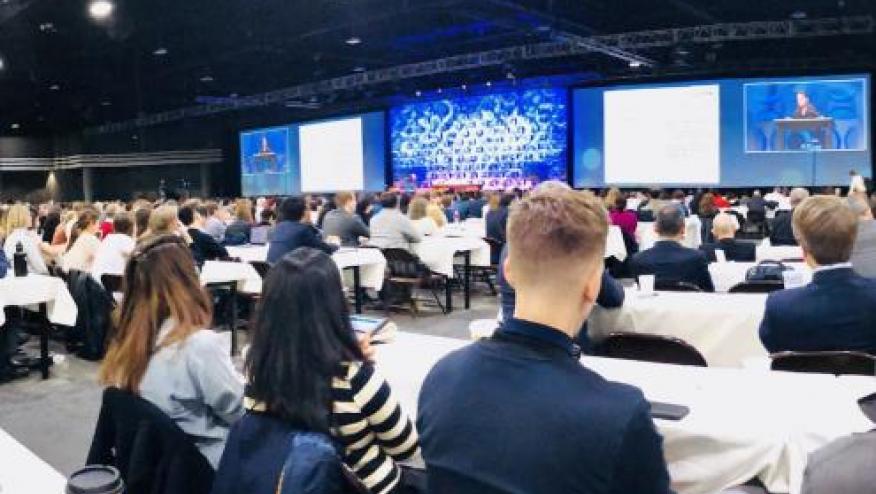 Day 2 at the international EULAR Congress meeting is always bigger and busier.  There are more sessions to choose from, more bodies fighting for space on the escalators and at the lunch lines, and more audience questions in the big auditorium presentations.  There were sessions on JIA therapies, crystal arthritis, novel drugs for SLE and Sjogren's, early RA and preclinical RA interventions, IgG4 disease, osteoporosis and the growth and application of artificial intelligence in medicine and rheumatology.
Here are a few of my favorite abstracts from today.
APIPPRA: Abatacept in PreClinical RA:  Abstract OP0130 was presented by Dr. Andrew Cope – a 2 year trial comparing the effects of 1 year of blinded placebo or abatacept weekly in preclinical RA (defined as adults, seropositive with inflammatory arthralgia). After 1 year these patients were followed off therapy; the primary endpoint was the development of RA or chronic inflammatory arthritis. They enrolled 206 patients without synovitis and with modest activity (eg, TJC 2-3, low ESR/CRP, 72% with US power doppler = 0) and at week 52, RA had developed in only 6% of ABA vs. 29% of PBO patients (p=0.0002).  When followed out to week 104 (1 year off ABA), RA developed in n only 25% of ABA vs. 37% of PBO patients (p=0.003). These results clearly showed a delay in developing RA (mean=99 mos) for those treated with 1 year of ABA. These results were more pronounced in the subset of patients who were positive for multiple RA autoantibodies (RA, IgG ACPA, IgA ACPA, ACarbP, APAA). These findings suggest that aggressive use of abatacept in patients with mild to moderate "clinically suspicious arthralgia" can significantly delay the onset of chronic RA.  The long term implications of such a delay on disease trajectory, severity and other critical outcomes remains to be seen.
Long-Term Results with Emapalumab in MAS due to Still's disease.  Abstract OP0166 was presented by Dr. Fabrizio De Benedetti and reviewed the development of Emapalumab, a human monoclonal antibody against gamma interferon, that was first FDA approved in 2018 for the treatment of HLH.  This research was presented at past ACR meetings and now updates the long term results of 14 Still's patients (mostly sJIA) who developed steroid refractory MAS and were treated with Emapalumab with resultant complete biologic responses (reduced CXCL9), complete inflammatory responses (normalization of uniform extreme hyperferritinemia) and reduced dependence on glucocorticoids. With 52 weeks of long term followup, there were few adverse events, including 3/14 who had flares of their sJIA (mainly occurring in sJIA patients who stopped their anakinra). Interestingly, nearly half of these patients continued their anakinra therapy (also indicated in the treatment of MAS) while receiving Emapalumab.
Disclosures
The author has received compensation as an advisor or consultant on this subject