ACR Updated Guideline on Vaccinations for Rheumatic Patients
Save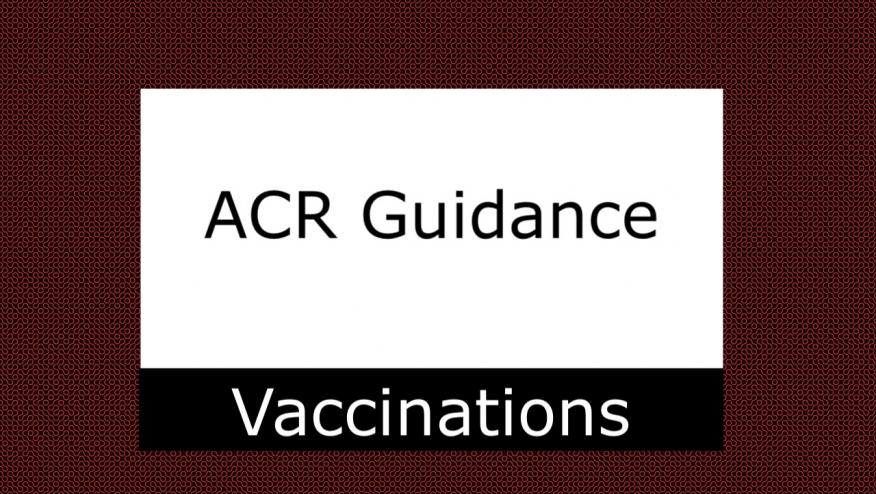 The ACR has posted a new ACR Clinical Practice Guideline Summary providing recommendations on the use of vaccinations for children and adults with rheumatic and musculoskeletal diseases (RMDs).
This guideline builds on past ACR vaccination guidance, last published in 2021.
This guideline follows the ACR guideline used usual ACR policy guiding management of conflicts of interest and disclosures, and the use of GRADE methodology and AGREE criteria.  Contributors includes a core leadership team consisting of adult and pediatric rheumatologists drafted clinical population, intervention, comparator, and outcomes (PICO) questions. After literature review, consensus voting required ≥70% agreement on both the direction and strength of each recommendation.
This guideline includes expanded indications for some vaccines in patients with RMDs, as well as guidance on whether to hold immunosuppressive medications or delay vaccination to maximize vaccine immunogenicity.
Safe approaches to the use of live-attenuated vaccines in patients on immunosuppressive medications are also addressed.
The overall quality of the evidence supporting the recommendations is low, and most recommendations are conditional.
These recommendations should take into consideration patients' individual risk for vaccine-preventable illness and for disease flares, particularly if immunosuppressive medications are held for vaccination. Shared decision-making with patients is encouraged in clinical settings.
This summary was approved by the ACR Board of Directors on July 11, 2022. These recommendations are included in a full manuscript, which will be submitted for publication in Arthritis & Rheumatology and Arthritis Care and Research.
Expanded indications for specific vaccines in patients with RMDs on immunosuppression
Influenza: For RMD patients aged ≥ 65 years, and RMD patients aged >18 and <65 years who are on immunosuppressive medication, giving high-dose or adjuvanted influenza vaccination is conditionally recommended over giving regular-dose influenza vaccination.
Pneumococcus: For patients with RMD aged <65 years who are on immunosuppressive medication, pneumococcal vaccination is strongly recommended.
H. Zoster: For patients with RMD aged >18 years who are on immunosuppressive medication, administering the recombinant zoster vaccine is strongly recommended.
HPV: For patients with RMD aged >26 and <45 years who are on immunosuppressive medication and not previously vaccinated, vaccination against HPV is conditionally recommended.
Multiple vaccinations: For RMD patients, giving multiple vaccinations on the same day rather than giving each individual vaccination on a different day is conditionally recommended.
Medication management at the time of non-live attenuated vaccine administration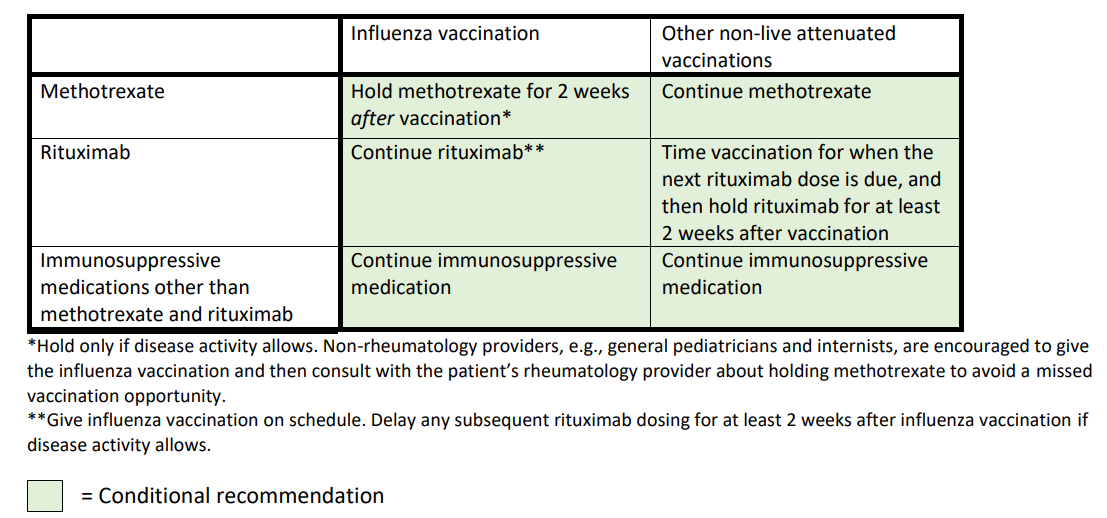 Whether to give or defer non-live attenuated vaccinations in patients taking glucocorticoids, regardless of disease activity

Immunosuppressive medication management at the time of live-attenuated virus vaccine administration 
For RMD patients who are on immunosuppressive medication, deferring live-attenuated vaccines is conditionally recommended.
For RMD patients, holding immunosuppressive medication for an appropriate period before (see Table below) and 4 weeks after live-attenuated virus vaccination is conditionally recommended.
When to administer live-attenuated rotavirus vaccination to infants exposed to immunosuppressive medications in utero

Disclosures
The author has no conflicts of interest to disclose related to this subject