Best of 2022: New Updated GRAPPA Psoriatic Arthritis Recommendations
Save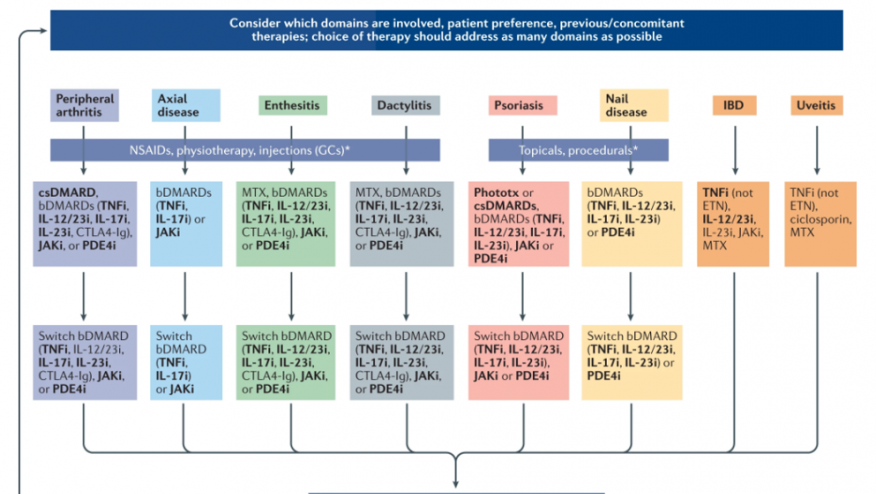 Editor's note: this blog originally published on June 29, 2022, and is being shared again as a Best of 2022. Enjoy!

The GRAPPA (Group for Research and Assessment of Psoriasis and Psoriatic Arthritis) treatment recommendations have been updated and the 2021 evidence-based guidance is rich in treatment recommendations based on the key disease "domains" - peripheral arthritis, axial disease, enthesitis, dactylitis, skin and nail psoriasis; with new PsA related domains uveitis and inflammatory bowel disease (IBD).
Using GRADE methodology, updated systematic literature reviews and consensus voting, recommendations for management of adults are laid out as overarching principles and therapeutic choices based on disease domains, with additional consideration to relevant comorbidities.
These international GRAPPA treatment recommendations provide up-to-date, evidence-based guidance on psoriatic arthritis (PsA) management for both clinicians and patients with PsA.
Overarching Principles
The ultimate goals of PsA therapy : a) achieve the lowest possible level of disease activity in all domains; b) optimize functional status, improve quality of life, and prevent structural damage; and c) avoid or minimize complications.

Assessment of PsA patients requires consideration of all disease domains. The impact of disease on pain, function, quality of life and structural damage should be considered.

Clinical assessment ideally includes patient-reported measures,  a comprehensive history and physical examination, laboratory testing and imaging and use of accepted metrics whenever possible.

Comorbidities and related conditions should be considered. Multidisciplinary and multispeciality assessment and management may be beneficial.

Therapeutic decisions need to be individualized and are made jointly by the patient and their clinician (shared decison making).

Patients should be evaluated and treated promptly, including specialist referral and care. Early diagnosis and treatment is advocated.
Position Statements
On Biosimilars: 

Biosimilars (non biomimics) must be approved for use, with periodic re-evaluation.
Extrapolation to PsA, without studies conducted in PsA, is acceptable.
Patients and clinicians must be involved in decisions about switching.
Multiple switches need to be studied on an ongoing basis
Savings from the biosimilar use should be utilized to improve access for larger numbers of patients
Immunogenicity is a potential concern that should be monitored 

On Tapering: 

Tapering (discontinuing therapy) may be considered in patients who achieve the goals of therapy (ideally remission, or low disease activity)
Tapering decisions should be made with the patients' understanding and involvement
Patients and clinicians need to understand that the potential drawbacks of tapering (reactivation or recapture of control difficulty)
Tapering success cannot be predicted a priori 
Tapering of effective therapy might influence other outcomes (eg, cardiovascular risk from systemic inflammation)
PsA Treatment Recommendations - the Schema below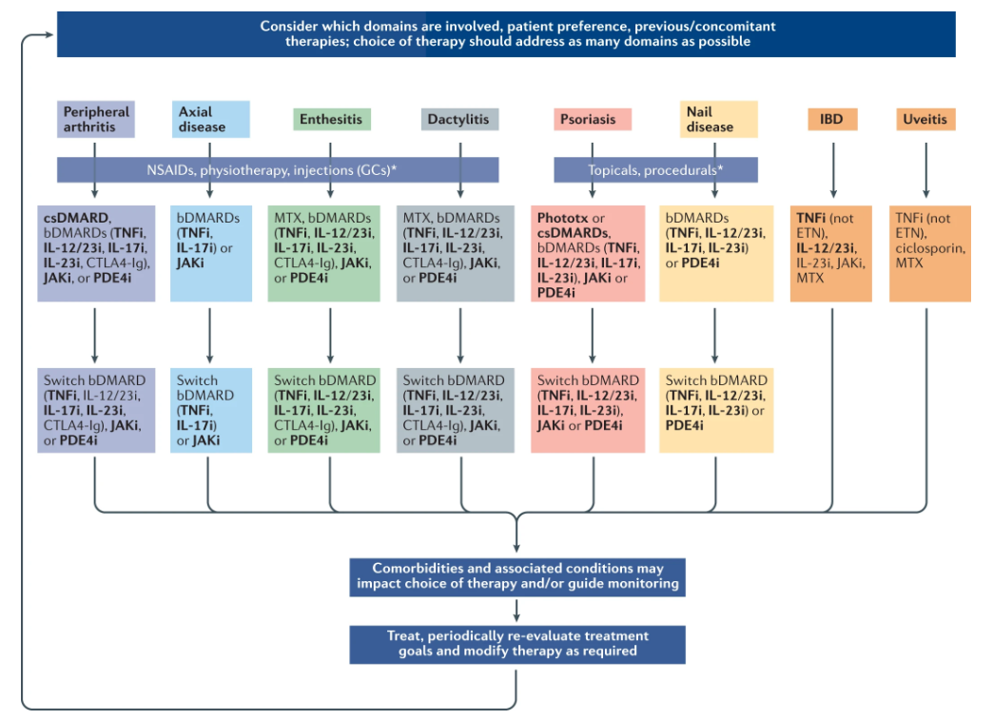 Comorbidity Considerations
Cardiovascular risk is elevated in patients with PsA - patients should be screened for cardiovascular risk factors and modifiable risk factors 
Obesity is associated with reduced functional ability, greater psoriasis severity and disease activity, and reduced response to therapy. Weight loss or maintainenance of a healthy weight is advised.
Fatty liver disease is common in PsA: often related to obesity and/or diabetes mellitus. Monitoring liver function on medication is advised.
Hepatitis risk: Certain PsA therapies can affect untreated hepatitis B or hepatitis C virus or HIV. Patients should be screened for active HBV and HCV and HIV prior to initiating therapy. Comanagement with a gastroenterologist or hepatologist or an infectious disease specialist should be considered.
Tuberculosis risk: Screening for active or latent TB is recommended prior to initiation of therapy.
Herpes zoster: H. zoster risk may be higher with JAK inhibitors and vaccination should be encouraged prior to starting therapy when accessible.
Skin Cancer (& melanoma):Patients should be counselled about their increased risk of skin cancer with certain therapies, and be encouraged to undergo annual full skin examination.
Osteoporosis: Surveillance and treatment of OP in PsA is the same as in the general population.
Fibromyalgia (and/or central sensitization): is associated with poor quality of life and poor response to therapy. These should be identified and and managed.
Depression and anxiety have a high prevalence in PsA : such patients often have poor ourcomes. Screening for mood disorders should be part of the standard clinic review, with patients being appropriated referred for diagnosis and for psychological support.
Disclosures
The author has no conflicts of interest to disclose related to this subject